Welcome to the Maynard High School
class of 1959 official webpage
Sept 24 , 2020
No music,,yes I know. I'm working on it, but it could take a while. Some of you have it and some don't
Elaine Colleton Skerry passed away
Frankie Cantino passed away
ALL OF THE MOST RECENT DEATHS AND MORE, CAN BE FOUND FURTHER DOWN ON THIS WEBPAGE
***********************************************************************************************************************
Bumped onto Eric Koskinen this morning and he was heading for their family lake house. It seems today is Bruce's birthday. Happy birthday you 79 year old fart.
And with that in mind? I celebrated my 79th in July and was trying to think of all the others that were July babies. Here's what I have and I'll need your help to complete the list.
Me of course. Joan Furgusen, Judy Rutkowski, Judy Manning, Cyril Spratt, Sandra Koski,,,,and who else?
email me at jfmalcolm@aol.com with anyone else you can think of
Sept 24,,,,Sorry it took me so long to get this up. Time's a flying. So much to do and somehow doing all the things we have to do every day, takes double the time and a nap in there somewhere. Anyway, Pat turns 80 and mighty proud of it. They say life begins at 80,,,heard that somewhere and I'll be damed if I can remember where. Now where was I?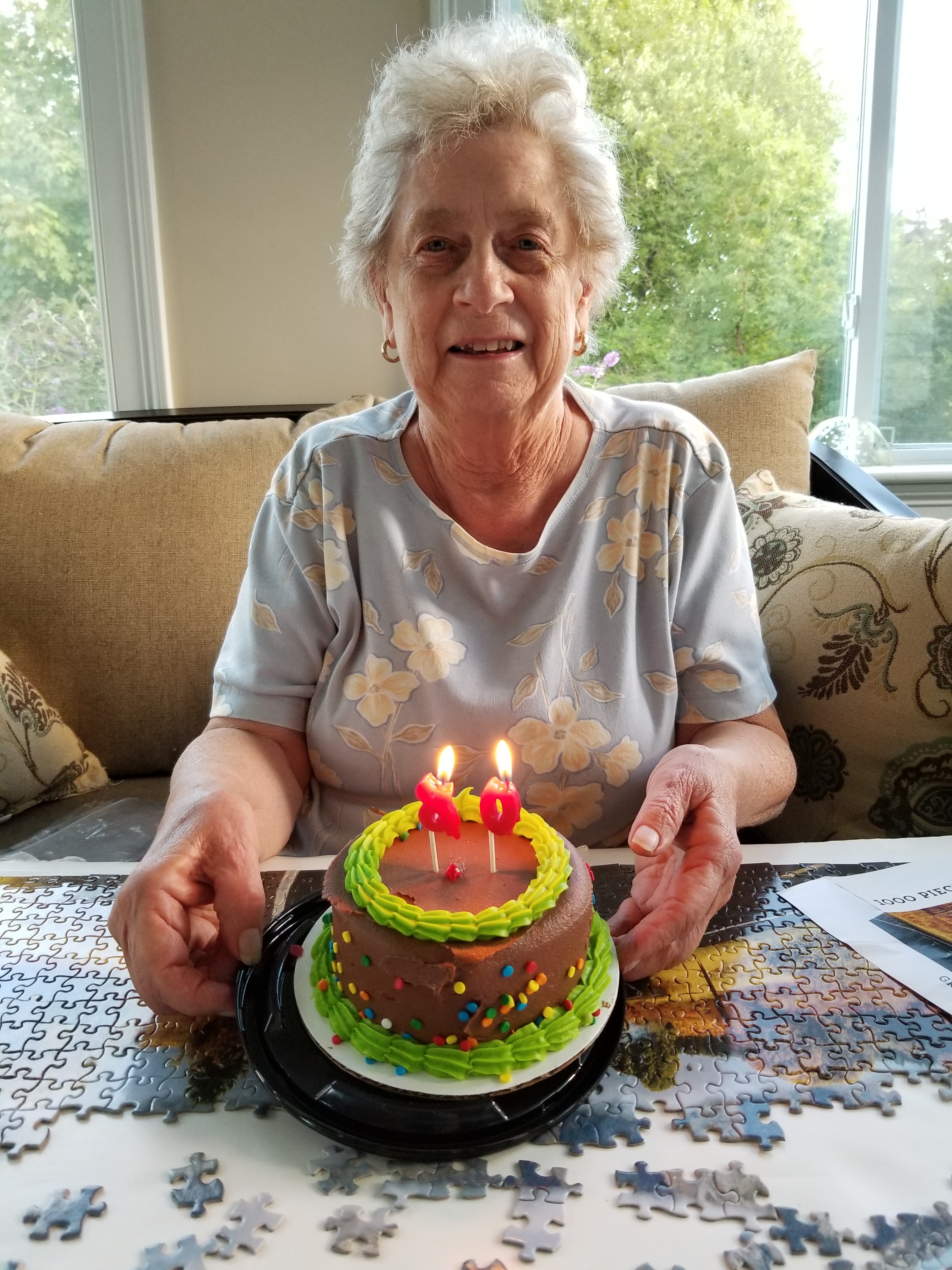 Oh now I remember. I bump into Pat from time to time,,,(she's still a fixture around town) and it's always nice to see her. Always has a smile on her face regardless of what she's been through that week. And we'd have to write a book on what she's done for our class,,,thank you so much Pat.
Aug 20,,,I knew Elaine Colleton back in the day when we used to play at the Roosevelt school. Basketball and Baseball. She told me about the time a ball was hit on the Fine Arts Theater roof and seeing she was the smallest, they pushed her up to get it. Get it she did and she threw it back to them, but noone would help her down, so that was the last time she fell for that one. Fast forward some 60+ years, didn't Sheila and I meet her and her husband Stan in Florida no less. They lived 10 miles up the road in Holiday FL. We rekindled our friendship and came to know them quite well. When she got so very sick with the 2nd round of cancer, (she beat the first round) she and Stan moved north to their daughter's home in Marlboro and after 2 or so months, she passed away. Rest in Peace, my dear friend.
July 9,,,FYI: Maynard update. The Coolidge School on Bankcroft St has been sold and will be converted into apartments. The town kept the hill and grounds behind the school and that remains a playground for the kids, a basketball court and a small baseball field for our smaller boys and girls. I should take and post some photos of what's going on at 129 Parker St which was the home of Digital and prior to that, the field behind Sandra Koski's family stand. You will not believe it. There are people in those condos/apartments back there already. Market Basket grocery store is up now (nearing completion) and a Dunkins drive through is as well. Middlesex bank is up and will be moving up there from Nason St., The 110 Grill restaurant will be there, The Paper Store too and a few more I imagine. When it was first proposed, it was not supposed to destroy the downtown,,,,,,Like Hell it won't. Downtown will be a ghost town when this is complete.
We just went up there and took some photos. Sheila did,,,and here they are. That's Parker Street on that 1 st shot, looking back to the old rotary.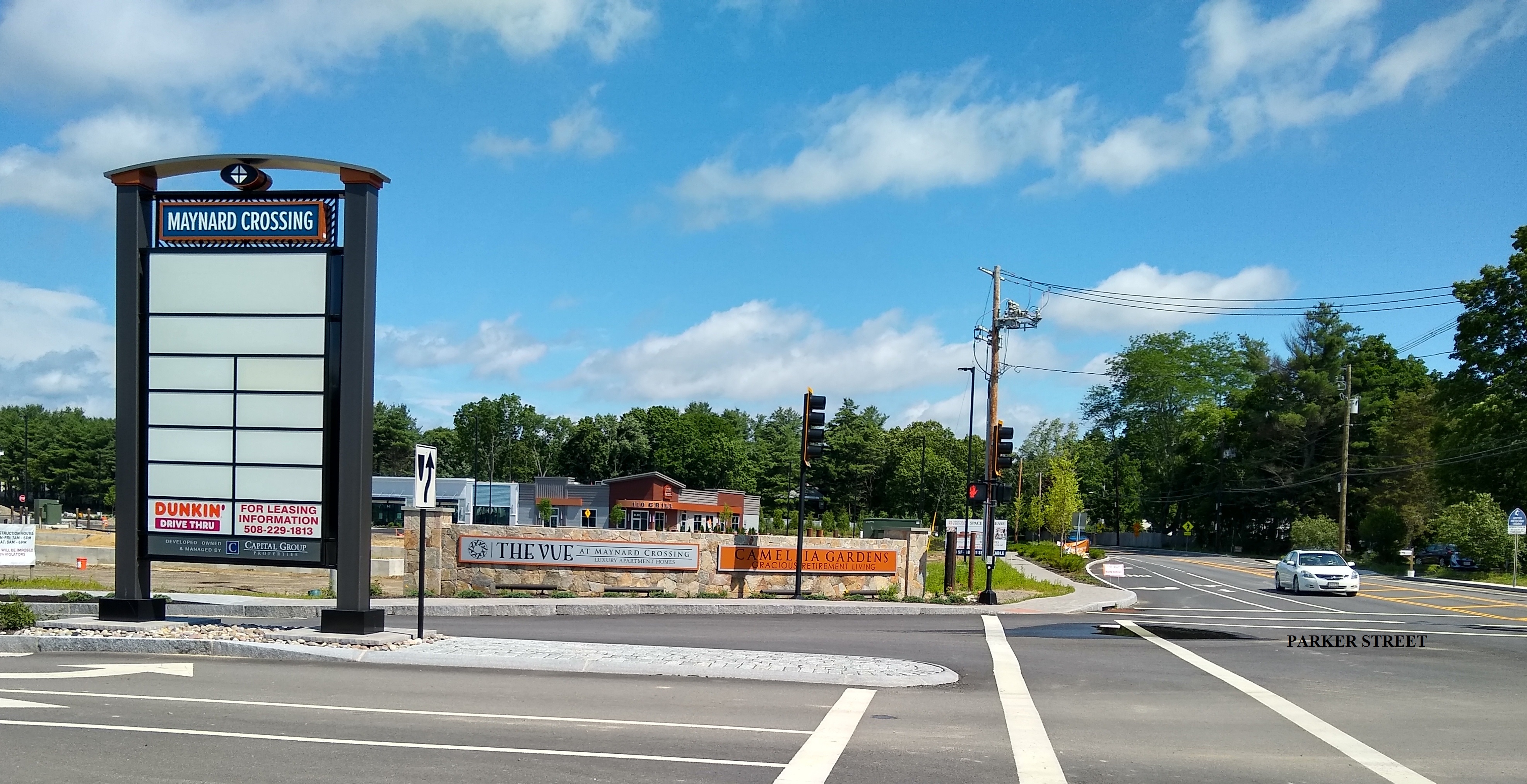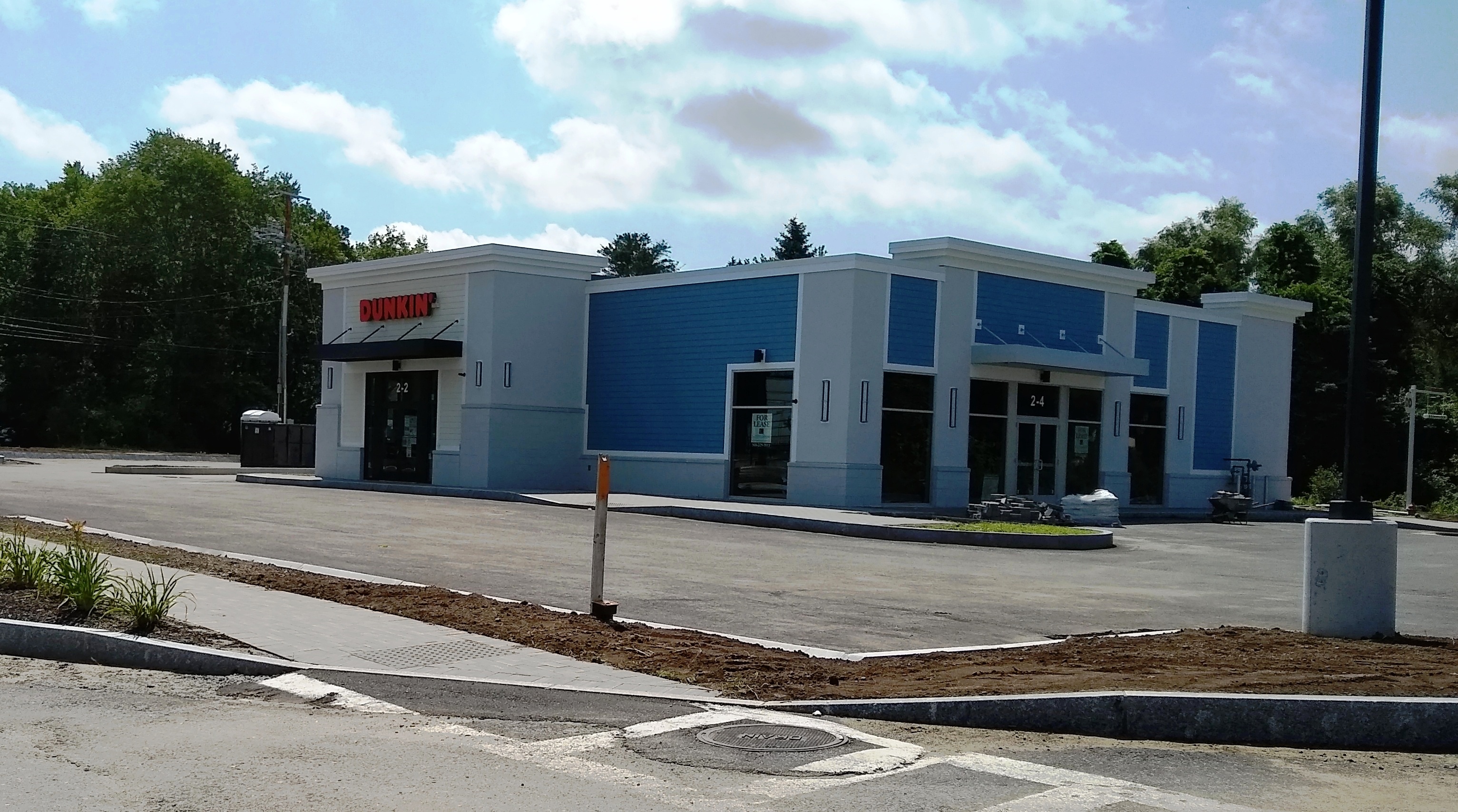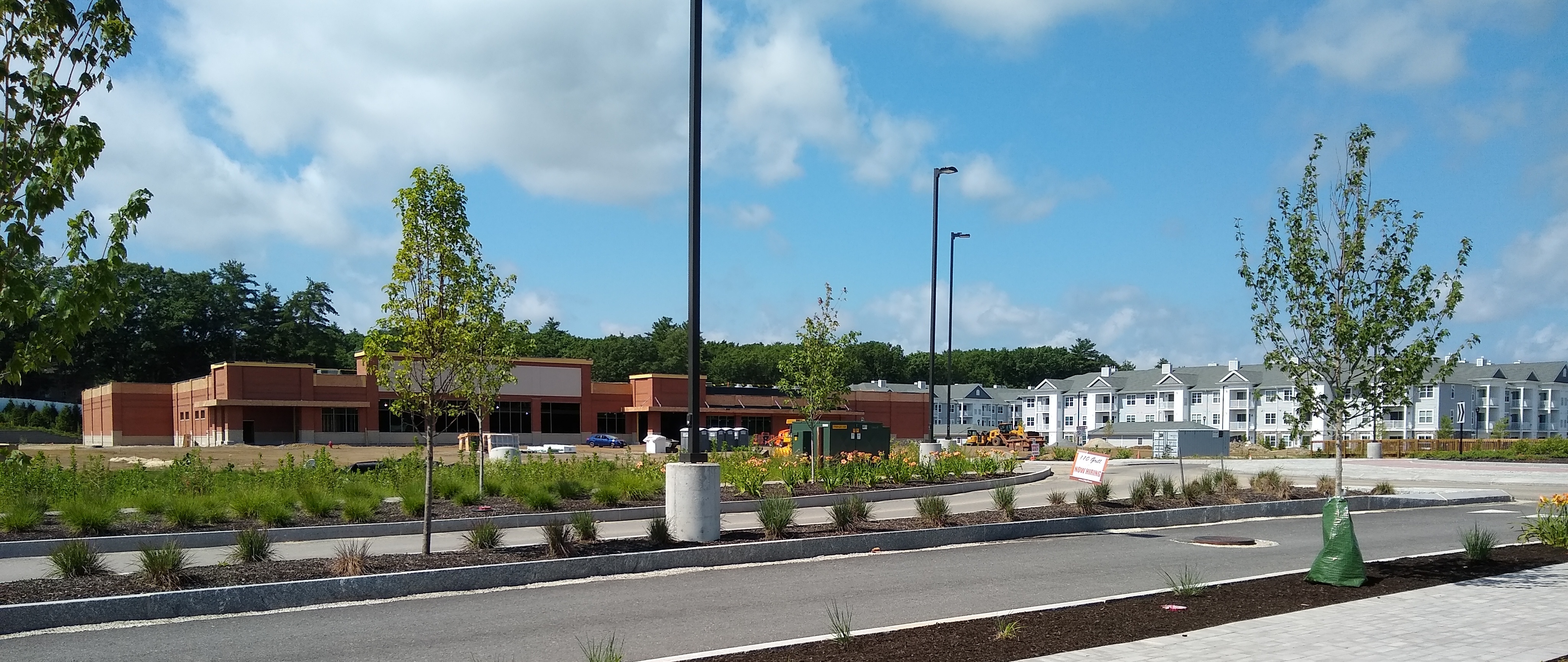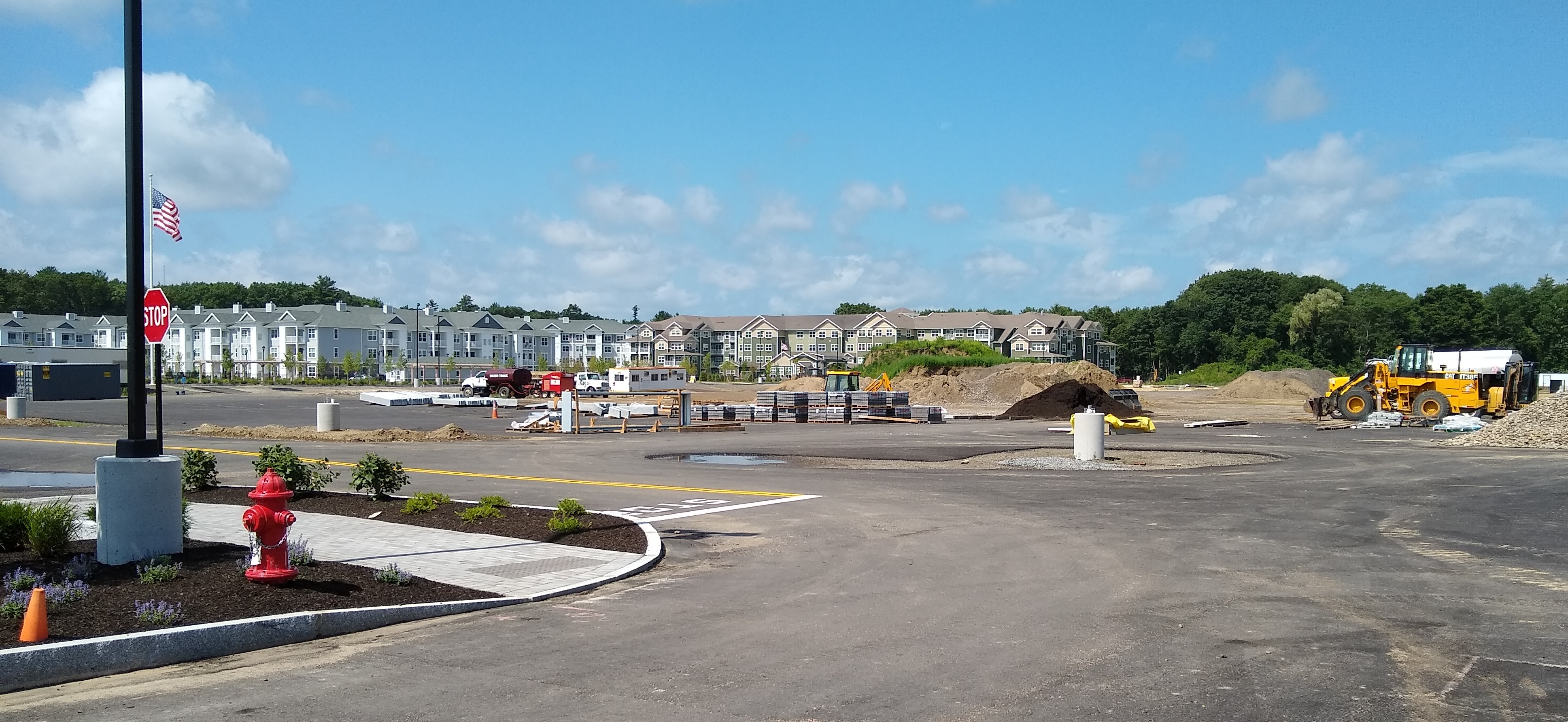 And there's tons of open space for more, to nail the coffin downtown
And you think I'm done? No way. Let's keep going. How about the Fine Arts Theater, complete now with a creamery/ice cream, beside it. If I'm not mistaken, I think that was the site of the Cleary Insurance Agency, back in our time. Am I right? Helen Cleary, Joe's sister, worked there. Then we move up Summer street to the old Saint George's Church which is now three apartments. And beside the church was Dr Rosemark's office. I think his daughter was Rosemary. Am I right again? And last but not least, is our old high school, now an arts center which they rent from the town for $3 per year. Look at the art (if you call it that) in front of our George Washington auditorium. Miss Pasikarnis has to be rolling in her grave about now. Hope you enjoy all this and be sure to scroll down a ways to see two 79 year old guys.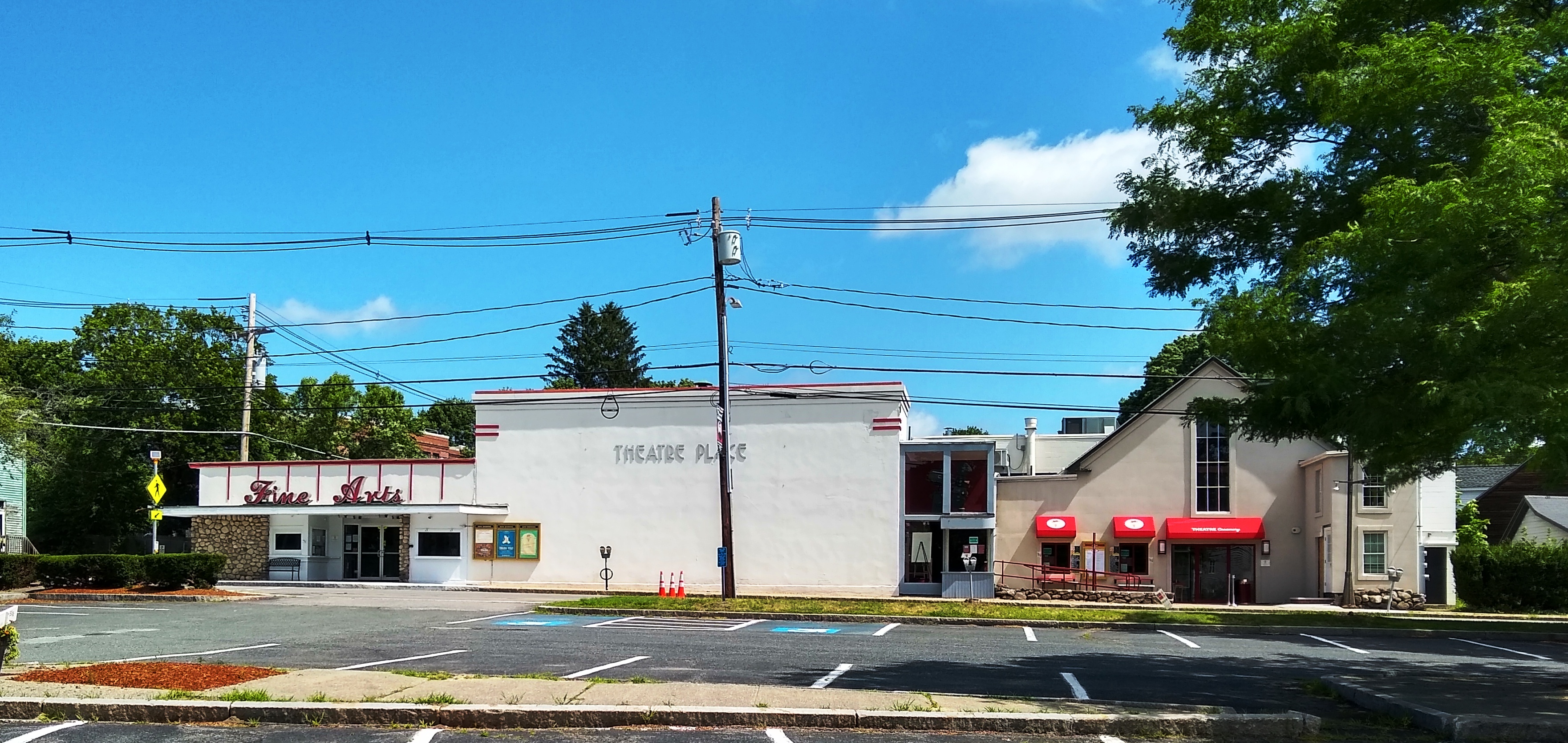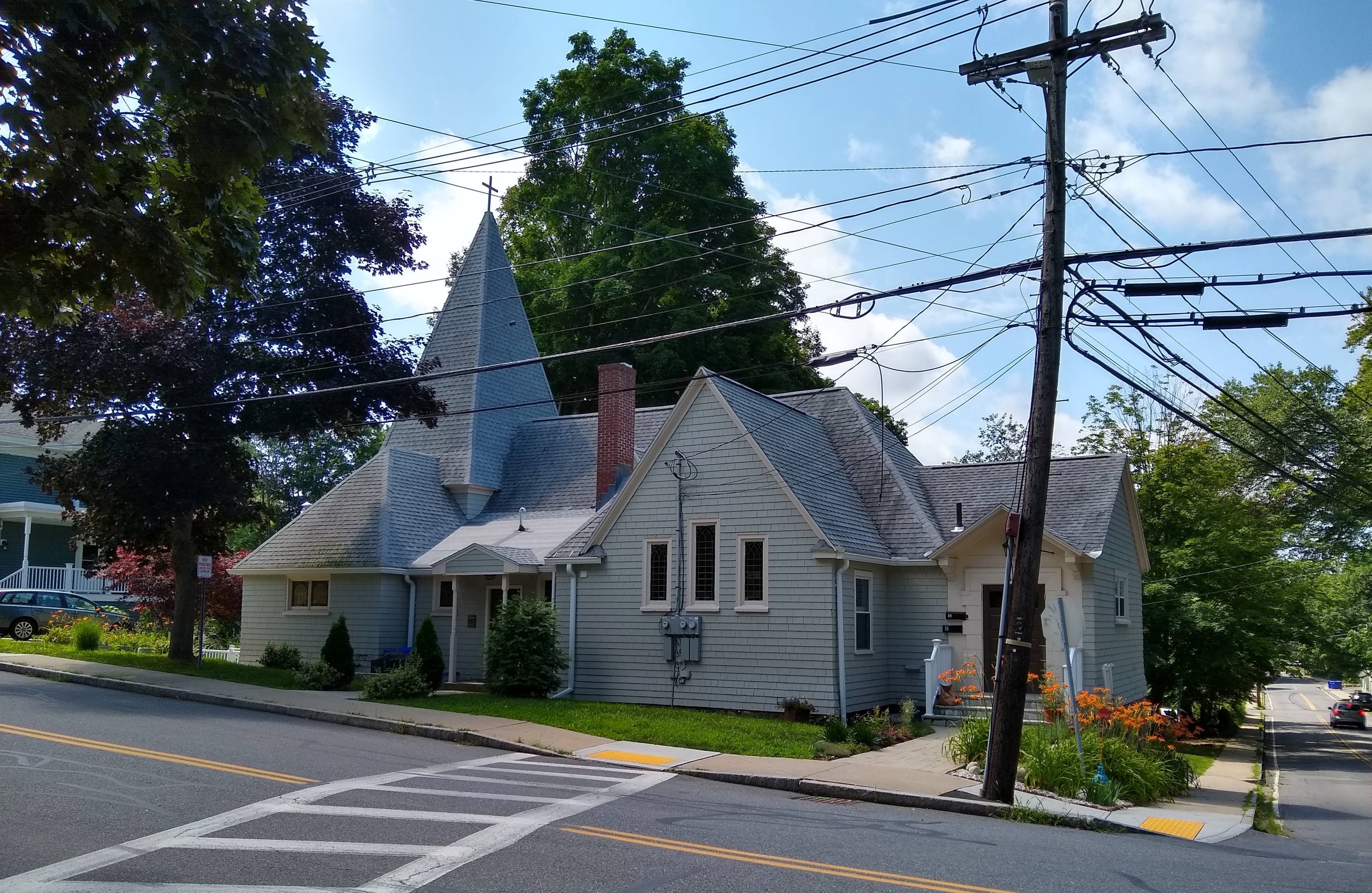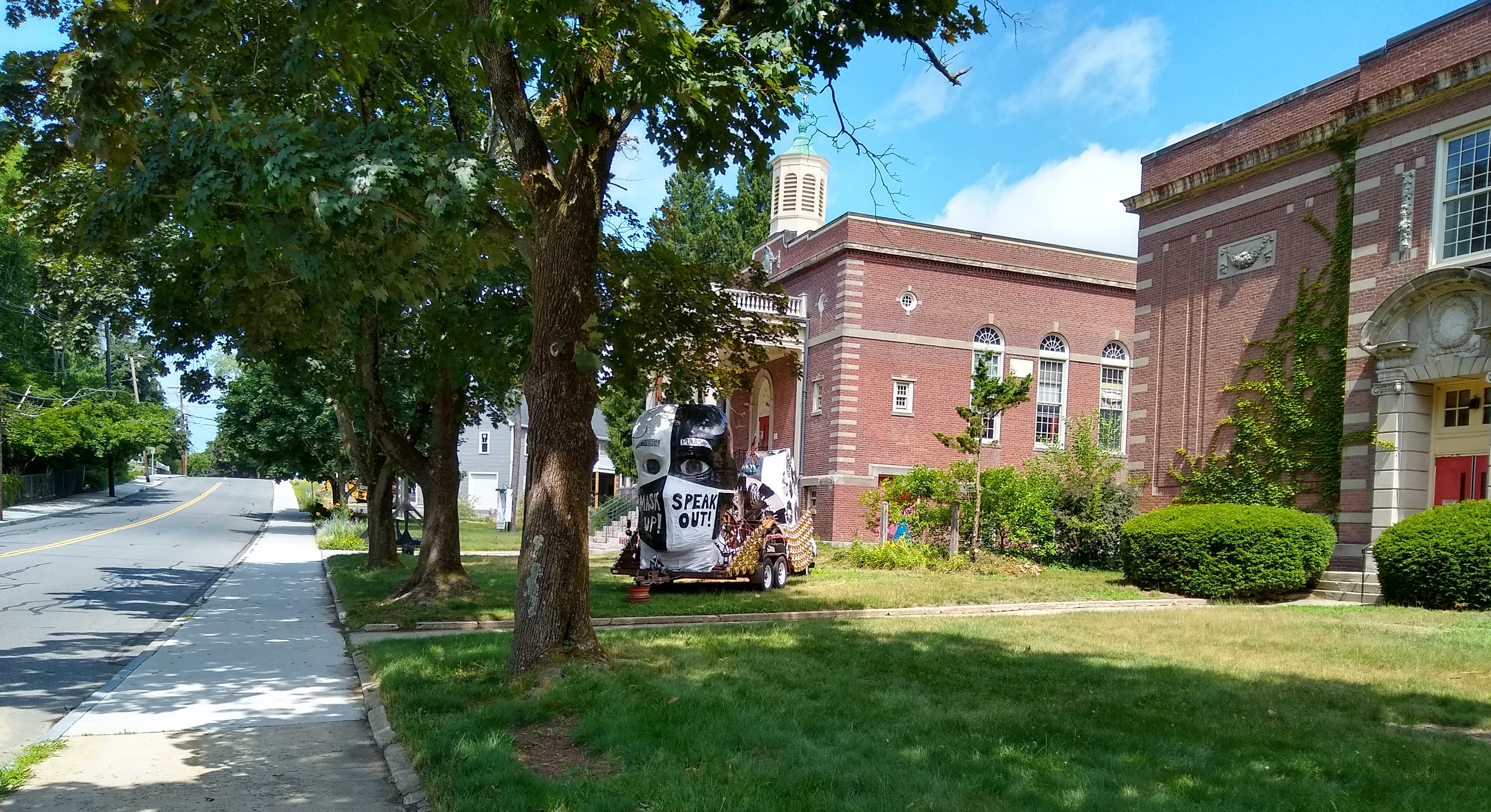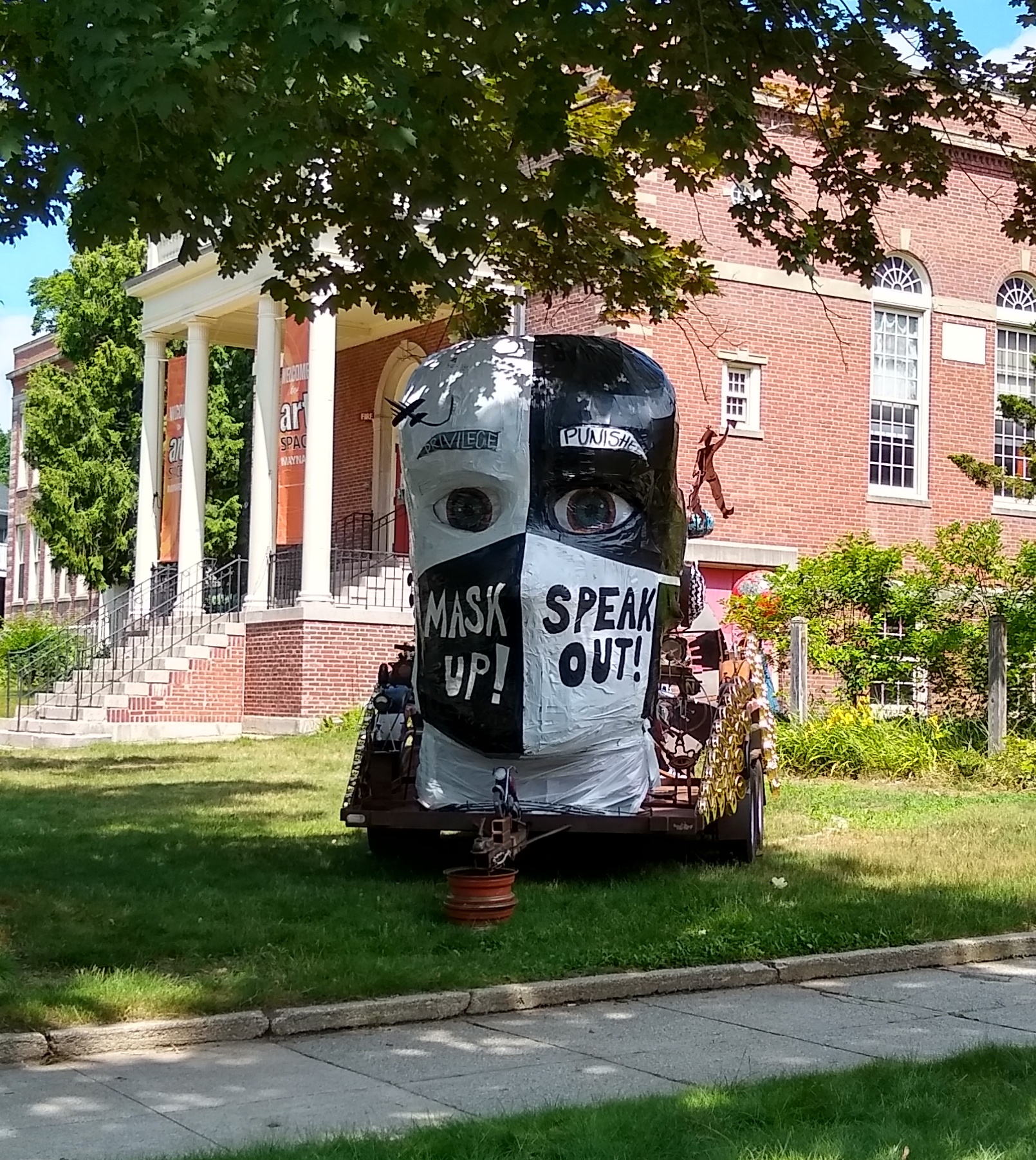 Pat wanted me to add what's happening to Gruber's, and her wish is my command. Here's the old (or the present, I should say) and the new which is a 4 story building with retail stores
on the bottom and three floors of apartments up top. No parking in the front of course and we'll see just how many in the rear when this is finished. Just like Kansas City from "Oklahoma". "They're going to build a sky scaper four (and we all know it's seven in the song) stories high, I think they've gone as far as they can go". I hope they still teach that stuff.
Maynard is a changin, BIG time. Back in the 1920s, the Gruber building was actually two stories, with the Rialto movie theater up there. In the 20s, there was a fire on that level and the theater moved to the Peoples on Nason St. How about these two for movie night. City Lights with Charlie Chaplin and Dracula staring Bela Lugosi.
I believe both were silent films, much like me,,I'm outta here.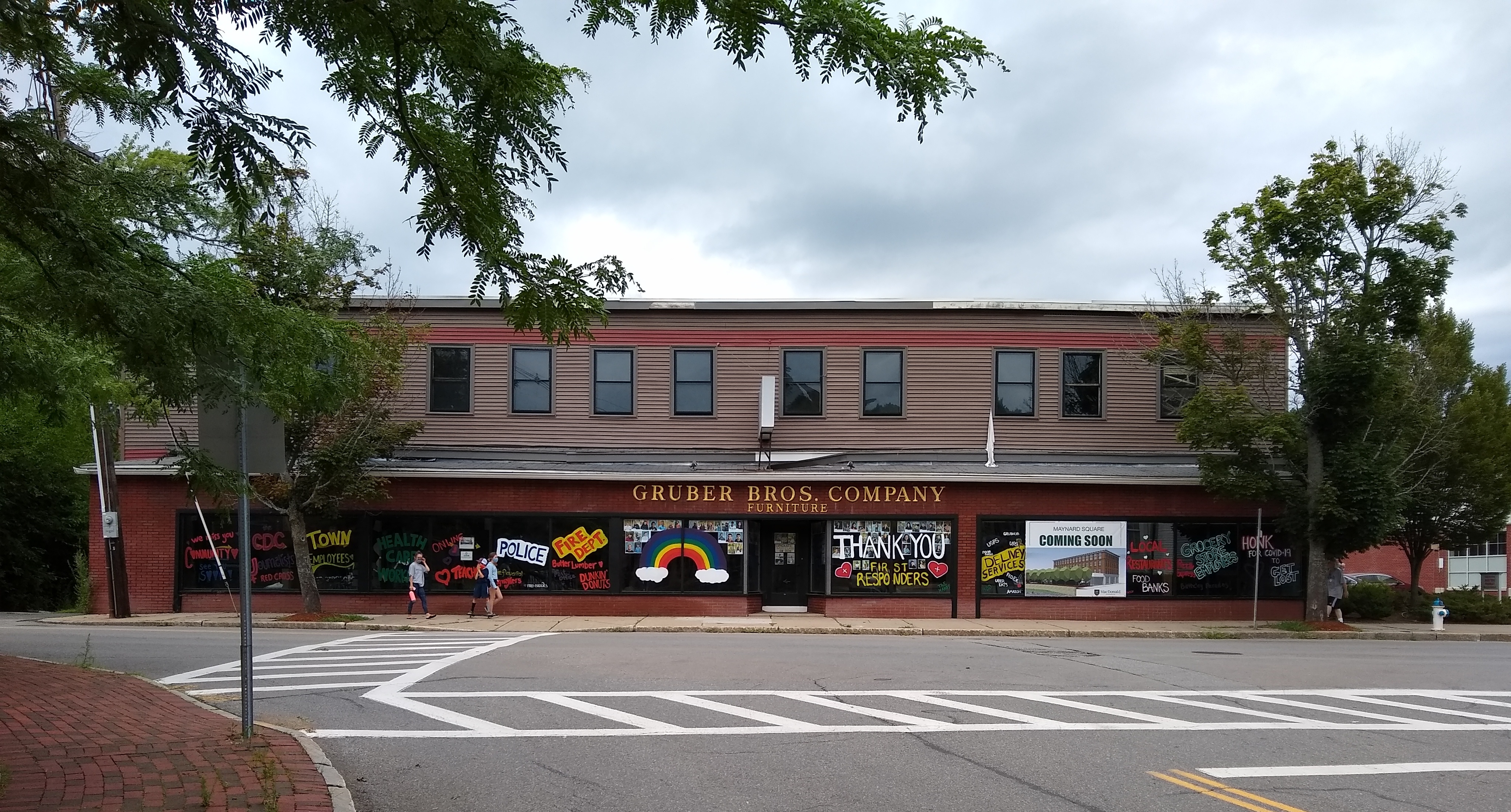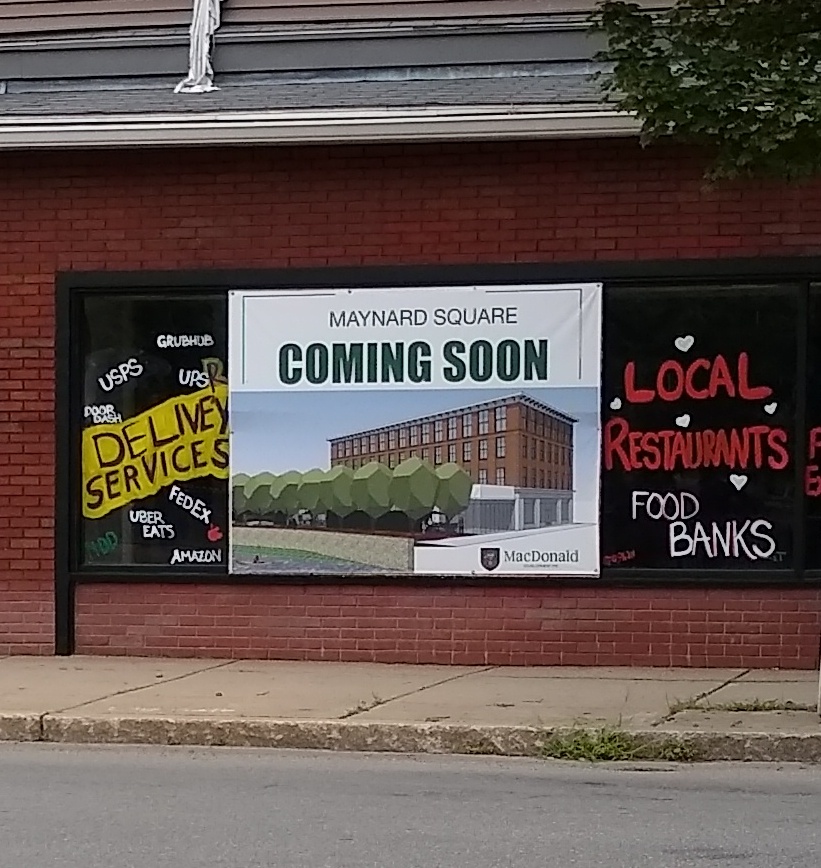 July 8,,,,I have some comments from Cyril but I can't put my finger on them just now. When I find them, I'll post em,,,,,,Jack,,,,,,found em,,,
Hi Jack. Trust you are back from Fla....... Just got back from celebrating our 59th wedding anniversary at the scene of the class of 59, 60th HS reunion.
Wonderful day . Only wish the whole class could have been with us. Best to all...Cyril & Judy
Q: Has anyone in our class celebrated more than 59 years of blessed marital bliss? Cyril
May 4, 2020,,,,,I had a wonderful conversation with Judy Manning today. My son, living on Long Island , buying an older home and doing it over by himself, (because of Covid 19) got me to making the connection with Judy. She lives in Hempstead LI and seeing I hadn't spoken with her for a couple of years,,, well, I got thinking the worst of course. Luckily and thankfully, that didn't happen and we had a wonderful conversation. She did have a bad spell, hospital bound for weeks last summer, but that's all behind her...thank the Lord. Her son Kyle and his two kids (teenagers now) are nearby, one of which is about to get her license. And then let the fun begin. She walks every day and helps out others in the community she lives in. We talked about some of you (were your ears ringing) and the time she missed my birthday party (she was sick) when we were kids. Of course she remembered my birthday is in July,,,what a memory. Did I mention it was so nice to speak with her? Of course I did, and I say that because it is a great feeling to make this kind of contact after so many years. Pat and I have email adresses and phone numbers, so don't be shy,,,just ask and we'll help you make a connection with a classmate if you'd like.
April 28,,,,I called Dottie Murphy and writing this, I forget why,,you must know how that is. we had a long talk about everything, from school, to family, to friends and the terrible Covid 19 situation we're in right now. Oh, I do remember both of us crying about growing up and what we had to overcome to just get by. We spoke of the hardships our kids didn't have to go through and how lucky we weere to have them escape that. Good or bad, they didn't have to go through it. Of course we talked about some of you (ears ringing again?) but all good of course. And Audrey came up,,,God I miss her. We also talked about things that are near and ear to our heart which are aches, pains, canes, operations and more. Now see the difference between then and now? Back then it was Saturday night, the drive-in movie, some back seat passion,,,oh, those were that days, weren't they? When we ever get home from Florida, I'll call you and if the governor will let us, we'll go to lunch. Loved talking with you
Let me brighten your day a bit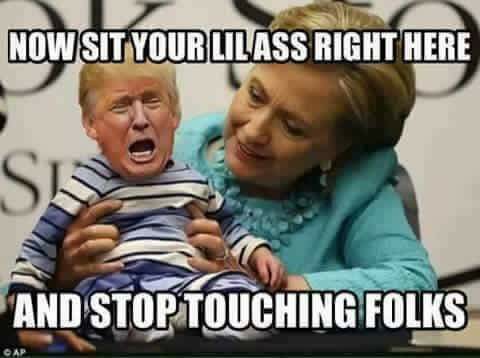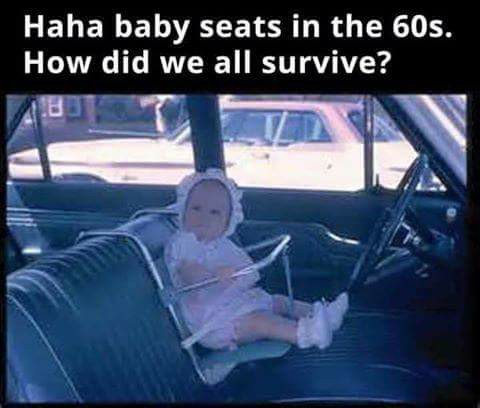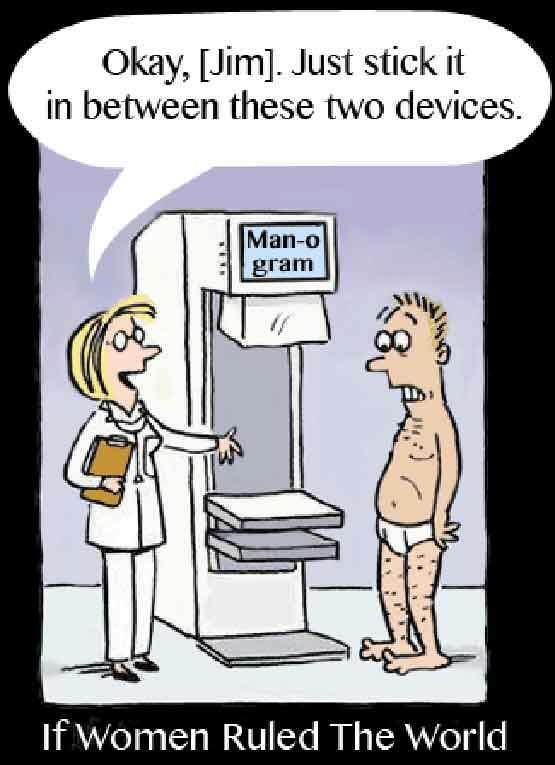 THE 60TH IS BEHIND US AND OH, WHAT A NIGHT
And Guess who came to the reunion
Paul B, Ray and Vinnie, Larry C, Pat D', Bruce, Jackie M, Dottie McD, Eddie M, Karen Keto, Judy Peterson,
Sandra K, Marianne, Clarkie, Jessie, Mike Soko, Sally, Brenda, Joe C, Cyril and Judy,,,and Whitey. Denise came, as well as Butch K
and after too many years away, David Holt was there. Some of these folks came single and still others brought a spouse or friend.
The good news is: that's not a bad turnout after 60 years. Note: Bruce and Linda had a medical situation that kept them away, but they were in our hearts.
And as our guest, Martha Whittemore attended. So glad to see her.
Here are the preliminary photos and I say that because I'm on the search for individual photos which I'll post as I get them. The room we were in was tiny and thus the photos were taken at an angle. That, plus there were some tiny heads in that back row that we didn't fully get. Too late to go back though and what we have will just have to do. Just to make sure they get their just due, let me tell you who was in that back row, starting left to right. Larry, Mike Soko, Joey C, Paul B. Whitey, Butchie K, and standing tallest of all, David Holt. The rest you can figure out for yourself. I'll post a couple that do show slightly different angles but they're not all smiling and looking at the camera. And they may not be totally flattering but so be it. If any of you have pictures of any kind, please email them to me.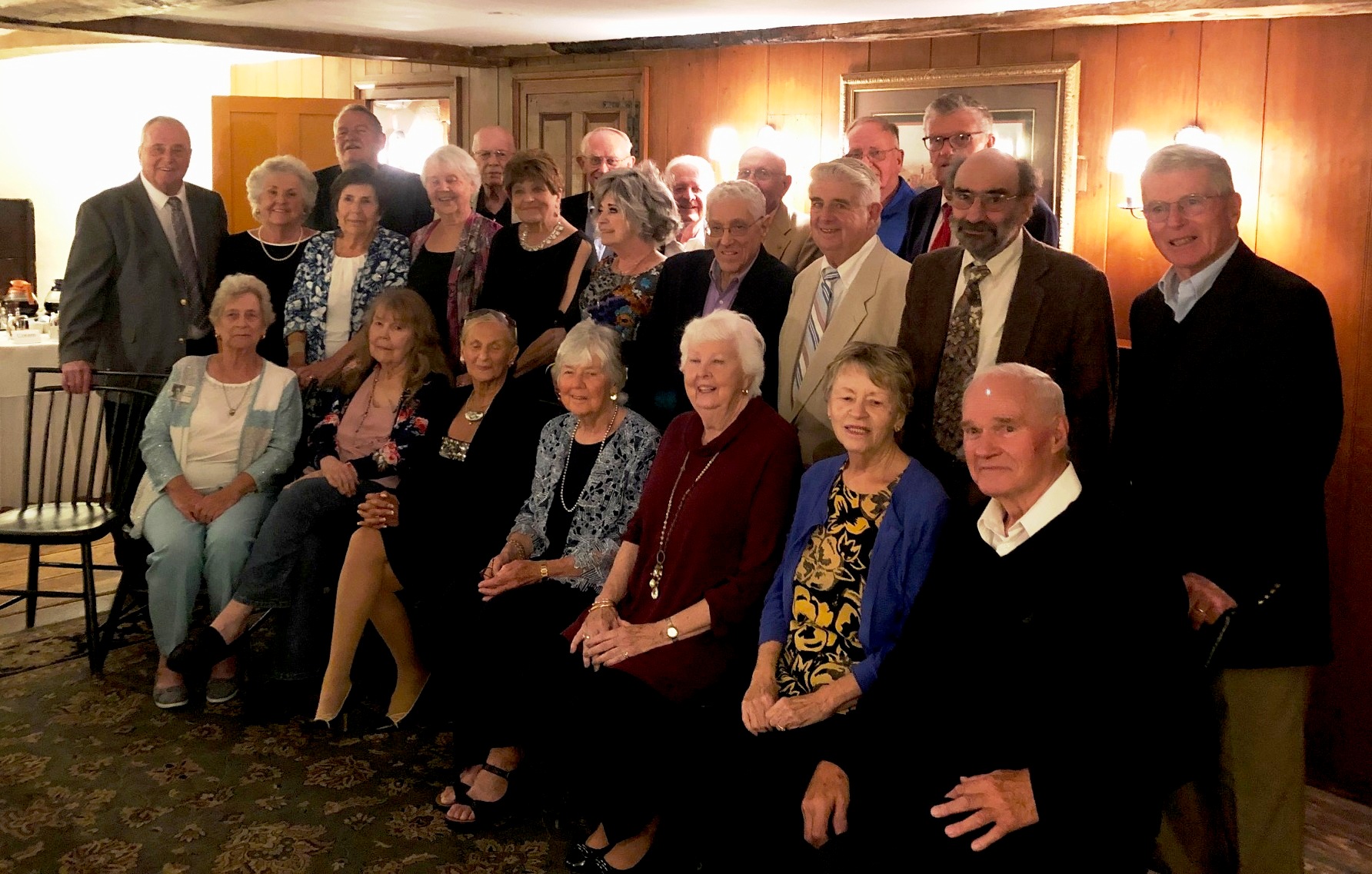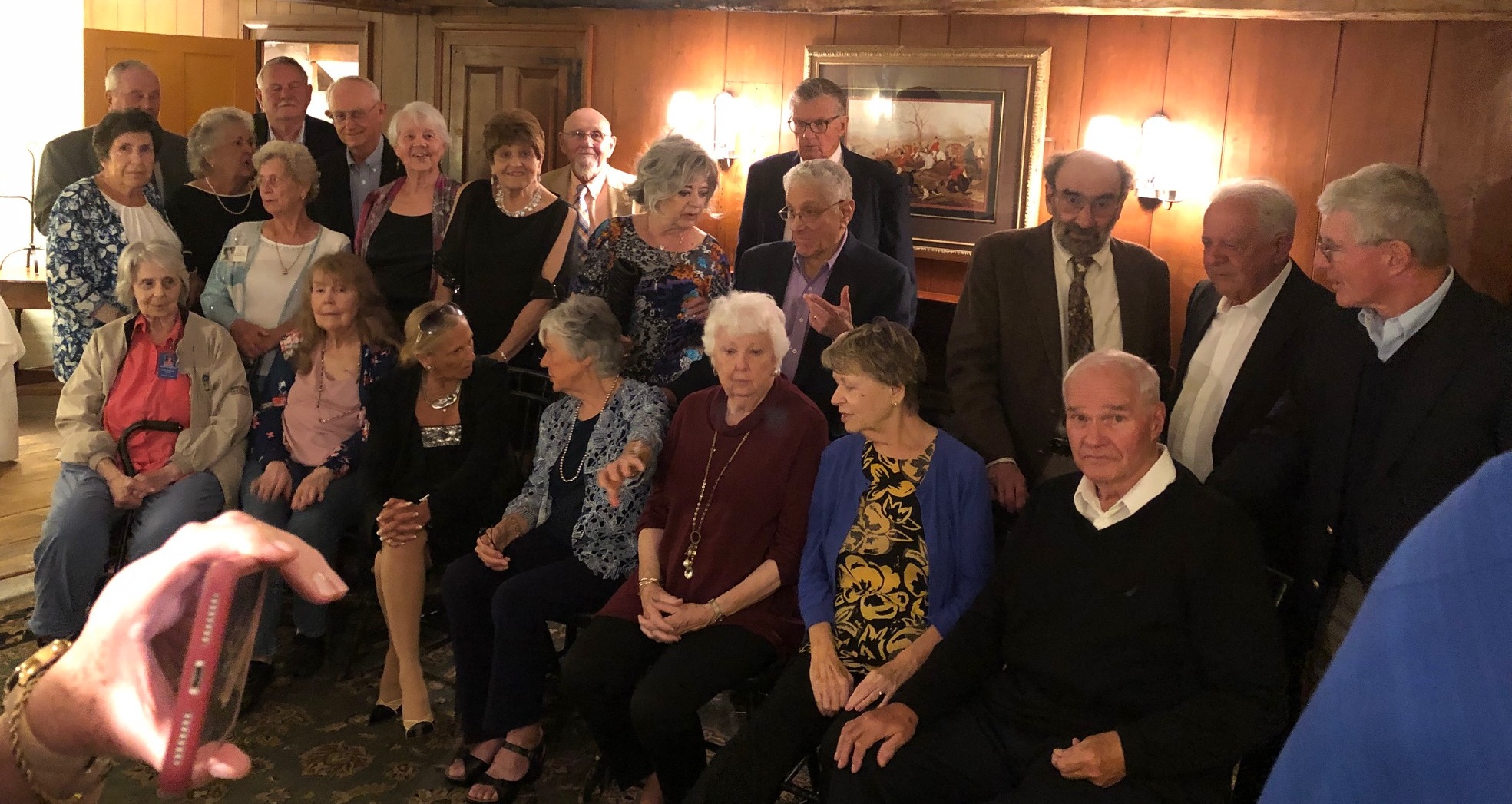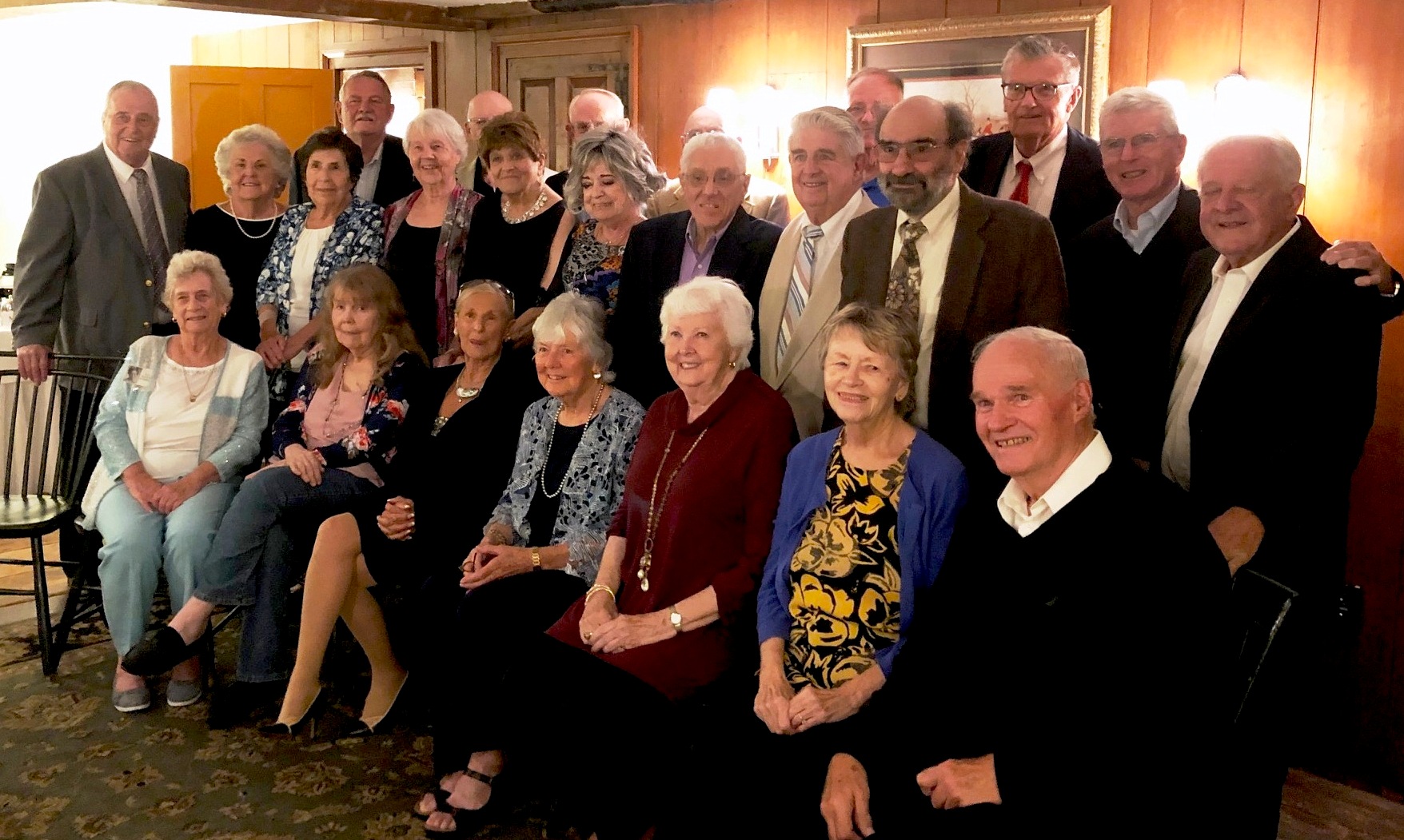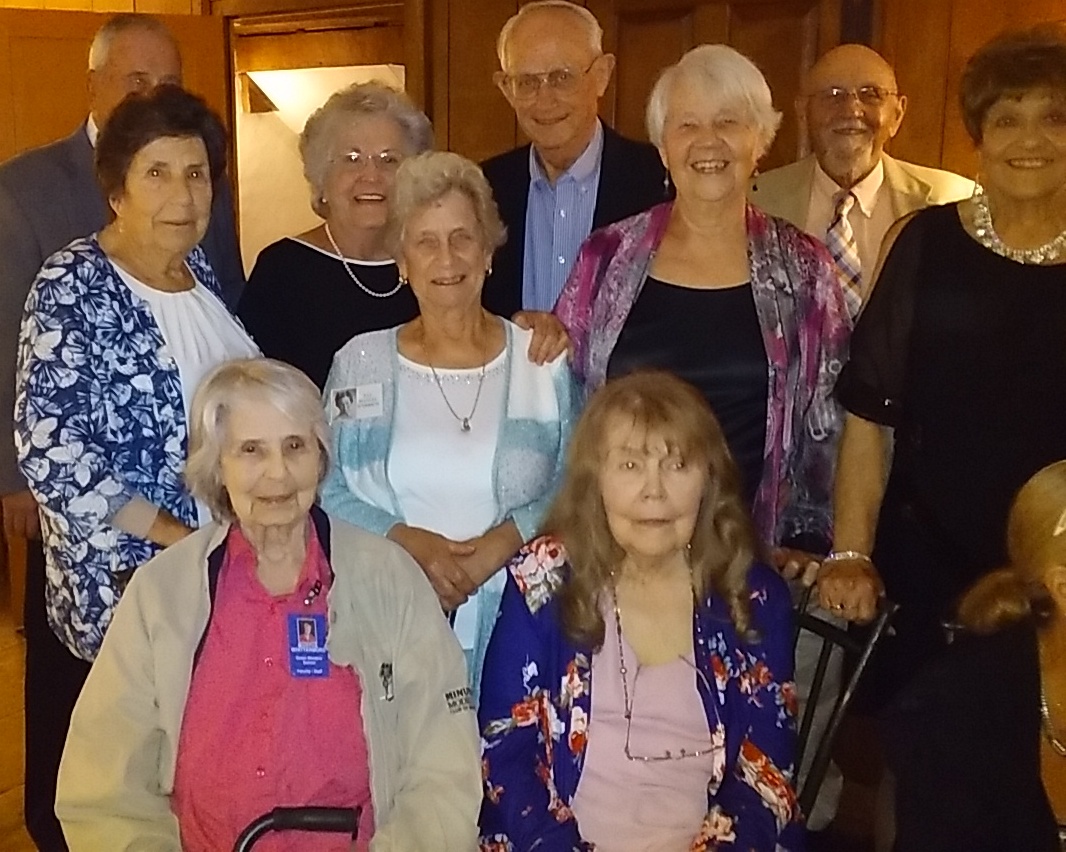 and yes, that's Martha Whittemore. Miss Whittemore as we knew her. So glad she could attend and thank you John Erb for getting her there.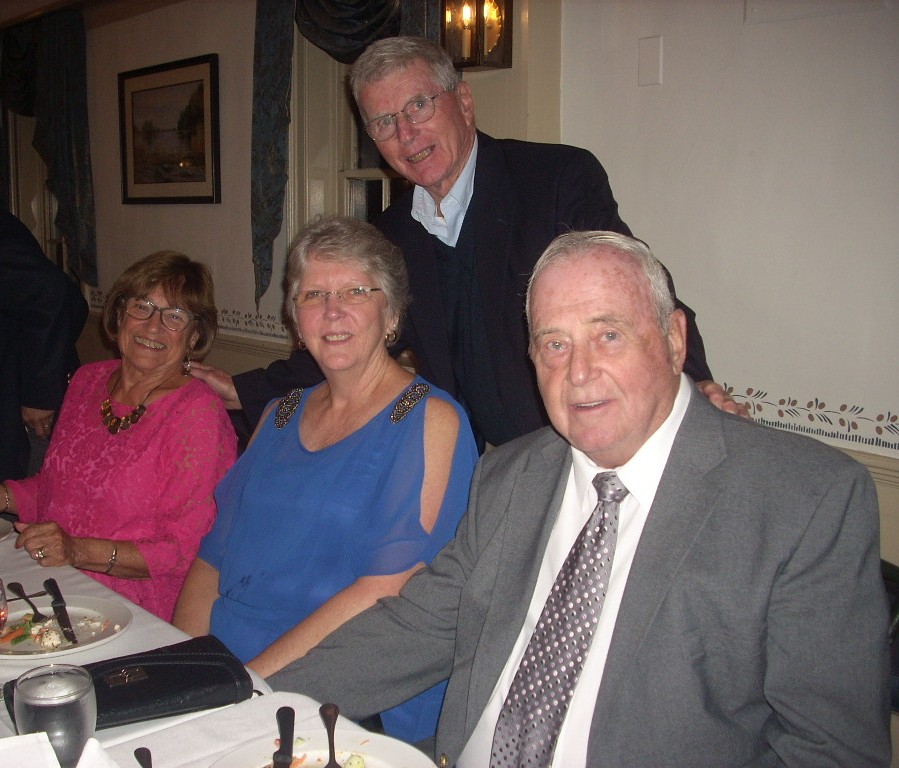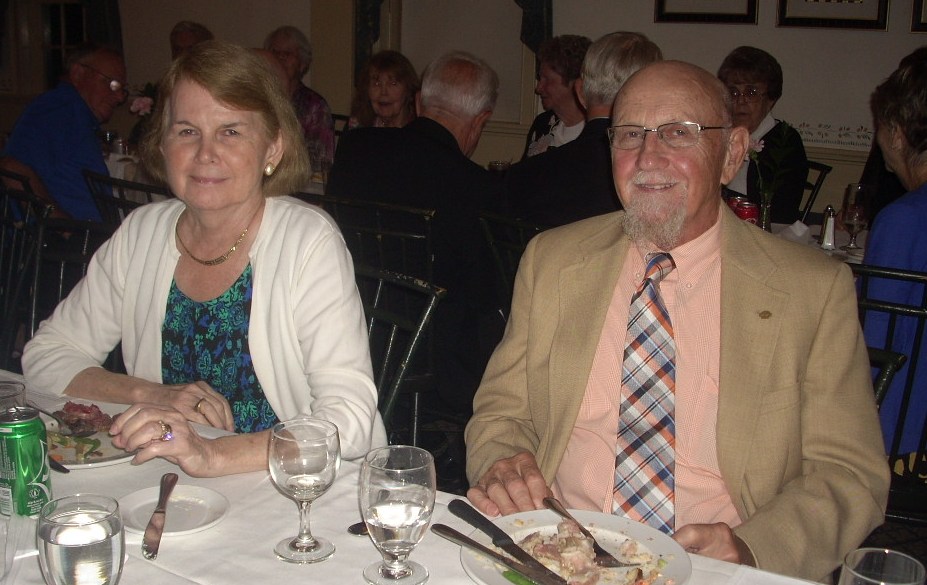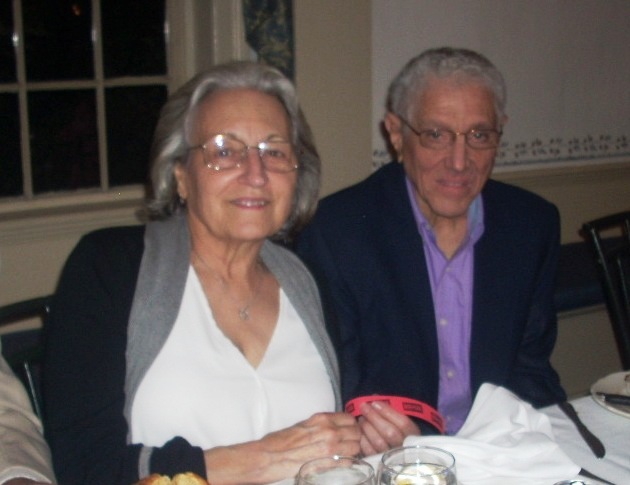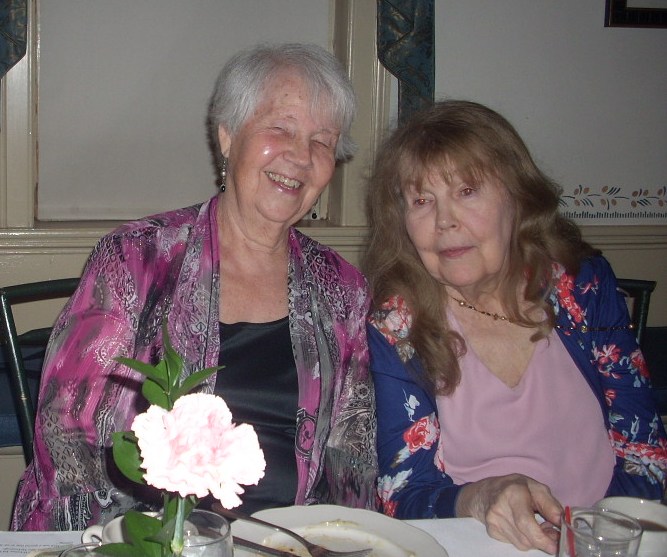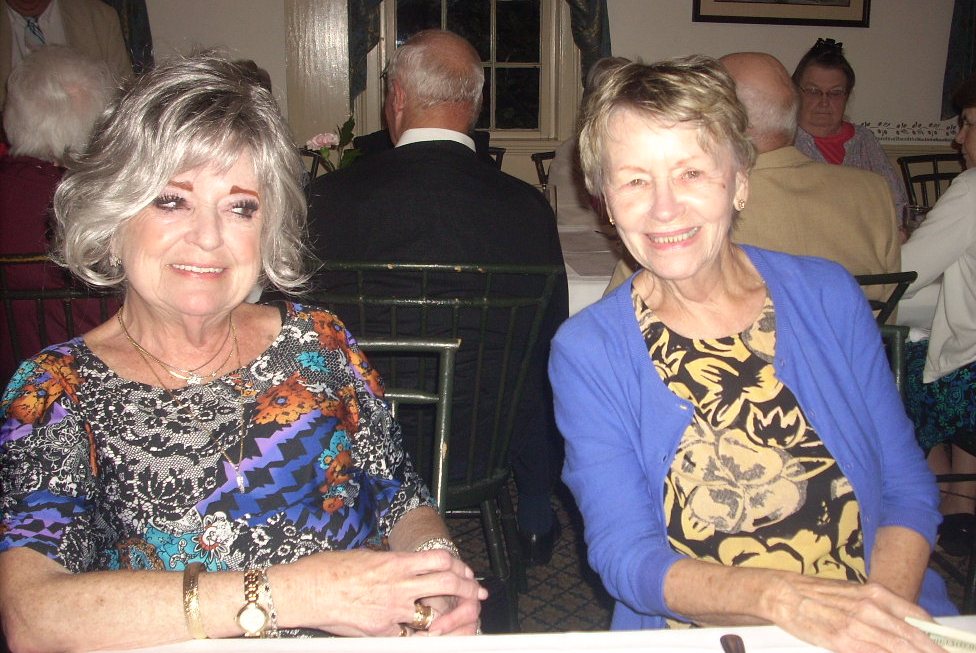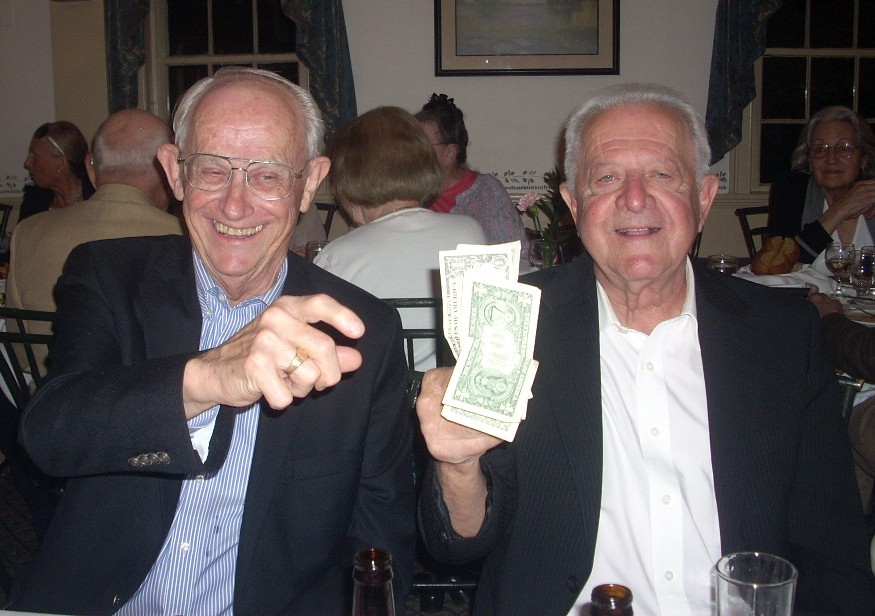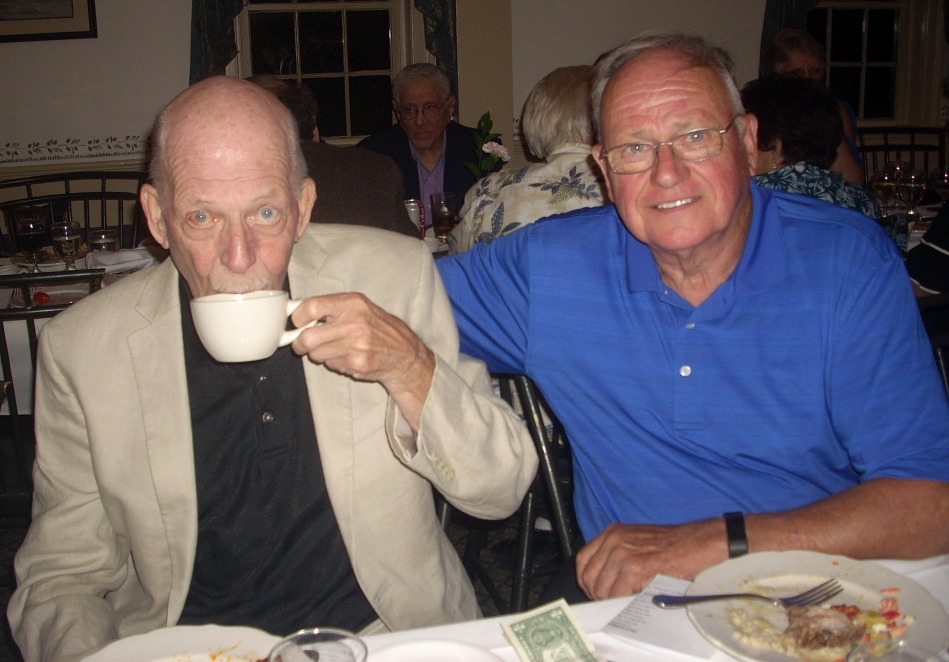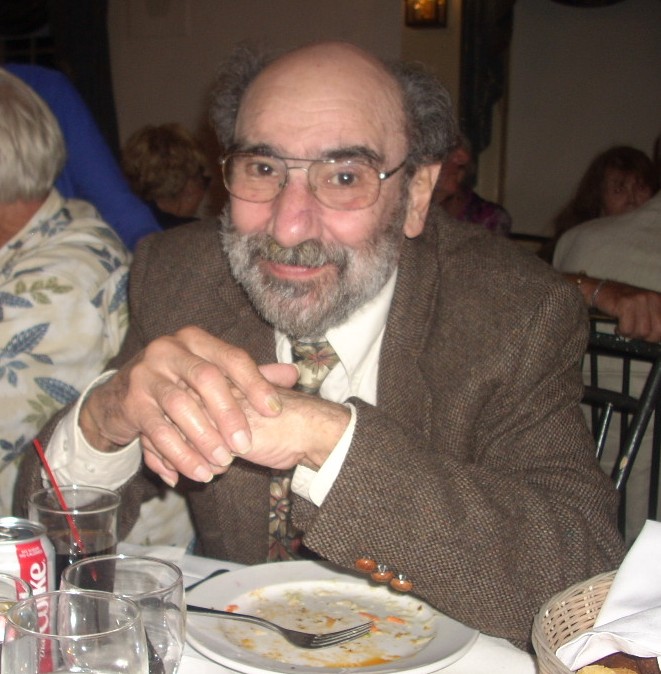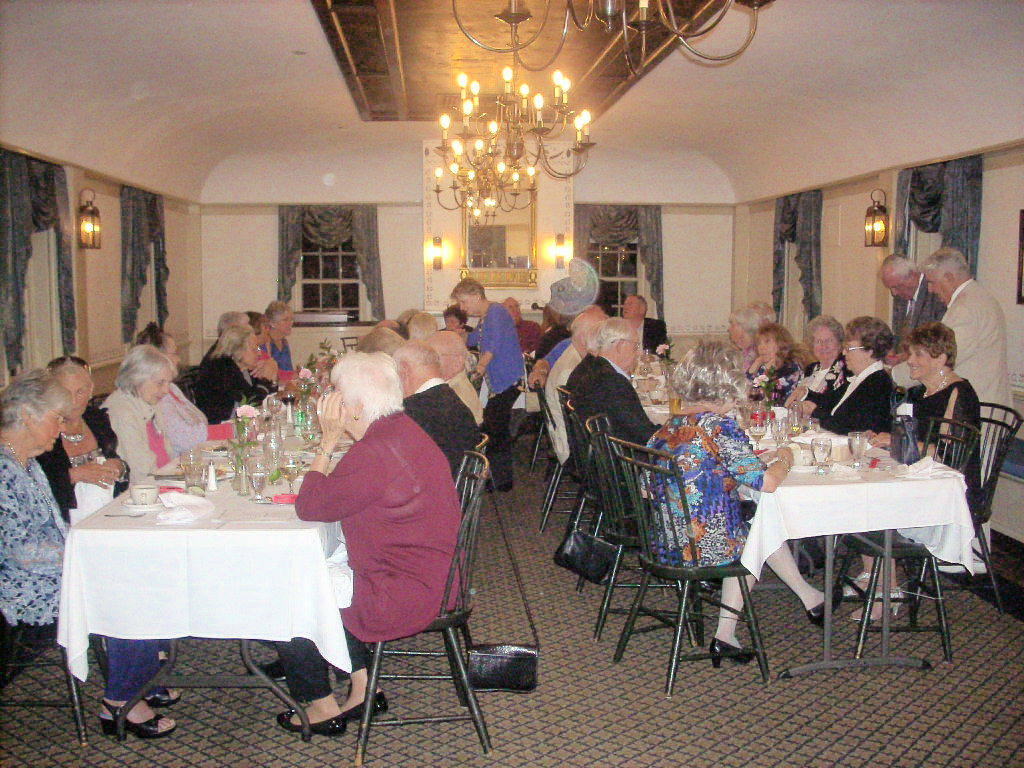 I think it goes without saying that it was a night to remember for all time. So many wonderful classmates and their guests of course who have been for years, part of our MHS family. Lenny called me just as we were sitting down and I couldn't stay on the fone with him,,,sorry Len. And Clarkie got Billy Shaw on the fone which we passed around to say hi. Smiles, laughter, hugs, kisses and some old time stories filled the air. Added to that, it was a great location to have our 60th reunion and so far nothing but total praise for a wonderful night. It can bring tears to my eyes thinking that the next photo of this kind will be missing some of these great people and that's why it was so special that this group came to this occasion of 60 years out of MHS. I'll post more photos as I get them so stay tuned. Let me just say too, that this class of 59 was special. Not so much for me in the day, because I was never in the limelight, but now, and over the last 40+ years, it's meant more to me than just a member of the class. We have stayed together for all these years whether it be at the actual 5 year reunions, the mini reunions we have both here in Maynard or in Florida, through facebook, the website, emails and for us locals, just bumping into each other around town. So many classes are missing the boat by not staying in touch like we have. That said I'll get off my soapbox and let you have the stage. Whatever you send me, I'll post right below and I hope all of you do that. Note: I was a small part of the group that set this night up and you know by their photos in the original letter who they are. There was one however that stands out amongst that crowd and I would be remiss if I didn't make more out of what she has meant to this class,,,for years and years. Yes, Pat (Manual) D'Errico, that's you. 60 years ago, she stepped up with a typewriter and started keeping track of all of us and I can't praise her enough for what's she's done by keeping track of, and keeping us on the track to pull these gatherings off. Hat's off to you Pat for all you've done for us for so many years. Enough,,,God Bless You All,,,jackie
Notes from our classmates:
Thanks so much for all the pics. I'm enjoying them from the comfort of my LZ boy as I recuperate from double hip replacement surgery. Doing great but was sorry to miss everyone. Love, Barbara (Babs) Harrington Holt
Hi, I recently retired after spending 50+ years in banking including 15 years living and working in the Los Angeles area during the early 70's. I am living in Falmouth with my wife of 45 years, Karen. While living in California, we were blessed with two sons, Matthew and Christopher (both single). Matt lives in New York City and is Managing Director of a Private Equity firm. Chris is a Master Yachtsman being a Captain on Mega Sailboat Yachts cruising the Caribbean, Mediterranean and New England waters. I enjoyed seeing the article on the web page of past teachers and coaches. Especially the picture of my mother and your school nurse. Mother always thought and loved all of you. Things have been great, enjoying the Cape and winter trips to South Florida. Karen and I look forward to seeing everyone at the 60th in September. Sincerely, David Holt
from Karen (Keto) Nichols
After leaving Maynard High I went to Mass General School of Nursing for my RN. This was a fascinating place. Then I was off to San Francisco where I worked in the open heart recovery room. Next my education resumed at Wittenberg University in Ohio where I got a taste of the Midwest and my Bachelor of Nursing degree. I worked at the student health clinic while there. Then it was back to Boston where I worked as a psychiatric therapist at BU's unit at University Hospital. This was the position I liked best as I had a wonderful mentor and followed patients as outpatients, usually meeting with them weekly for many months. I lived in Cambridge and met my husband Larry who was a graduate student at Harvard. We both attended University Lutheran Church; we were married there in 1966 and still attend church there. We still have friends from those early years. We have two sons and have lived in Arlington for many years. I resumed work close to home as a charge nurse at Park Avenue Nursing Home while raising our sons. A surprise job fell in my lap on retiring from nursing. I answered an ad to greet people at the Belmont COA Senior Center, then the director retired two weeks later, and I found myself in charge. I developed programs, rapidly increased the budget and number of attendees, and produced the monthly newsletter, among many other things. Along the way I learned computer programs that helped me do my job. As I retired from that job they opened a new Beech Street Center, a state of the art center where I now take yoga classes, play bridge, and volunteer. I am on the Friends Committee where I help with many activities; the biggest one is chairing the annual craft fair that brings 50 craftspersons in addition to those from the center. My other activities are singing with Cantilena, a 50 voice auditioned women's chorus, being a deacon at my church, serving on the Board of the Arlington COA, being part of a monthly duplicate bridge group for over 40 years, and attending Finnish activities. I jogged for many years but am now part walker—part reader as a couch potato. My music has been a large part of my life, singing in operas and other staged productions, thanks to Mr. Garabedian. Larry, who worked as a research chemist, and I are now retired. Our son Mark works as an engineer in computer hardware in San Jose. Our other son Fritz is in banking in Burlington, Vermont. His son, our grandson Christopher just finished his high school freshman year. He is on his school's ski team and has his first job at a local grocery store
Hi Jack and All, I would love to make our 60th MHS'59 Reunion, but unfortunately, Lynne and I will still be in West Yellowstone, MT and then starting back to FL in October. We have become full time RVers with a 36 ft Grand Design Reflection Fifth Wheel. We will be starting on our adventure on March 25th by spending a week with our son, Keith, and his wife in Ormond Beach/Daytona, FL. We will then take off on I10 all the way to Phoenix, AZ with multiple stops on the way. Then North up to Flagstaff, AZ to visit Sedona and the Grand Canyon for a few days. We will then go West to Lake Mead in NV for a few days to see the Hoover Dam and tour the lake itself with Kayaks. From there we will head North thru Utah and Idaho into West Yellowstone which is right on the Wyoming and Idaho lines. We are planning to take a month to go to and from West Yellowstone. We have Workamping jobs in West Yellowstone for 4 months for which they pay us and for our full hookup campground site. We will have plenty of our time there to visit Yellowstone and Grand Teton National Parks. We are really looking forward to this new adventure and hope the weather will change to be in our favor for the trip. This is a great country we live in and we are looking forward to seeing it. We will miss you all at the reunion and will try to FaceTime Jack to see you all there. Love to all, Lenny

Unfortunately I will not be able to come to the reunion on Sept 21. My sister Janet and I will be in Hawaii. Janet and I are living together in Sarasota in an very active adult community. When both of us lost our husbands it made sense to combine households. We are doing a lot of traveling together. We spent two months last fall in Austria, Italy and cruising the Mediterranean. This fall we are going to Vancouver then cruising to Hawaii. We spend a lot of time in new England visiting with my 6 kids and 7 grandkids and Janet's two girls and four grandkids. Next weekend we will be in York beach for our 10th annual women's weekend with 16+ women family members( no men no kids under 18). In Florida we spend lots of time playing games and enjoying the cultural and sporting events. Sorry to miss the reunion. I appreciate Jack keeping us all in touch. Judy Kane Kulju
Elaine (Joyal) Barnard - It's that time once again. Where have 60 years gone!!! Thank you so much for Jack setting us all together for a great visit (mini reunion - Roasted Peppers). Sooo good to see so many, Sandra & Paula (daughter and sister) enjoyed it too. I'm doing better but am on a two year treatment program, so I won't be doing any traveling for now. My best to all. Elaine...and Elaine sent me a recent postcard which went like this: So glad to see so many classmates when I was last home. Thank you. Will think of you all in September. I'm in a 2 year treatment program, so I have to stay here. My best to everyone.

Dave Spratt - Would really like to attend, but we are in New England for most of July and August on vacation. We already have many commitments for September and October. As a result I have to pass on the reunion. Wish everyone the best, have a great time. God Willing, I look forward to our 65th. Dave

Vinnie Buscemi - I am still in the Lakes Region of NH. It's quite a scenic and relaxing area. I do travel to Maynard now and then. The town holds many happy memories for me. I'm looking forward to the 60th. Vinnie

John White - Here in Carver all is well. Like to think the same for you too. Eileen and I spend most of winter in a southern clime, I.e., Florida. We travel in an R. V. for most of the time with our dog and cat. Leaving around T-Day we go to Virginia to see grand-children. Coming back around April, we stop in for some up-dates and revisions (more money?). Life is good, all in a healthy state. Close to 50 years in same house and wondering about down-sizing (how do you make a "Z" in cursive?), need any stuff? John

Clarkie,,,, Greetings to fellow classmates. Remember when we thought 60 was old but now that we've been out of school for 60 years it puts a whole new perspective on that thought. If you're reading this it's a good thing. Not a day goes by without some reference to old times at Maynard High School or without running into a classmate or other students from the same era. To sum up events for the Smith's over the 60 years: work for GM took me from Framingham, MA to Tarrytown, NY to Warren, MI with business trips to Kansas City, KS and other locations. Travel was always an enjoyable event. From cross country trips to cruises to our March annual "down south" trips and keeping up with family and friends thru out the US provides interesting events. Karen beat me to retirement and has been so far more years that she taught. My retirement started in "99 so I've practiced for 20 years. My statement on retiring was "I'm looking forward to being bored", well it hasn't happened yet. We entertained for 40 years with our "Pig Roasts" and still enjoy activities at Fort Pond and Brant Rock (our summer place). We celebrated out 51st anniversary and they said it wouldn't last. We've dealt with a few health issues but have conquered them and are feeling fine. Here we are not only reminiscing our old times but creating new memories. Clark Smith
Leena,,,,,,, Where are you?????????
I wish Leena would contact us,,,Leena, please call me 978 897-3445
HOLY CRAP,,,,JACKIE IS TURNING 79 AND HERE'S ED AND JACK AT BREAKFAST COMPLETE WITH A COVID MASK HANGING ON MY NECK.
BREAKFAST WAS OUTSIDE AT BABICO'S CAFE ON THE NEW OUTSIDE DECK. IT'S DOWN IN THE PARKING LOT ON NAYLOR CT AND YOU CAN SEE THE OLD BRICK FIRST NATIONAL GROCERY STORE IN THE BACKGROUND.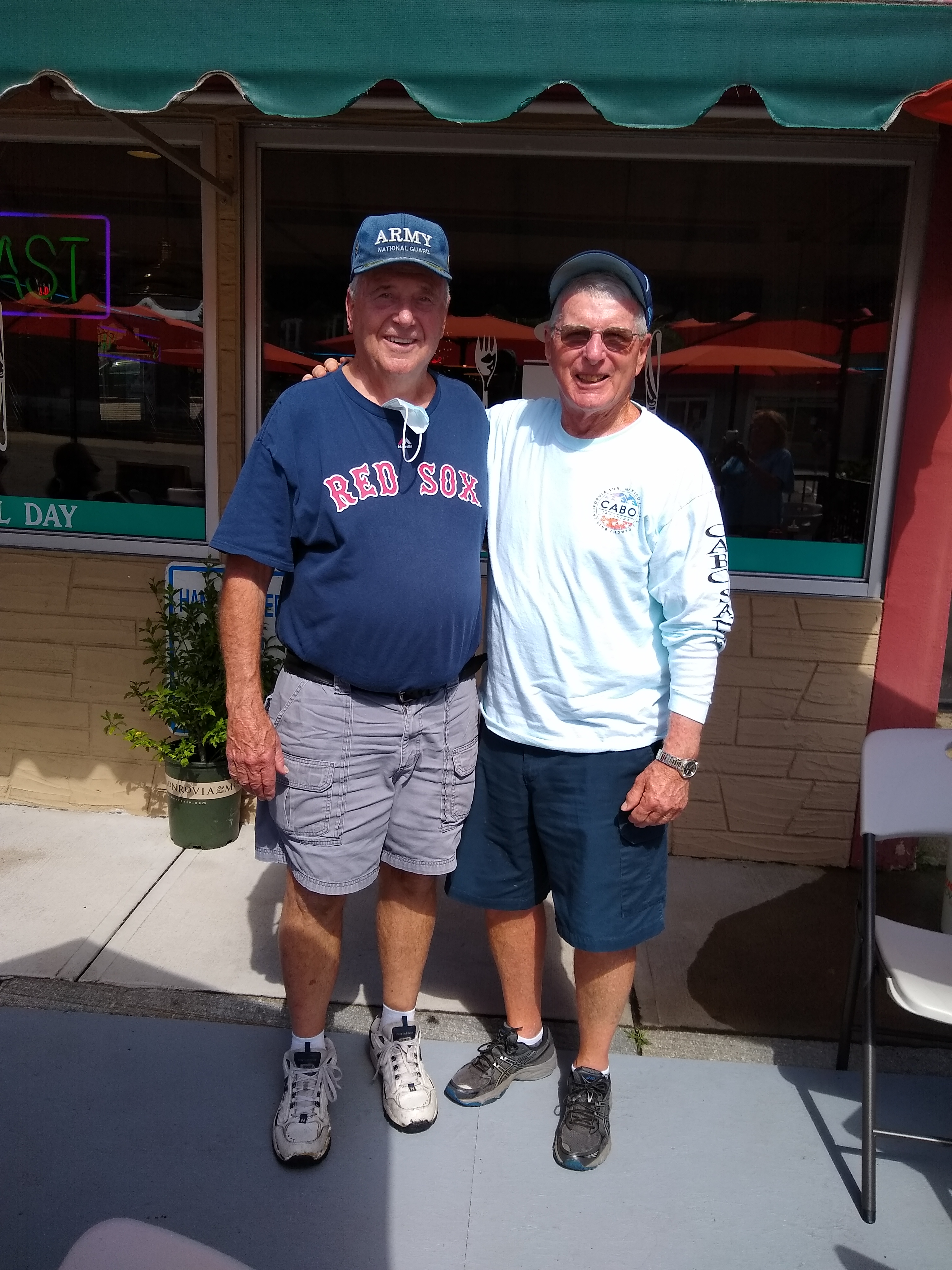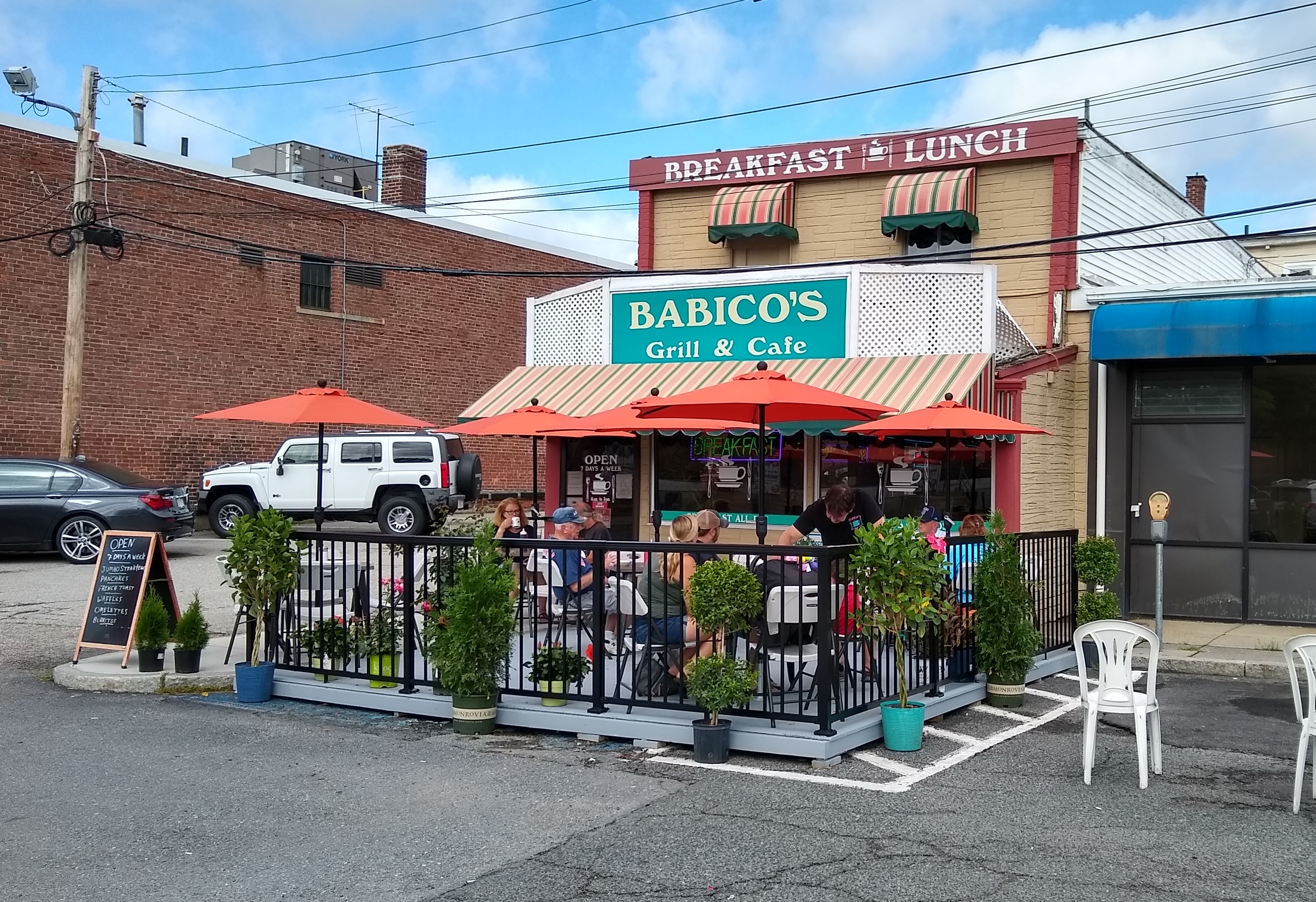 HOLY CRAP........EDDIE MULLIN JUST TURNED 78
THESE 75th PICTURES BELOW ARE REALLY OLD NOW
On more happy notes. These are year old 75th birthday pictures.
Send me 76's and now 8's,,,I dare you
,,guess who just turned 75 and I know some of you already have and the rest of us will very soon.
With that, if you send me your 75th birthday photo, I'll throw it up here too. And this came in from Betsy who visited David K in Greece. Long story and recovery with the arm. She fell and broke it in Greece. And then there's one of our youngest classmates, Ralph,,and brother Roy, but I didn't get his photo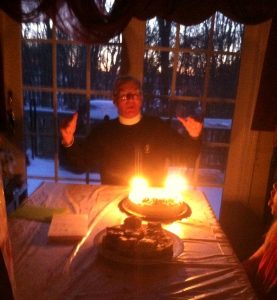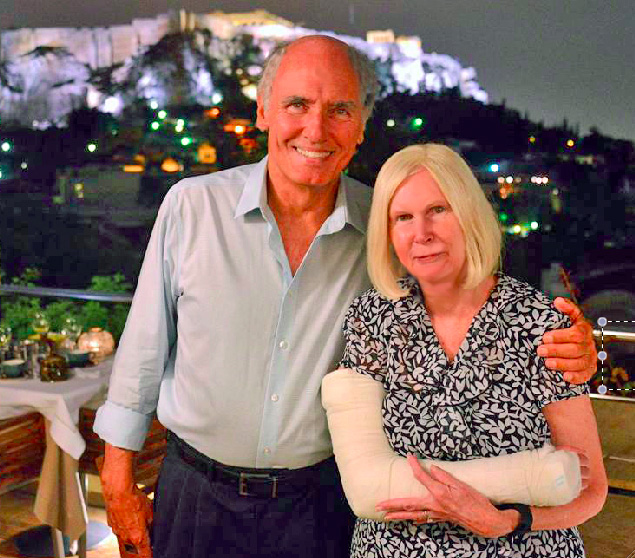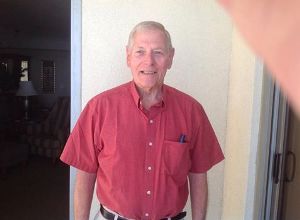 Now lets see what we have here. Lenny has lost his marbles but found diamonds in his ears, and Wally looks like he's on his honeymoon with his lovely wife Cat Mason. Night out on the town in Myrtle Beach. They live near by and are enjoying the hell out of their new place. Good for you Wally and you too lenny. Oh, and then there's Brenda cruisin down some river in Europe. What a great life she's havin. And that crazy jet skiing maniac is Lenny. He's livin the life too and good for him.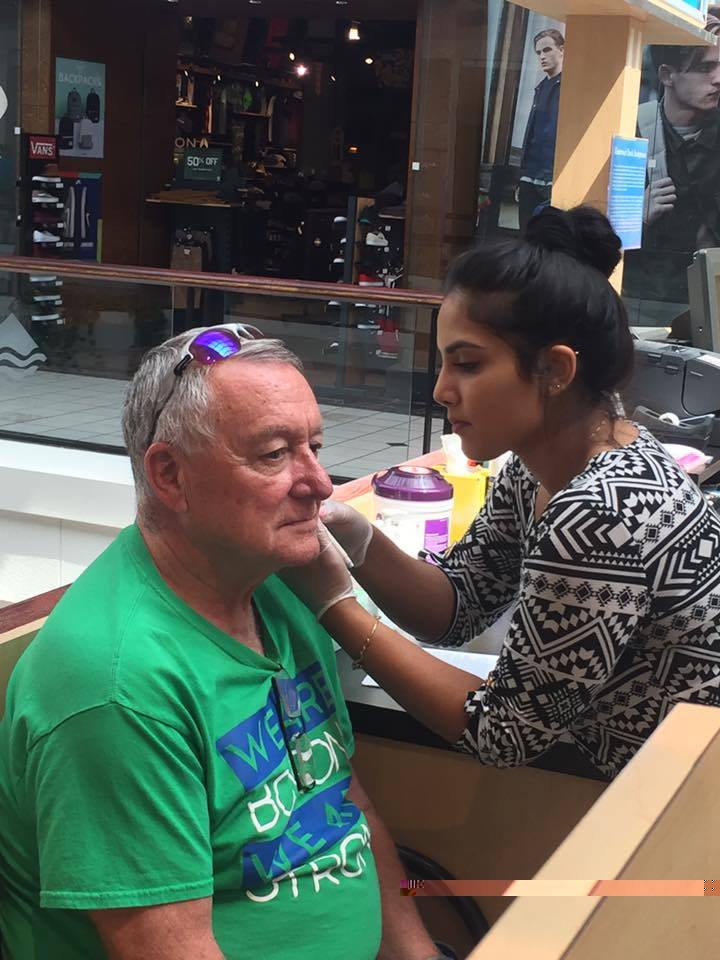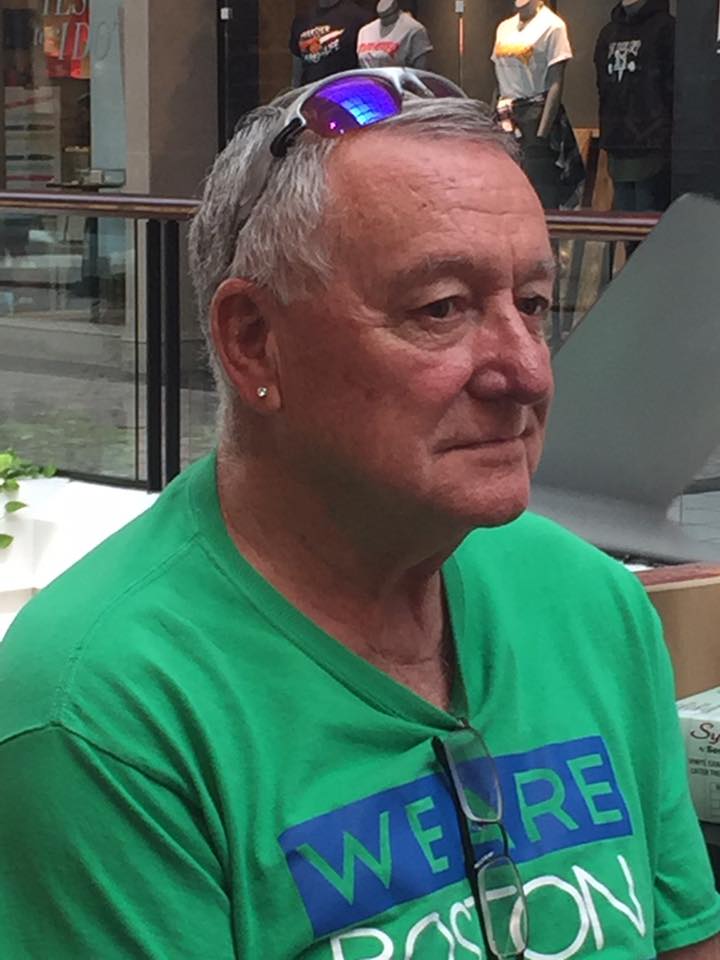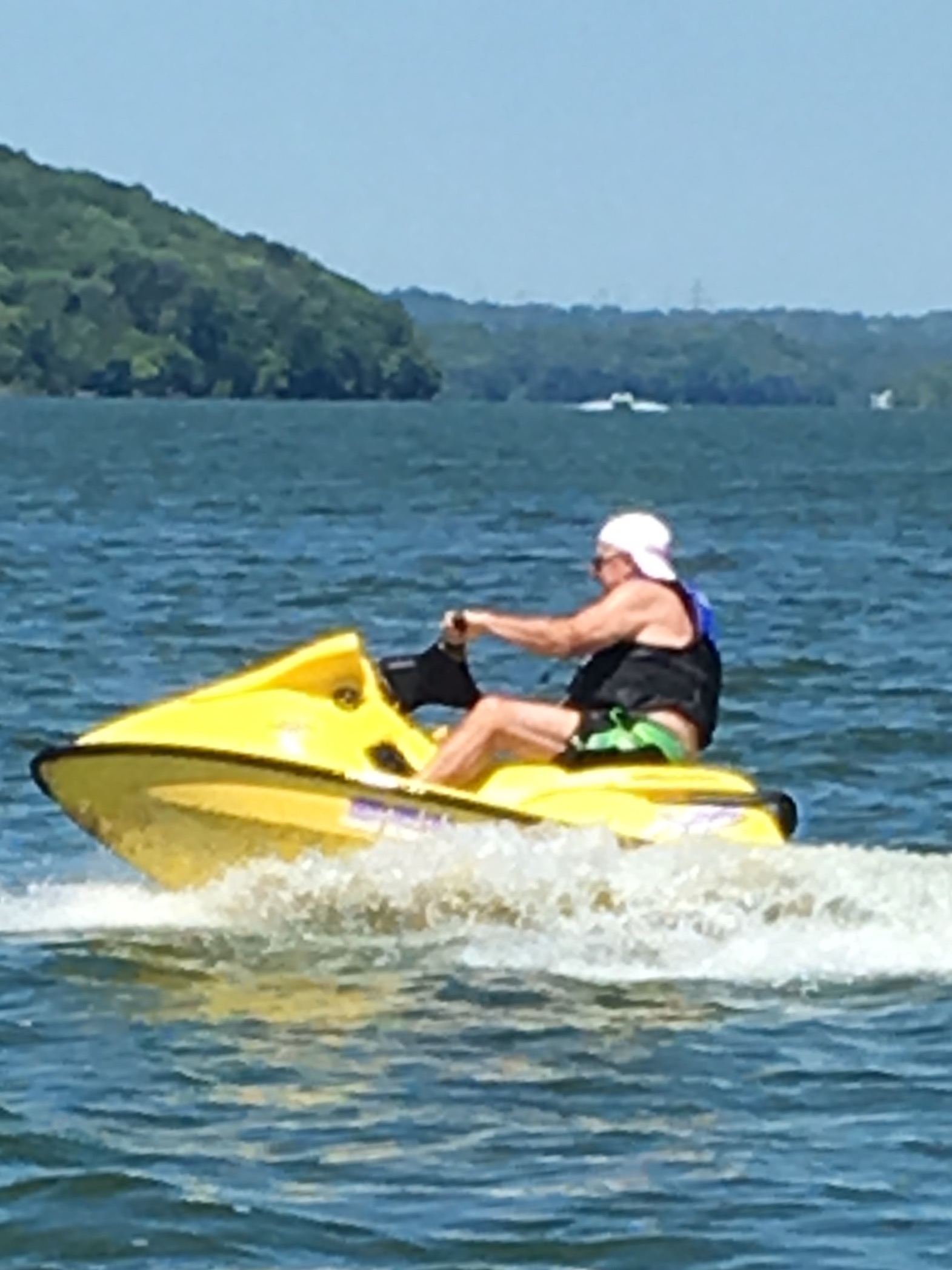 and then we have Jesse enjoying good ole Cape Cod this summer with her grandson, while Jack is up in Rockland Maine at the Samoset resort with his son Steve, pretending he knows how to play golf. Me pretending, not Steve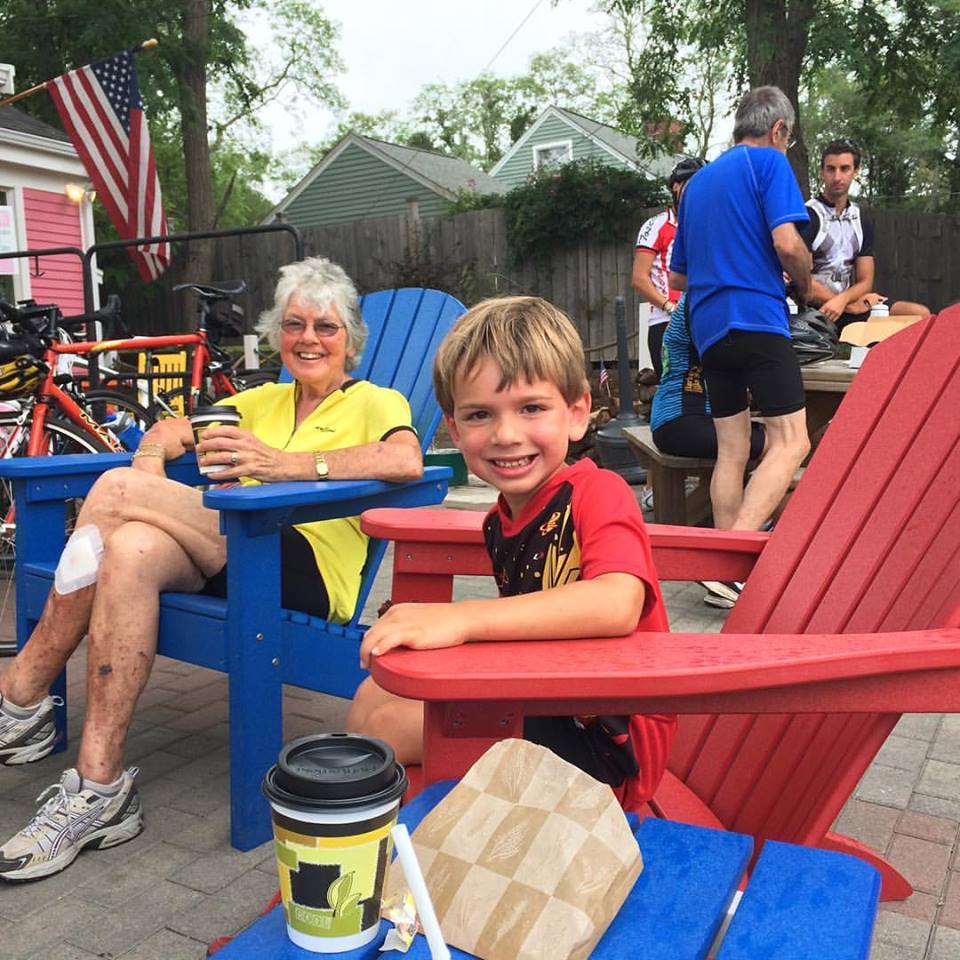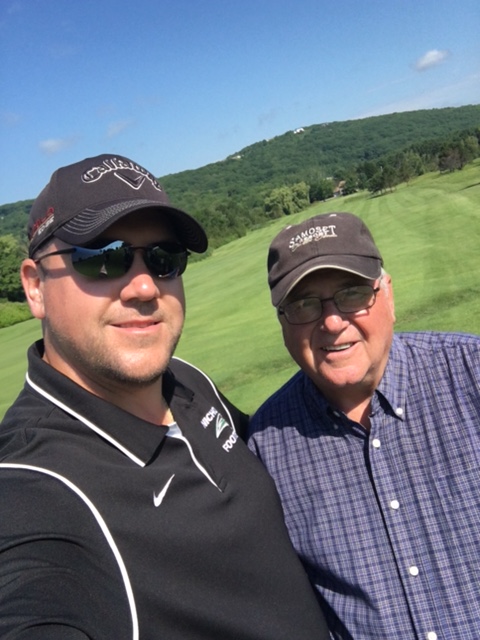 and from Paul Chyzus, his wife Carolyn and friends Bev and Dave, on the beach in Maryland and then eating crabs somewhere. Thanks for the pictures Paul.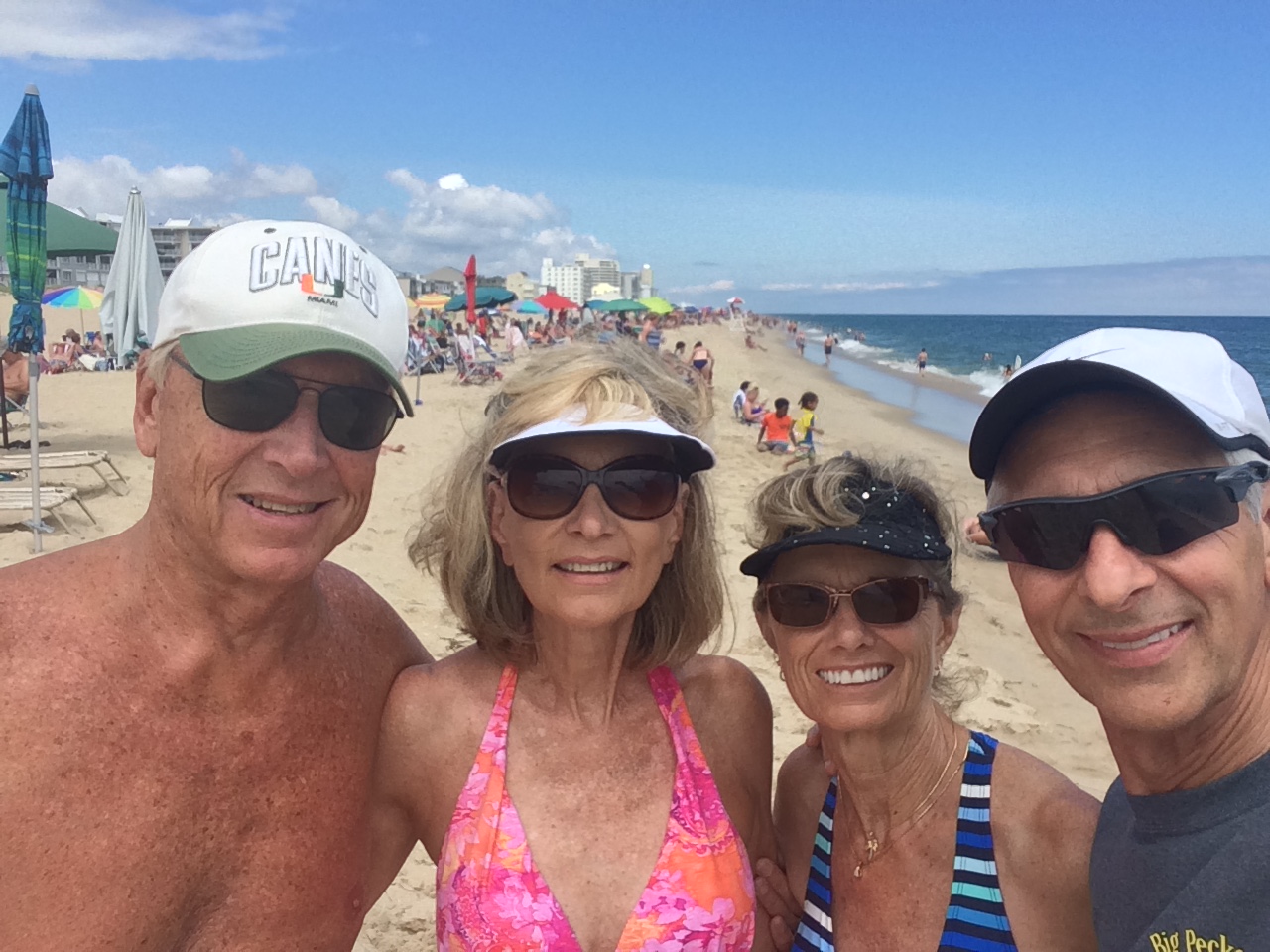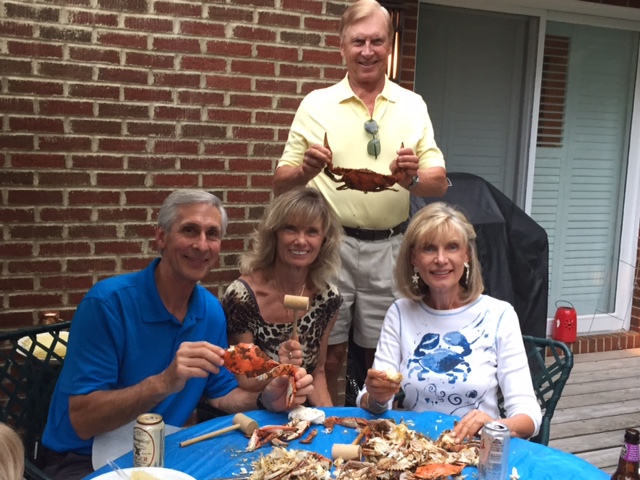 and from Florida, we have Judy, celebrating her 75th with sister Janet and family.....Keep em coming folks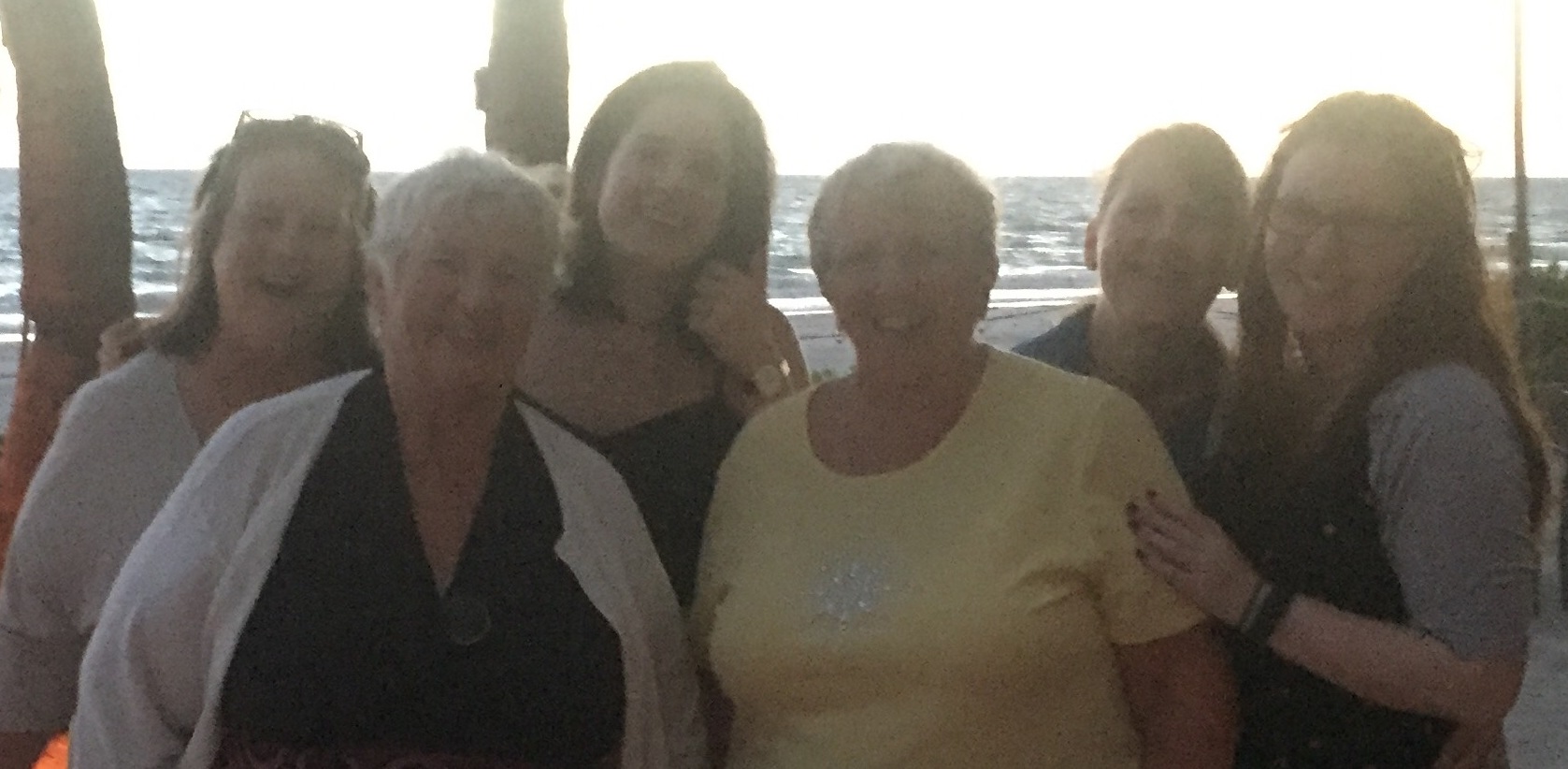 Now, this is a first for a classmate. Jesse,,,what the heck are you doing?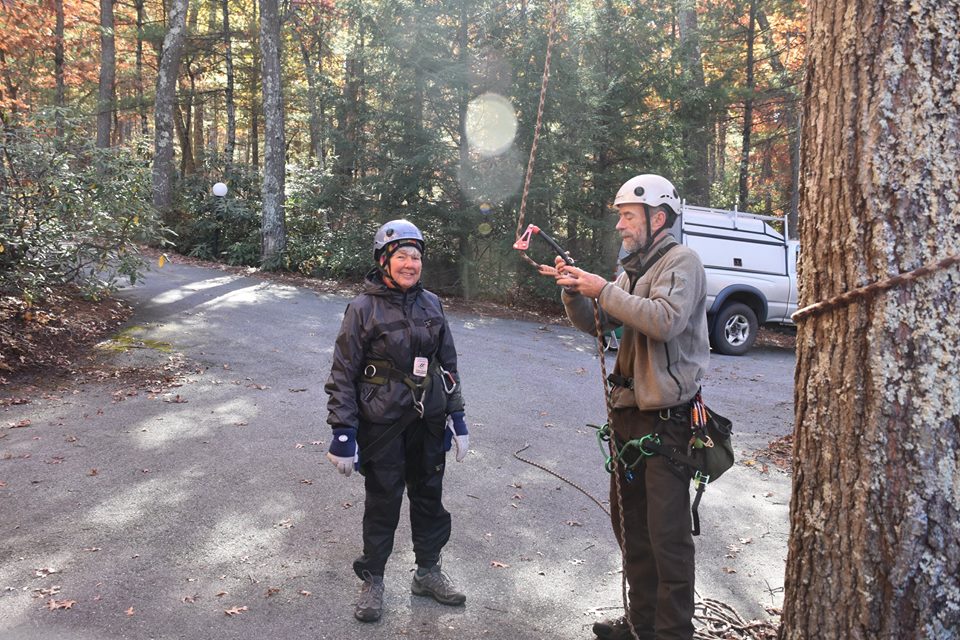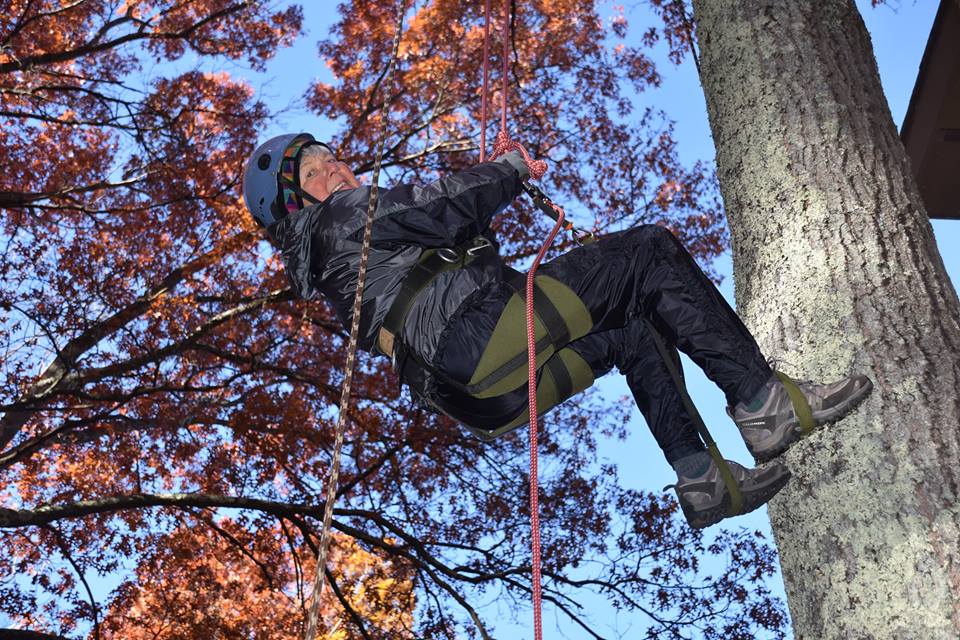 Now this is more like it (down to earth, I mean) Happy Birthday Jess,,,
and Billy hits the big 75 as well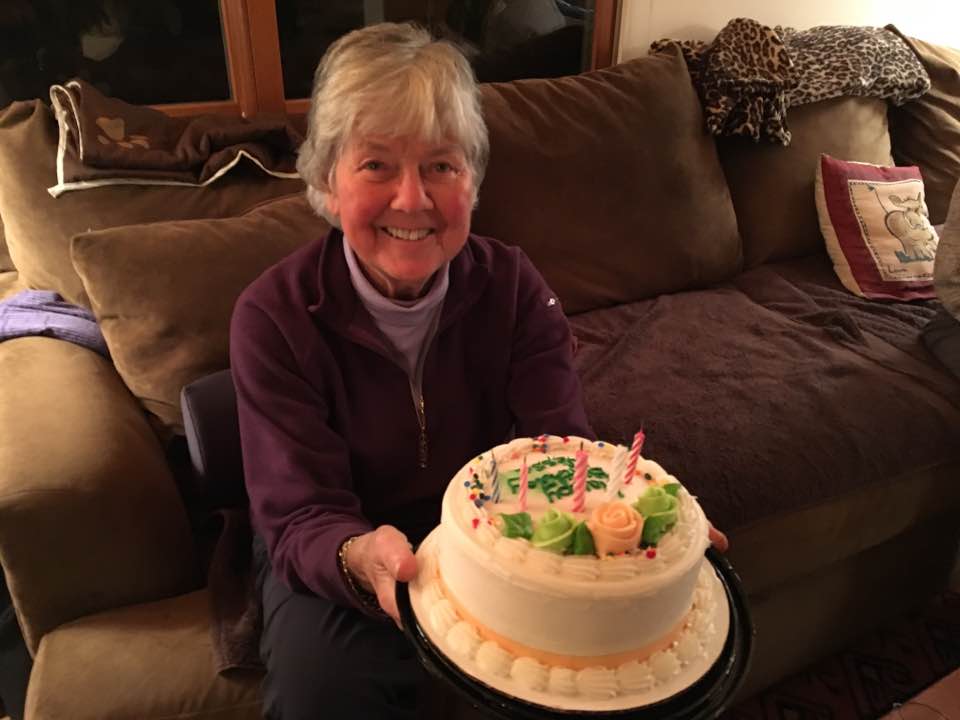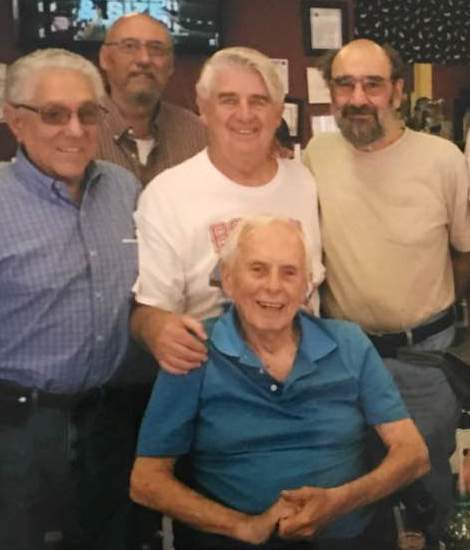 Just got this photo from Barbara Littig. Thanks so much for sending that to me Barb and beside Barb is David Holt, probably down visiting his son in Florida.
Like so many of us that can't stand the cold, he swings down there during the winter.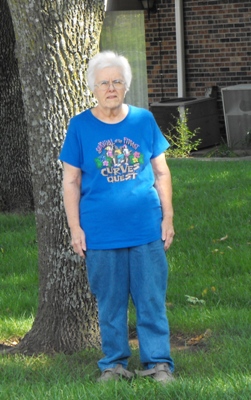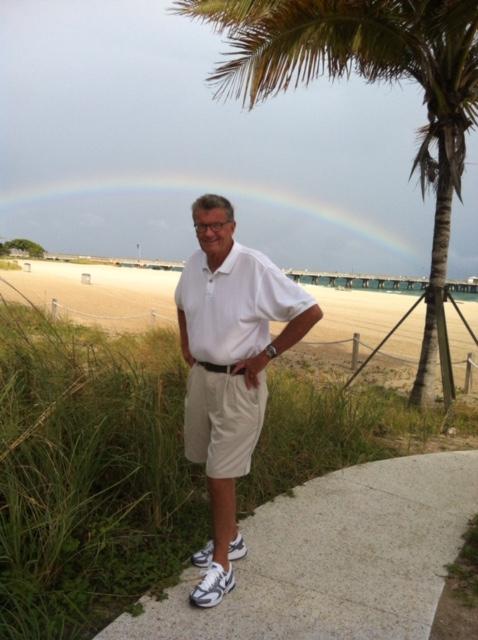 Next we have 75 year young, Bobby Bradbury (lying down on the job of course) with his family.
His wife Barbara on the left, his son Matthew, and joined up front by his sister Daryl.
Bob is recouping in rehab with a back problem and sends his love to everyone.
He looks like he could go to work at the mall as Santi Claus.
The class of 59' sends their love back you my friend.
Sad to say, Bobby did pass away after this picture was taken.
R.I.P. our friend and classmate
And I'll take any and all photos of your birthday celebration as well.
Please send them in to me
NEWS FLASH
You now can see every Maynard High School year book. Amazing
https://archive.org/details/maynardpubliclibrary?sort=-date
just click on that link
BUT,,,How about this crew? And sad to say, we're older than they were in these photos. Does that scare you or what?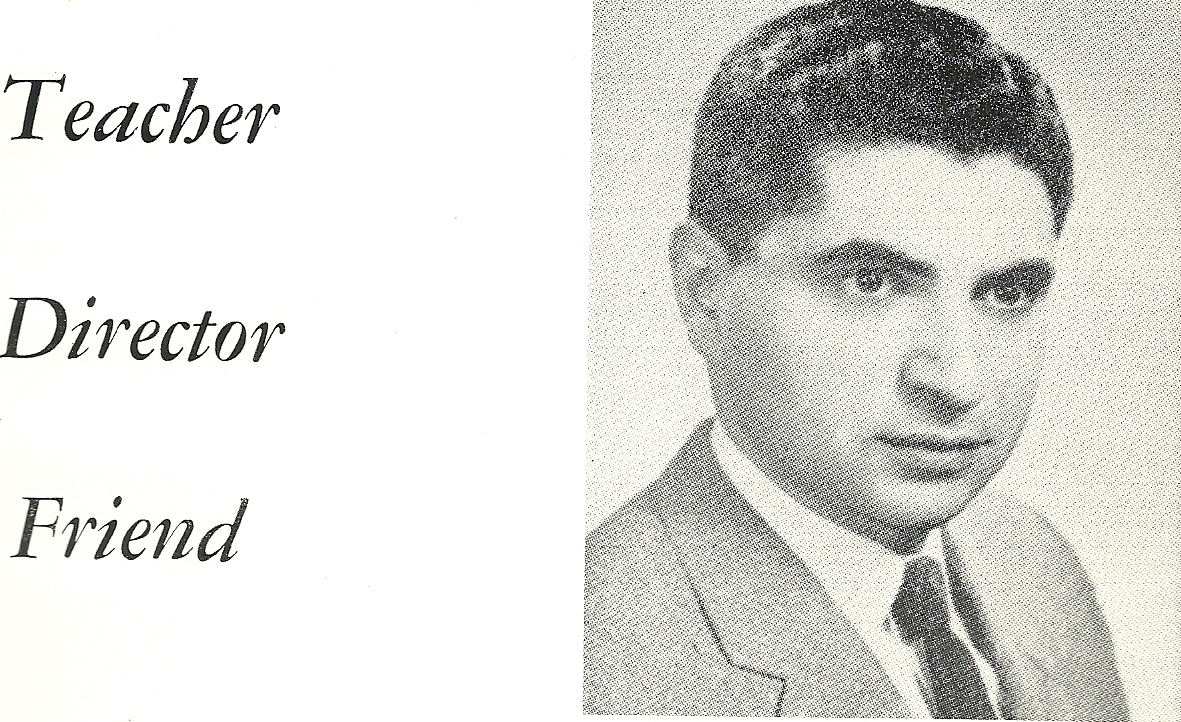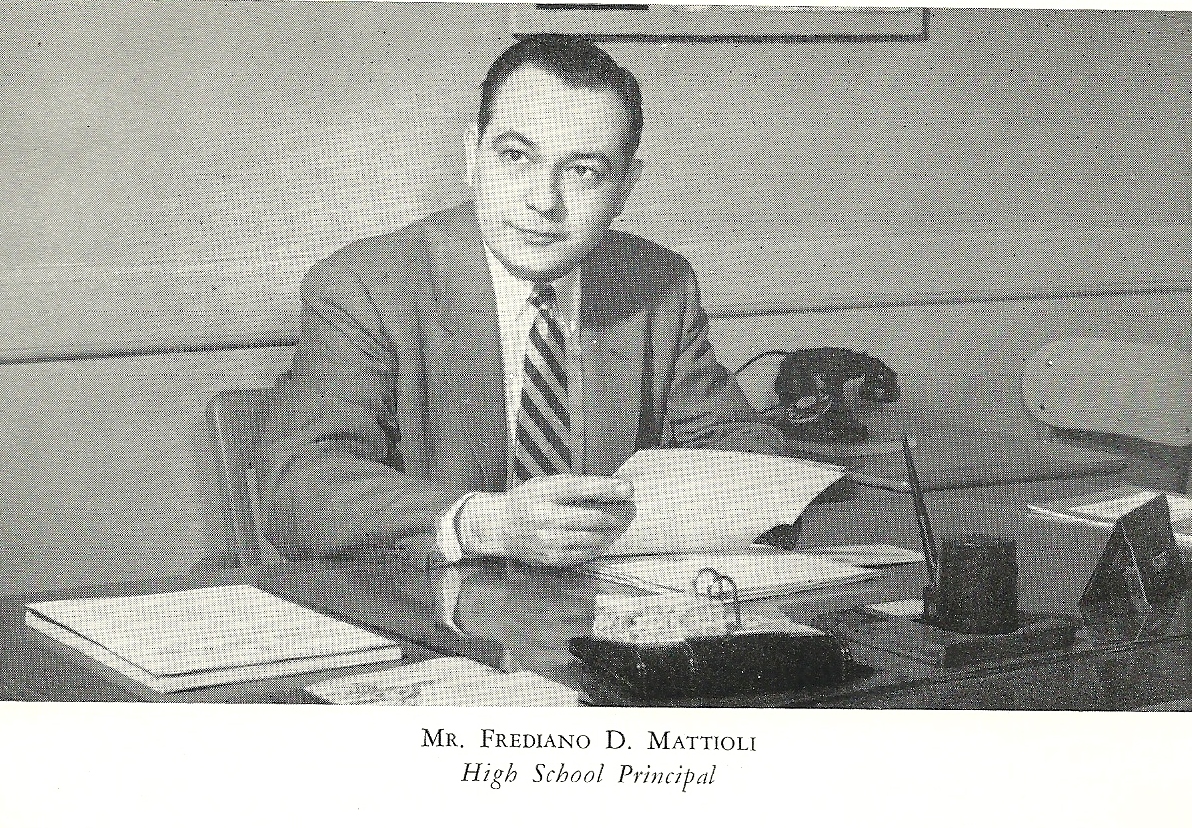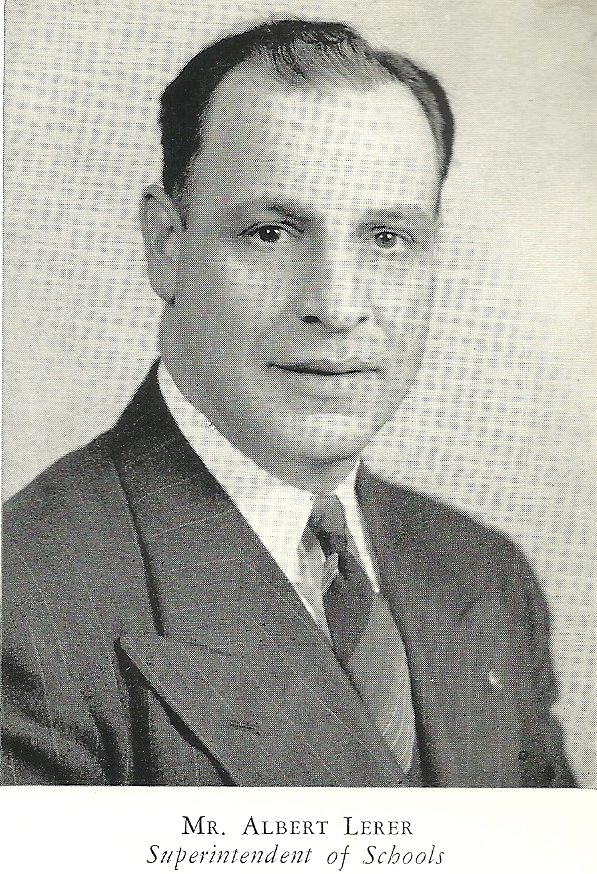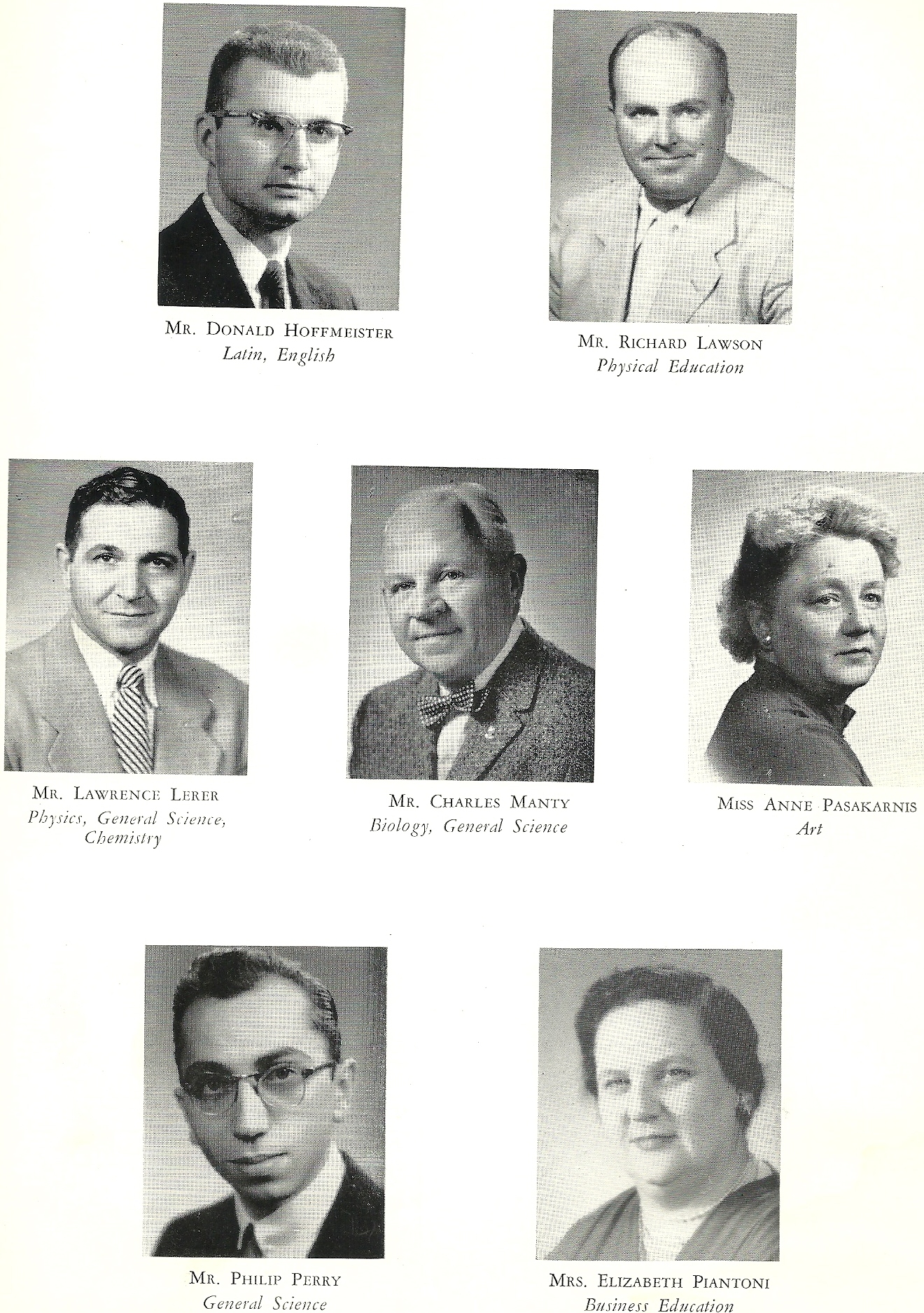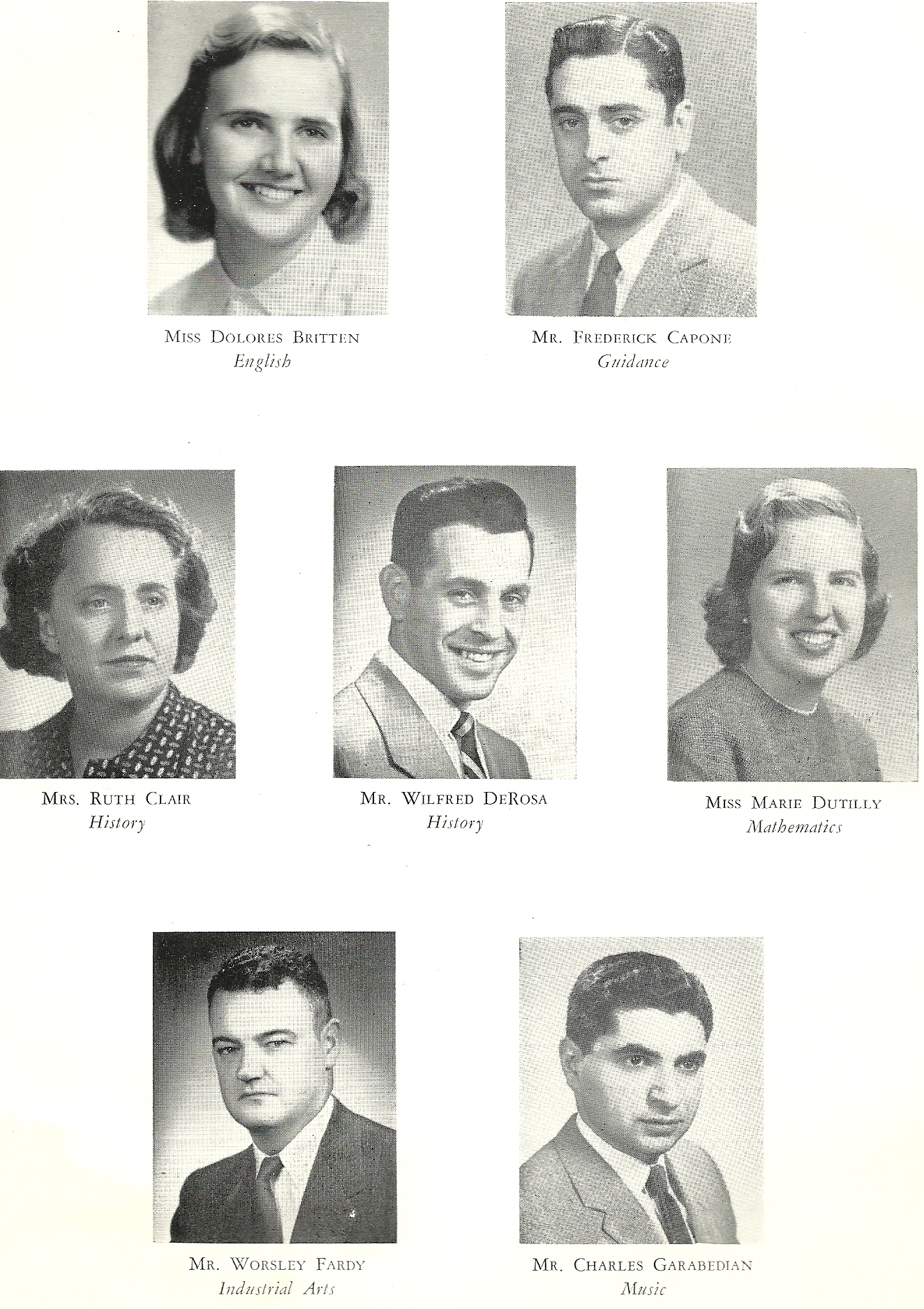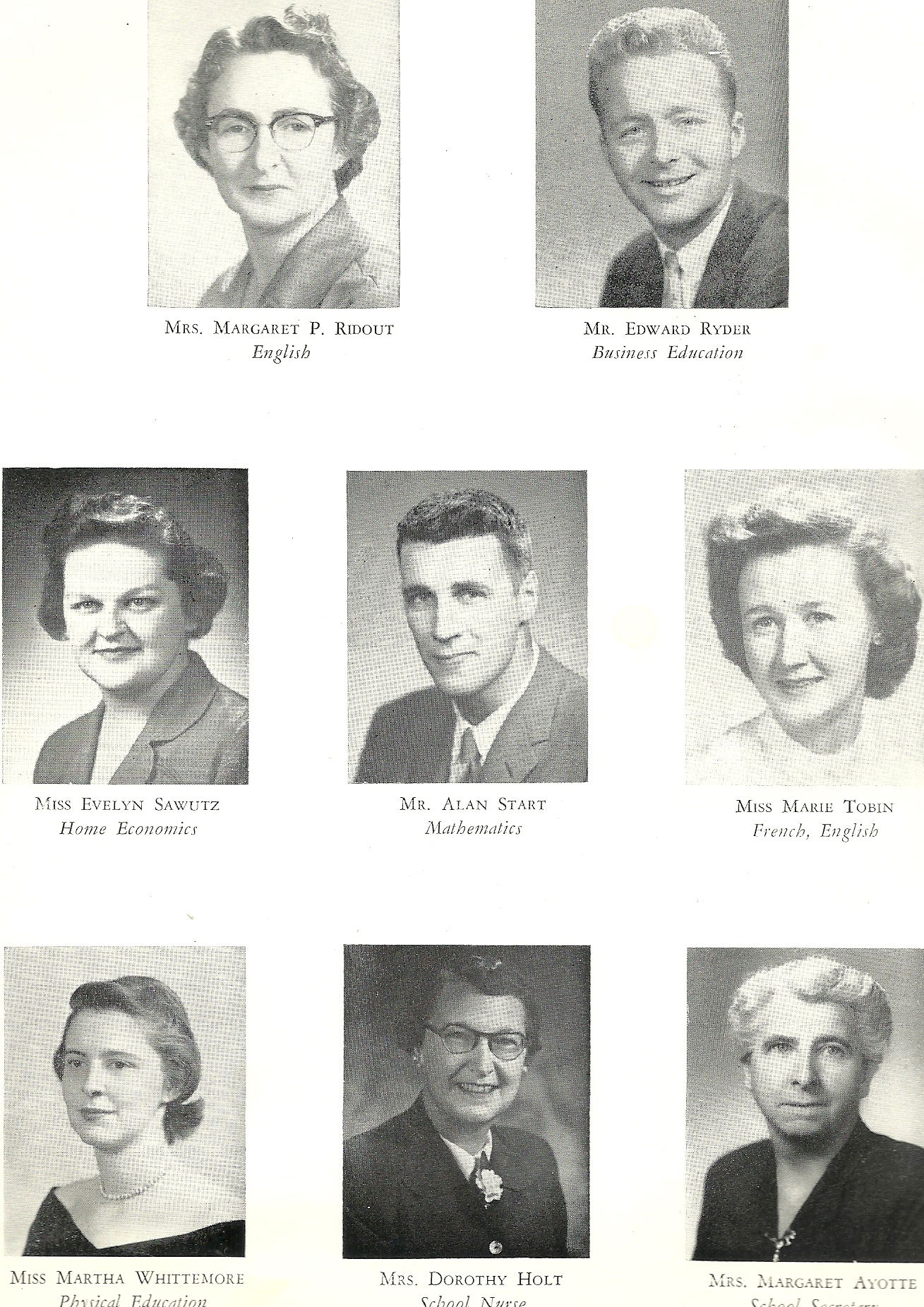 I'm not going to erase this, because it's a true Maynard Classic summary of how it used to be
We wanted to make this a real down to earth "Old Maynard" experience, so for our fish eating friends, we're looking to serve Hornpout,
freshly caught from the Mill Pond.
And for all you meat eaters, we're serving Muskrat stew, trapped right along the banks of the Assabet River.
And Nancy just sent in another one. How about turtle soup from Voses pond and
Mike Soko from Murells Inlet SC. said, he'd kill for a Mill pond Hornpout.
But as you can imagine, that all got scratched at the planning meeting.
Something about the cooks not knowing how to cook the turtle soup and no one daring to grab the hornpout.
They stung like hell if you didn't grab em right.
*******************************************************************************
OK, Here's who came to the 55th
Jack Bub, Whitey, Jesse, Brenda, David Spratt, Me (Jackie,,and it's ok to call me that) Eddie, Joey Corriveau, Pat D', Sally, Denise, Larry, Bruce, Clark, Billy Shaw, Butch K (Kivie), Marianne D., Dottie M., Judy and Cyril Byrne (I mean Spratt), Paul Barilone, Ray Buscemi, Judy Peterson, Vinny, Bo, and Ralph
We have pre and post reunion writeups below for your reading enjoyment
********************************************************************************************************
The class of 1961 has a website and it's a beauty. https://sites.google.com/site/maynardhs1961/
************************************************************************
Guess what? Our old (new in 1956) Memorial Gym is nothing but a memory of the past now. Officials in Maynard have decided that repairing it was out of the question and plans were made to tear it down. I'll show you the photos that process, but first, I've copied what the dedication plauque said. The names are flooded with many memories.
MAYNARD MEMORIAL GYMNASIUM: DEDICATED IN HONOR OF THE VETERANS THAT SERVED IN THE ARMED FORCES OF OUR COUNTRY. ERECTED 1956
Building Commitee: Irving H. Manning Chairman, Irene C. Wood Secretary, Joseph E. Boothroyd, Carl E. Becker, Walter E. Carbone, Helen C. Gately, Charles M. Lerer, Albert Lerer, William H. Larsen, Noble E. Loomer Jr, Philip S. Morrison, Leo F. Mullin, Thomas C. Passios, Anthony Palmaccio, Caetano A. Perillo, R. Frank Punch, David L. Pallian, John Piantedosi, Virginia N. Robinson, John S. Sokolowski, James C. Tierney, Bernard Williams, Florence M. Wilder, and Mary A. Doyle Advisor.
GOING GOING GONE!!!!!!!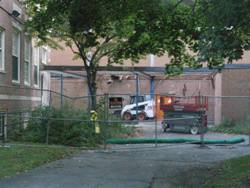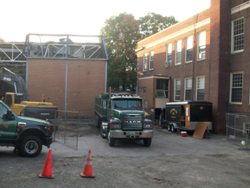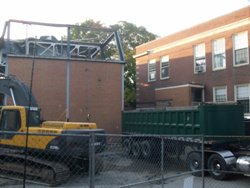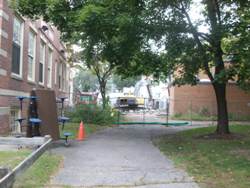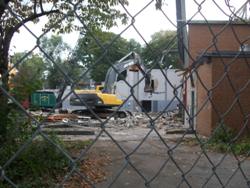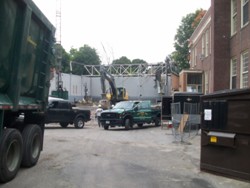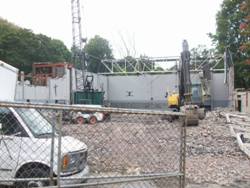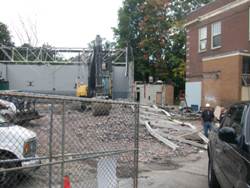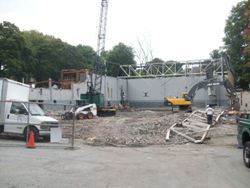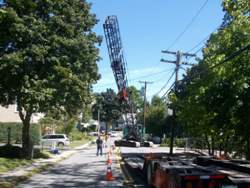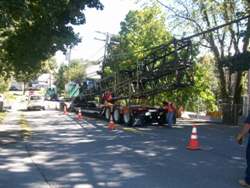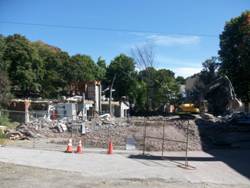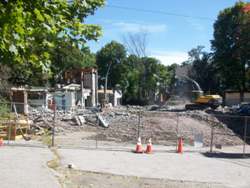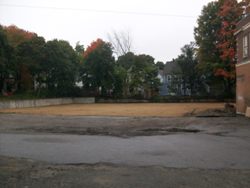 And if that ain't enough,,,there's more. This is (was) Russo's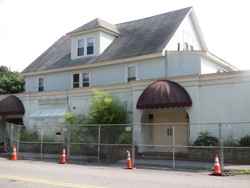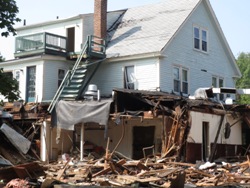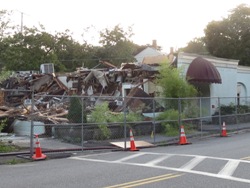 and here's what russo's look like now. Come on back to town and buy a Russo's condo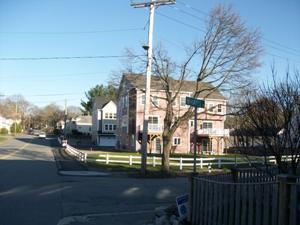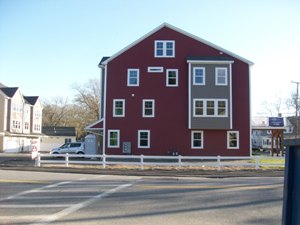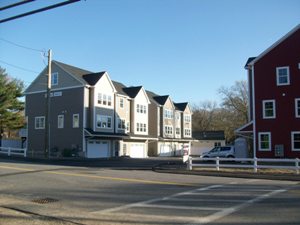 and across the street which used to be a parking lot, is now, well you guessed it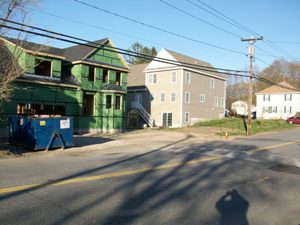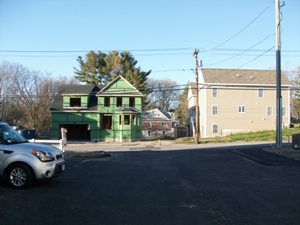 And there's more,,,,how about Salamone's....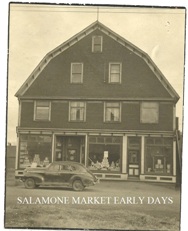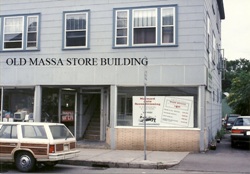 And of course there's Walgreens right behind the methodist church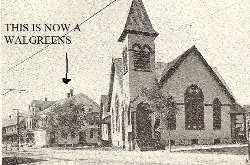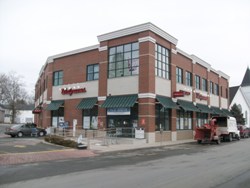 and now because of lack of business, Walgreens just shut it's doors. Must have something to do with that church land. They just shut their doors too. Anyone want to buy a church? and the Congregational church is right behind it. Ready to close it's doors.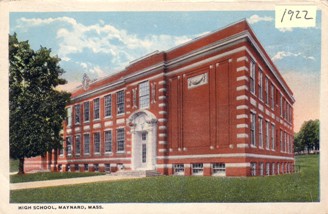 This is the original MHS when it was completed in 1922. �And aren�t these words ever familiar. �
TO THE GLORY OF OUR SCHOOL, WE RAISE OUR VOICES TO THE SKY. WE PLEDGE OUR FAITH AND HOMAGE EVER, WHERE E-ER OUR DUTY EVER LIES. AND IN THE TUNEFUL CHORUS BLENDING, HER FAME AND HONOR NEVER DIE, TO THEE OUR DEAR OLD ALMA MATER, OUR DEAR OLD MAYNARD HIGH
(Created by Mr. Charles Manty)

Lost and found section:
We've lost contact with several of our classmates and hope you can help us with it:
Last known location
Lois (Nelson) Anderson Armstrong, Iowa
Leena Saastamoinen She's safe and sound in Florida (East coast) but won't respond to my letters and calls.

If you know how we can get it touch with these people, please let us know.

Found but not in contact with yet, Section
These are the people that we thought were lost and now found, but we have not heard from them yet
Barbara (Byrne) Hennigan Marlboro
Heather (Jenkins) Cziria Townsend,,and now maybe Marlboro
Dottie (Hatfield) Walsh South Gardner
*Barbara, Dotti and Heather we believe are recieving the mail but no response yet. Boy, we sure would like for them to get in touch with us
If you know how we can get it touch with these people, please let us know.
I started a new section with recent deaths in Maynard. Yes, I know it's not the nicest thing to talk about and if anyone is really offended, I'll take it down. I figure whether you live near or far, you just might like to know this info. Of course our own class members (in blue) will be remembered here as well as on the classmate list below. This'll just be for others to sorta keep in touch with what's happening in town,,,a sad happening, but a happening none the less.
Elaine Colleton Skerry 77/78?,,,,,,,,,,,,,,,August 2020,,,Class of 1960 and Larry's sister
Frankie Cantino 89,,,,,,,,,,,,,,,,,,,,,,,,,,,,,,,,,,,,,July 2020,,,Jackie,,,"I need a ride home" or anyone else he could find for a ride
Billy Lizotte 81,,,,,,,,,,,,,,,,,,,,,,,,,,,,,,,,,,,,,,,,,,July 2020
Arnie "Woo Woo" Ginsburg 93,,,,,,,,,,,,,,,,July 2020,,,Arnie lived in Perkins Cove. 1st house on the right. The plate on his car said WOO and his scooter said something similar.
Adam Mancini 85,,,,,,,,,,,,,,,,,,,,,,,,,,,,,,,,,,,,,,May 2020
Paul Setzco 77,,class of 60,,,,,,,,,,,,,,,,,,,,,,,,April 2020
Tommy Boufard 78,,,,,,,,,,,,,,,,,,,,,,,,,,,,,February 2020
Billy Primiano 73,,,,,,,,,,,,,,,,,,,,,,,,,,,,,,,,,February 2020
Les Boardman 74,,,,,,,,,,,,,,,,,,,,,,,,,,,,,,,,February 2020
Joe Nicholas 72,,,,,,,,,,,,,,,,,,,,,,,,,,,,,,,,,,,,January 2020
Freddie Mariani 83,,,,,,,,,,,,,,,,,,,,,,,,,,,,,,,,,,,,Dec 2019
Bobby Lowney 83,,,,,,,,,,,,,,,,,,,,,,,,,,,,,,,,,,,,,Dec. 2019
James (Jimmy) Brooks 78,,,,,,,,,,,,,,,,,,,,,,,,,,Sept 2019
Gary Greenaway 73,,,,,,,,,,,,,,,,,,,,,,,,,,,,,,,,,,,Sept 2019
Lenny Cursio 89,,,,,,,,,,,,,,,,,,,,,,,,,,,,,,,,,,,,,,,,,July 2019
Rev. Gary Heikkila 87,,,,,,,,,,,,,,,,,,,,,,,,,,,,,,,June 2019
Al Carey 75,,,,,,,,,,,,,,,,,,,,,,,,,,,,,,,,,,,,,,,,,,,,,,,June 2019
Bruce Pekkala 80,,,,,,,,,,,,,,,,,,,,,,,,,,,,,,,,,,,,,,May 2019
St Casimir's, Rev. Louis Bilicky 96,,,,,,,,,,,May 2019
Joe Uglevich 74,,,,,,,,,,,,,,,,,,,,,,,,,,,,,,,,,,,,,,,,April 2019
Richie Clark 75,,,,,,,,,,,,,,,,,,,,,,,,,,,,,,,,,,,,,,,March 2019
Mary Clayton Lugin,,class of 1958,,,,,,,,,August 2018
Paul Denesiuk 79,,,,,,,,,,,,,,,,,,,,,,,,,,,,,,,,,,,,August 2018
Eddie Galagher 82,,,,,,,,,,,,,,,,,,,,,,,,,,,,,,,,,,,,,July 2018
Paul Staples 74,,,,,class of 61,,,,,,,,,,,,,,,,,,,May 2018
Linda (Gentch) Uglevich 71,,,,,,,,,,,,,,,,,,,,,April 2018
Eddie Cuddy 82,,,,,,,,,,,,,,,,,,,,,,,,,,,,,,,,,,,,,,,April 2018
Audrey Langille 76,,,,,,,,,,,,,,,,,,,,,,,,,,,,,,,,,,,,Feb 2018
Ann De Grappo 78,,,,,,,,,,,,,,,,,,,,,,,,,,,,,,,,,,,,Feb 2018
Lyn (Dee) Primiano 71,,,,,,,,,,,,,,,,,,,,,,,,,,,,,,Nov 2017
Dave Higgins 86,,,,,,,,,,,,,,,,,,,,,,,,,,,,,,,,,,,,,,,Nov 2017 Part time science teacher,,fireman,,postal worker,,pizza house cook
Eddie Dean 79,,,,,,,,,,,,,,,,,,,,,,,,,,,,,,,,,,,,,,,,,,,Nov 2017
Carla French,,,,,Tom's wife,,,,,,,,,,,,,,,,,,,,,,,Nov 2017,,,Pat and I just saw her a week ago
Nancy Beford 79,,,,,,,,,,,,,,,,,,,,,,,,,,,,,,,,,,,,,,,,Sept 2017
Bobby Bradbury 76,,,,,,,,,,,,,,,,,,,,,,,,,,,,,,,,,,,,Sept 2017
Herbie Torppa 90,,,,,,,,,,,,,,,,,,,,,,,,,,,,,,,,,,,,,,June 2017,,,,co owner of Auto Machine for years
Dickie Maskowski 73,,,,,,,,,,,,,,,,,,,,,,,,,,,,,,,,May 2017
Paul Murphy 83,,,,,,,,,,,,,,,,,,,,,,,,,,,,,,,,,,,,,,,,,May 2017
John Colombo 89 (barber),,,,,,,,,,,,,,,,,,,,,,,,April 2017
Alfred (Fred) DeGrappo 79,,,,,,,,,,,,,,,,,,,,,,February 2017
Bo Wattu 76,,,,,,,,,,,,,,,,,,,,,,,,,,,,,,,,,,,,,,,,,,,,,,October 2016
Donna Leate Colleton 75,,,,,,,,,,,,,,,,,,,,,,,,,,,August 2016
Ginger Warila Slyuski 79,,,,,,,,,,,,,,,,,,,,,,,,,,July 2016
Charlie Wattu 82,,,Bo's brother,,,,,,,,,,,,,,,,April 2016
MaryLou Duggan 76,,,,,,,,,,,,,,,,,,,,,,,,,,,,,,,,,April 2016
Howard Boeske Sr 96,,,,,,,,,,,,,,,,,,,,,,,,,,,,,,,March 2016
Howard Boeske Jr 55,,,,,,,,,,,,,,,,,,,,,,,,,,,,,,,,November 2012
Dr Joel Karp 80,,(dentist),,,,,,,,,,,,,,,,,,,,,,,,,February 2016
Tommy French 74,,,,,,,,,,,,,,,,,,,,,,,,,,,,,,,,,,,,,December 2015
Paul Hellawell 69,,,,,,,,,,,,,,,,,,,,,,,,,,,,,,,,,,,,,,December 2015
Burt Taylor 72,,,,,,,,,,,,,,,,,,,,,,,,,,,,,,,,,,,,,,,,,,November 2015
Ronnie Laasanen 73,,,,,,,,,,,,,,,,,,,,,,,,,,,,,,,,,,November 2015
Dougy DeRosa 73,,,,,,,,,,,,,,,,,,,,,,,,,,,,,,,,,,,,,October 2015
Teddy Clancy 79,,,,,,,,,,,,,,,,,,,,,,,,,,,,,,,,,,,,,,,Sept 2015
Joan Ferguson 74,,,,,,,,,,,,,,,,,,,,,,,,,,,,,,,,,,,,,,August 2015
Karen Grandall 74,,,,,,,,,,,,,,,,,,,,,,,,,,,,,,,,,,,,July 2015
Nancy (Sheridan) Gerlach 73,,,,,,,,,,,,,,,,,,,June 2015
Sandy Symes 72,,,,,,,,,,,,,,,,,,,,,,,,,,,,,,,,,,,,,,,February 2015
Mel Neimi 75,,,,,,,,,,,,,,,,,,,,,,,,,,,,,,,,,,,,,,,,,,,February 2015
Andy Kulju 75,,,Judy's husband,,,,,,,,,,,,,,,January 2015
Fred Sivonen 76,,,,,,,,,,,,,,,,,,,,,,,,,,,,,,,,,,,,,,,January 2015
Bruce Warila 76,,,,,,,,,,,,,,,,,,,,,,,,,,,,,,,,,,,,,,,January 2015
John Ketola 71?,,,class of 61,,,,,,,,,,,,,,,,,,,December 2014
Swifty Viola 79,,,,,,,,,,,,,,,,,,,,,,,,,,,,,,,,,,,,,,,November 2014
Dave Laasanen 76,,,,,,,,,,,,,,,,,,,,,,,,,,,,,,,,,,,October 2014
Carl Mansfield,,,,,,,,,,,,,,,,,,,,,,,,,,,,,,,,,,,,,,,,August 2014
Ellie Konowicz,,,75,,,,,,,,,,,,,,,,,,,,,,,,,,,,,,,,June 2014
Doris Fardy 97,,one of the nicest ladies I ever met ,,,,,,February 2014
Jimmy Allen 75,,,David's brother and Maynard's professional jockey,,,Feb 2014
Dick Slyuski 76 ,,Manning's pharmacist and owner,,,Feb. 2014
Mary Graceffa 67,,,,,,,,,,,,,,,,,,,,,,,,,,,,,,,,,,,,Dec 2013
John Mcdonough,,,Dot's husband,,,,,,,,,,,,Nov 2013
Pat (Manning) Whalen 76, living in York Maine,,,October 2013
Maryellen Piantedosi (John's sister),,,,,,,October 2013
Freddie Johnson 78, lived on Tremont St growing up,,,Oct. 2013
Mary Connerney 72, Maynard's leading caterer,,,October 2013
Lenny Massarelli 77, (Mushy's brother),,,October 2013
Ruth Feltus ,,,,yes, Dr Feltus' wife,,,,,,,,,,Sept 2013
Bob Quirk,,,,,builder/developer,,,,,,,,,,,,,,Sept 2013
Wasi Chernak of Gruber's furniture,,,,,,,,July 2013
Connie (Lowell) Saarinen 72,,,,,,,,,,,,,,,,,July 2013
Irene (Stitch-it-Shop) Malcolm, Mayberry 94,,,June 2013
We'll have reunion photos for you to see, but for those not coming, please send pictures and I'll put em up right here.
Updated photos: Bunny & Husband Forrest. Wally Mason, wife Kat and grandkids. Besty and Cali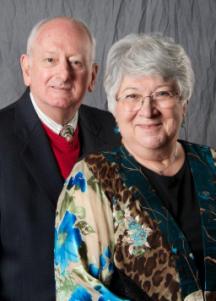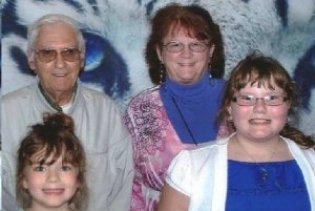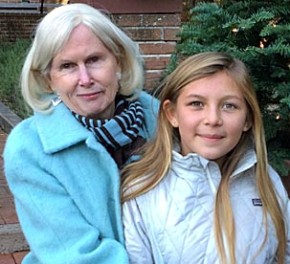 Jackie Primiano and family,,,,,,,,,,,,Roy Nelson, wife Penny and Ty,,,,,,,,Joan (Manning) Dawson, a name from the past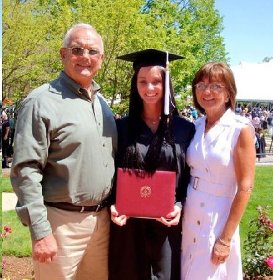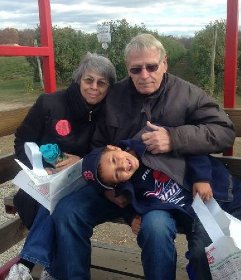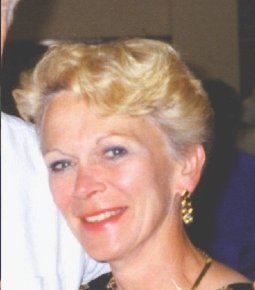 Here's Bab's (Harrington) and husband John Holt. .,,,,,,,,,,,,,,,,and then of course we have Lenny and Lynne who will not be with us this year and then comes Paul Chyzus waving. He'll be cruising South America on our reunion date. Paul, South America will always be there,,,we won't. Come to the bloody reunion.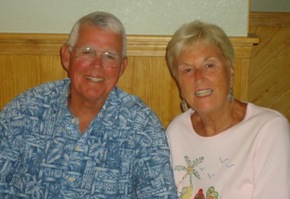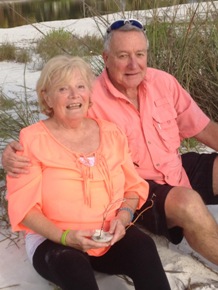 Next we have, from Long Island NY, Judy Manning. Judy promised to come this time, but she may opt for surgery on her leg. And beside her, and although she's coming to the reunion, is Brenda. She has not changed one single bit since school and you'll understand why when you see the picture. Brenda, I'm not so sure the sweater is ugly, but rather, you should have won 1st prize for the most creative or daring to wear,,,, and wouldn't that have gone over real big in the 1950s. Bottom line, YOU are first prize in my book. Note: Last reunion, Brenda made all the center pieces and this time, she's done the same. Can't wait to see them and we've devised a system where one of you at each table will take yours home. Thanks Bren....jack,,,and last but not least on this line of photos is Bobby Bradbury and his sister Daryl Bariteau.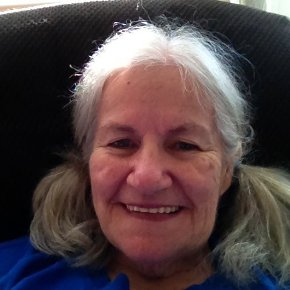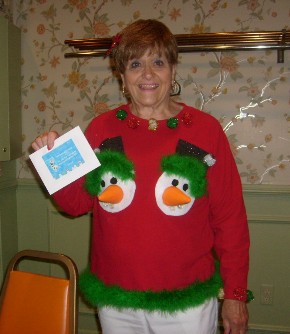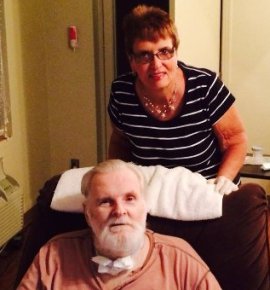 Ok, this next one is a real treat for you. Two of these people in this next photo are classmates and the other two are from 1960 and 61 classes. Any ideas of who they are? Clue: They formed their own band, back in the day. Ok, I'll tell you who they are, from left to right. Ray Buscemi, Pete Waldron, Ritchie Columbo, and Alan (Snookie) Graff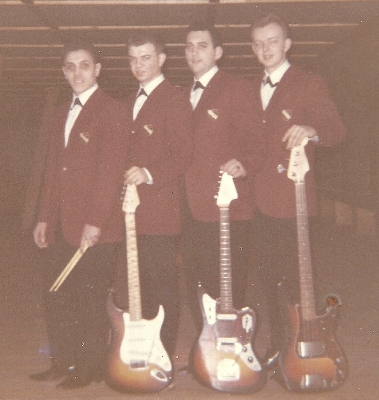 Next we have Ted Kauppi and Donna, now living in Florida. I thought they stayed up here in the summer and would definately be at the reunion, but thought wrong. Donna gradutaed from Clinton. Floowing that, I just received classmate Sandra K's picture. She calls it her mug shot. She'll never change. And finally, we have Tom French who unfortunately passed away since this photo was taken.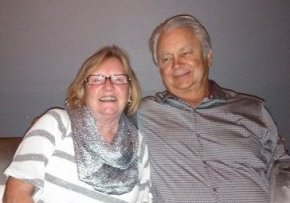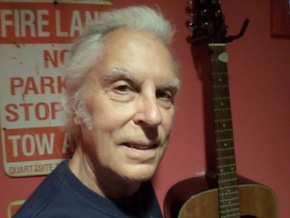 They keep coming in. The first here is Nancy (R.I.P Nan) and her grandchildren, after the wine, she says. And then we have a March photo of Denny.
He blew into town and we had a quick mini for him. To say he was thrilled is an understatement.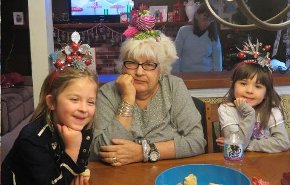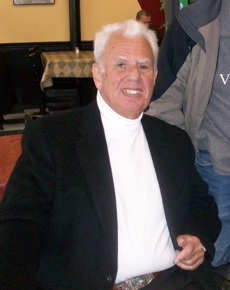 I NEED MORE PICTURES PEOPLE
September 2018 Maynard 1959 MSH Mini reunion held at Roasted Peppers (old Woolworths) had some new and old people BUT on Monday, a few of us met Clyde (jr) McAlister. Jr missed the reuion but made it up on Monday
and Jack Bub, Jimmy B, Sandra, Karen K to name a few,,,where in the heck were you? Life's too short not to come out and play.
Clyde couldn't make it last minute but we did meet with him on the following Monday. So nice to see him. He'll make the next one for sure,,,,and Whitey, pls pass this on to Jack P. Why, even Mike Soko was there. and Teddy was up from Florida. Ray was ill or he would have been there. He's a regular. Dottie and Maryann both had Dr appointments and we know how that goes at our age. Larry was at his mother's birthday in Florida. Billy is laid up and Joan is having pretty bad eye problems, so there was no way for them to get there. Of course Roy said he'd be there, but work got in the way. What do they say,,,All work and no play means we don't even know what the hell you look like. Something like that. Paul B doesn't do minis,,,,says he'll be there at the next big one though, which is next year. My question though is: just how many next years are there going to be? Think that one over. Some classes have never had a reunion, never mind a mini. What a shame. Hey, all in all, it was nice to see each other, even if it was for just a couple of hours,,,and I'm the fortunate one being able to attend both the Maynard and Florida minis. Stay healthy my friends,,,and thanks for photos, Pat
Mike and Butch,,,,,,,,,,,,,,,,,,,,,,,,,,Eddie and Judy,,,,,,,,,,,,,,,,,,,,,,,,,,Ralph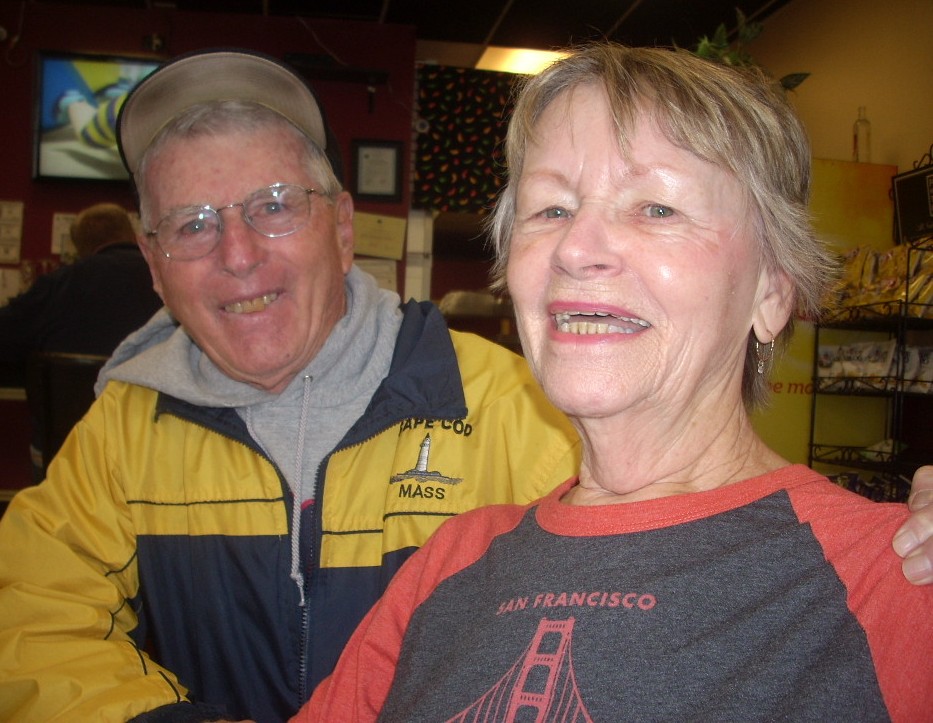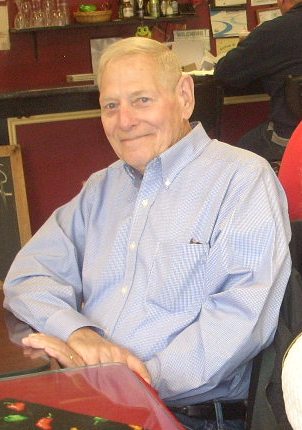 Ted,,,,,,,,,,,,,,,,,,,,,,,,,,,,,,,,,,,,,,,,,,,,,,,,,,,,,,,,,,Smitty and Karen,,,,,,,,,,,,,,,,,,,,,,,,Vinny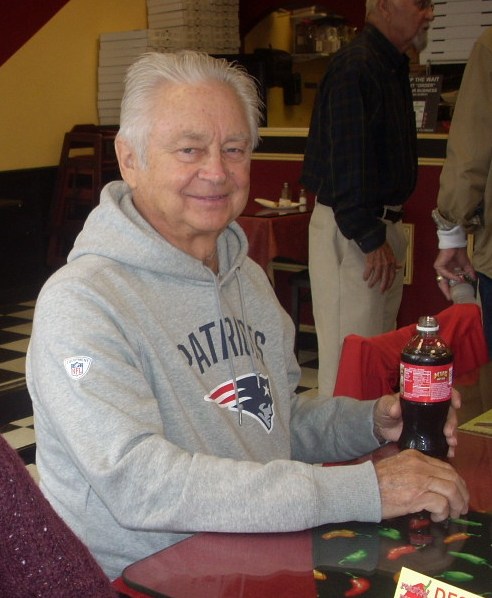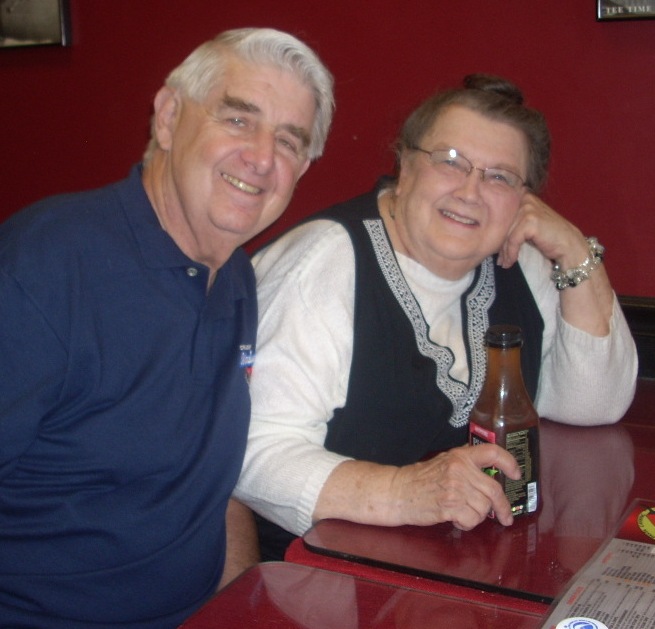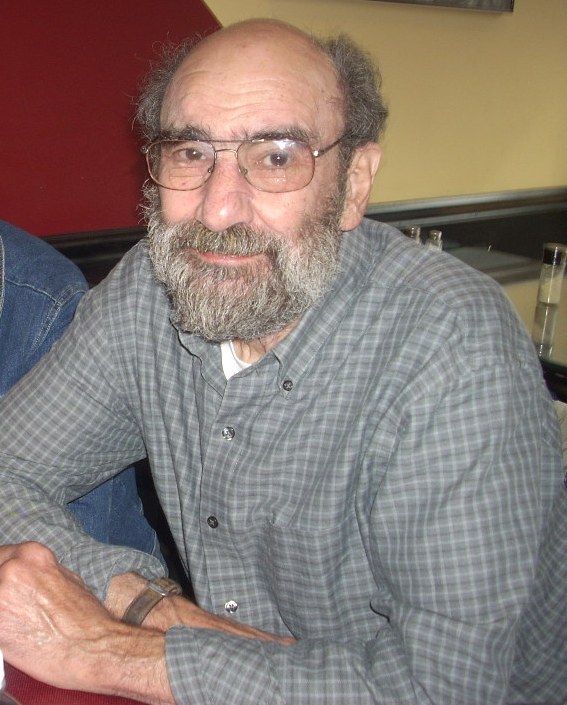 Pat and Jack,,,,,,,,,,,,,,,,,,,,,,,,,,,,,,,,,,,,,,,,,,,,,,Bruce,,,,,,,,,,,,,,,,,,,,,,,,,,,,,,,,,,,,,,,,,,,,,,,,,,,,,,JP Whitey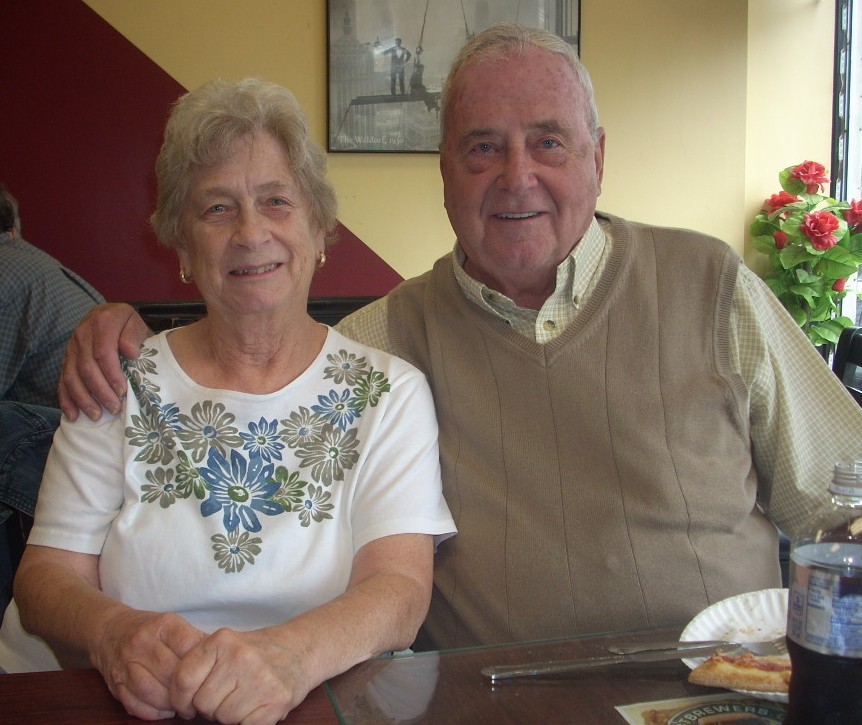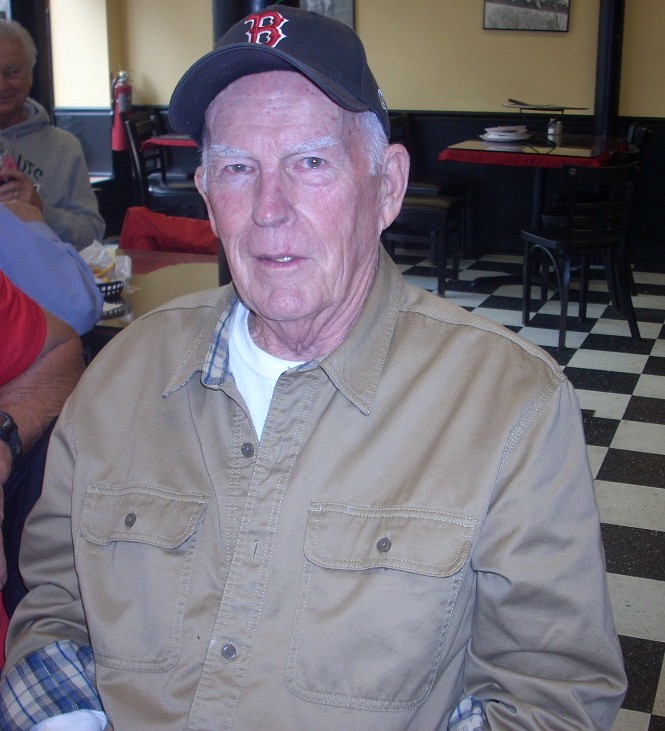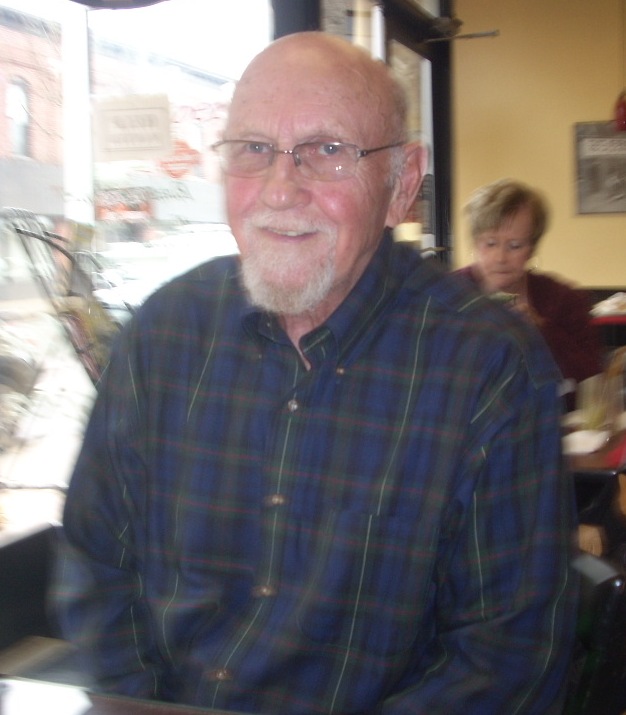 Brenda and Mike,,,,,,,,,,,,,,,,,,,,,,,,,,,,,,,,,,,,,,,,,,,,,,,,,,,,,,,,,,,,,Pat, Jack, Butch, Clyde (Jr), Smitty and Judy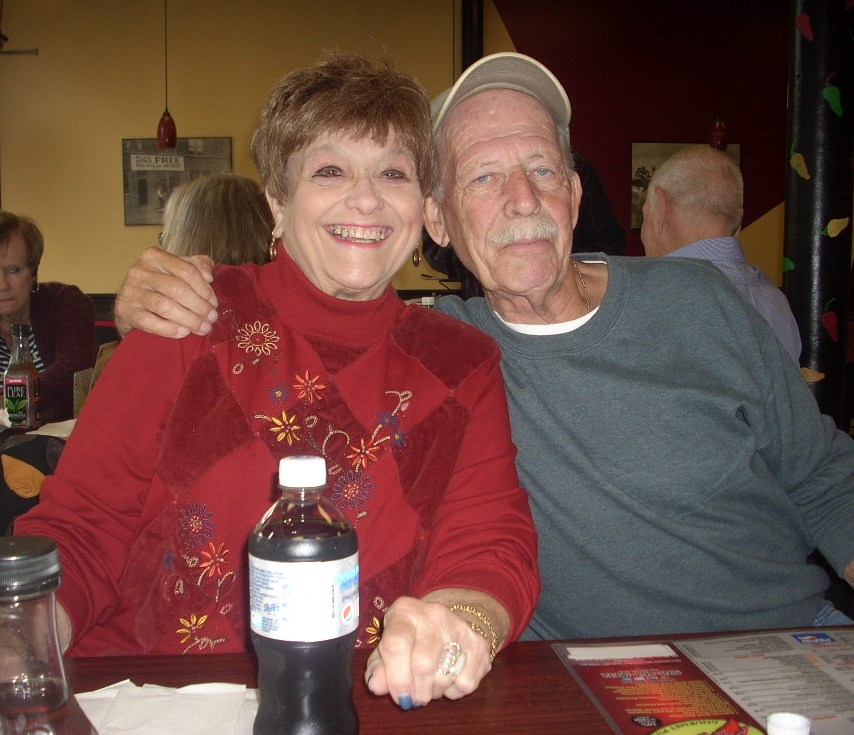 February 2018,,,5th annual Florida, Maynard 1959 MHS mini reunion
held at Finn at Sharkeys in Venice Florida
funny how none of us have changed a bit
seated left to right: Babs, Judy
standing left to right: Ralph, David, Paul, Lenny, Ted and Jackie
October 2017 5th annual Maynard 1959 MHS mini reunion
held in Maynard
Ok, here's what I'm going to do. I'm going to list everyone that came and see if you can pick them out. After many years of not coming out this way, Elaine visited the area from her home in New Mexico and it was fitting that we were able to coordinate the mini and have her attend. She brought her daughter Sandra and her sister Paula with her and it was so nice to meet her family. Now, for everyone else,,,it's first names and you figure them out. Clark and wife Karen came, Billy and wife Joan were there. My wife and Ralph's wife attended. Edie, Bruce, Butch K, Vinny and Ray, Larry, and of course yours truly. Then we had Pat, Judy and Dottie. I don't think I saw anyone without a smile on their face. Yes we could have waited two more years to see them but life being so short, we're not going to do that. We're going to meet like this every year both here and in Florida and I wouldn't miss either one for the world. As you all know by now, we lost classmate Bobby Bradbury just a short time ago and in his obituary the family was asking for donations in his honor to go to the Maynard band. Eddie, Pat and I made the decision to use a portion of our slush fund and do just that. From the MHS class on 1959, we donated $100 to the band. Oh, and I'm trying to get our song back on the website. I lost it while trying to update the site from Florida and miss listening to it every time I go on the site. Thank you,,,so much for all that could attend this mini and may god bless all of you there or not, just for being a proud member of our great class. Enjoy the photos,,,,jack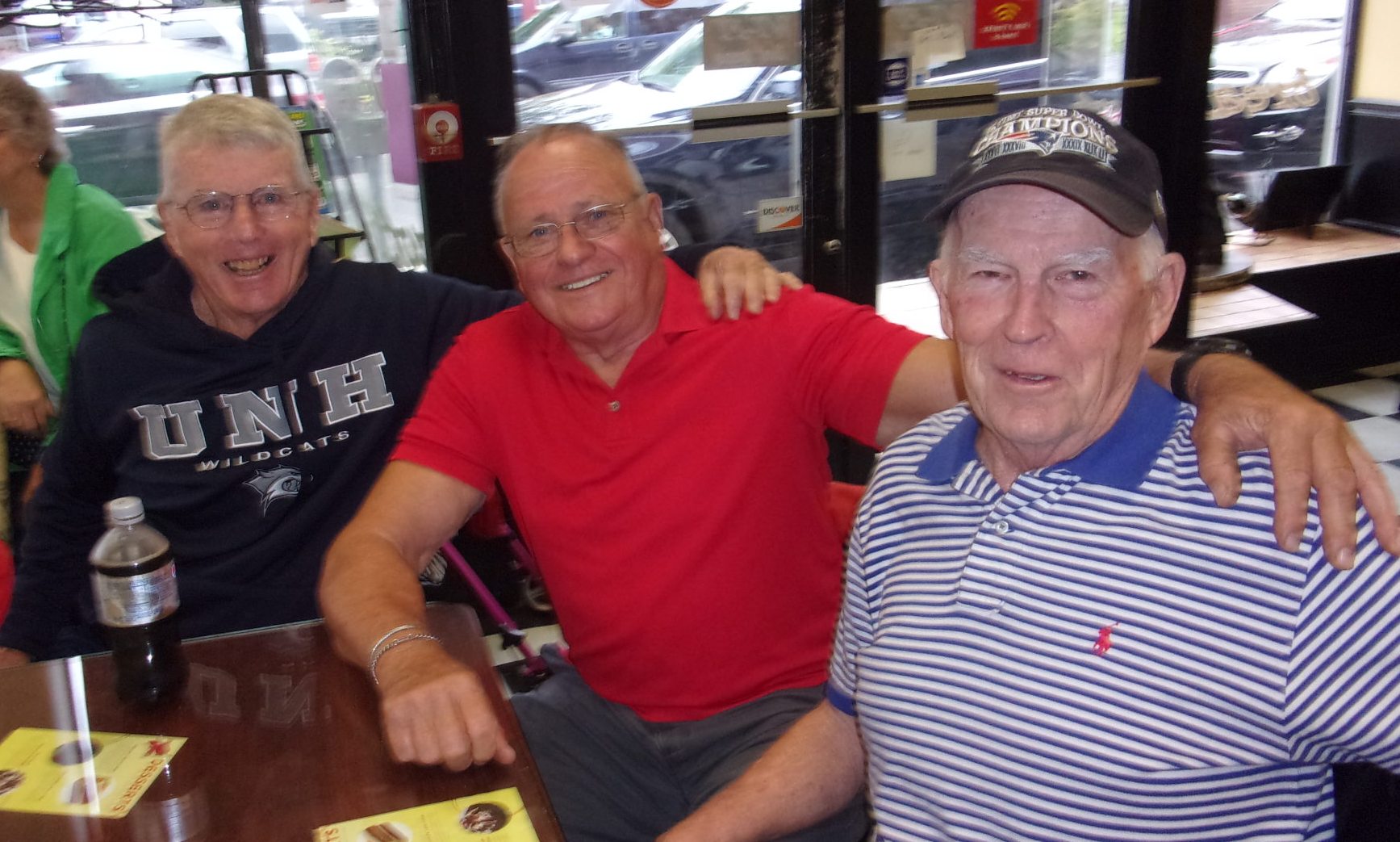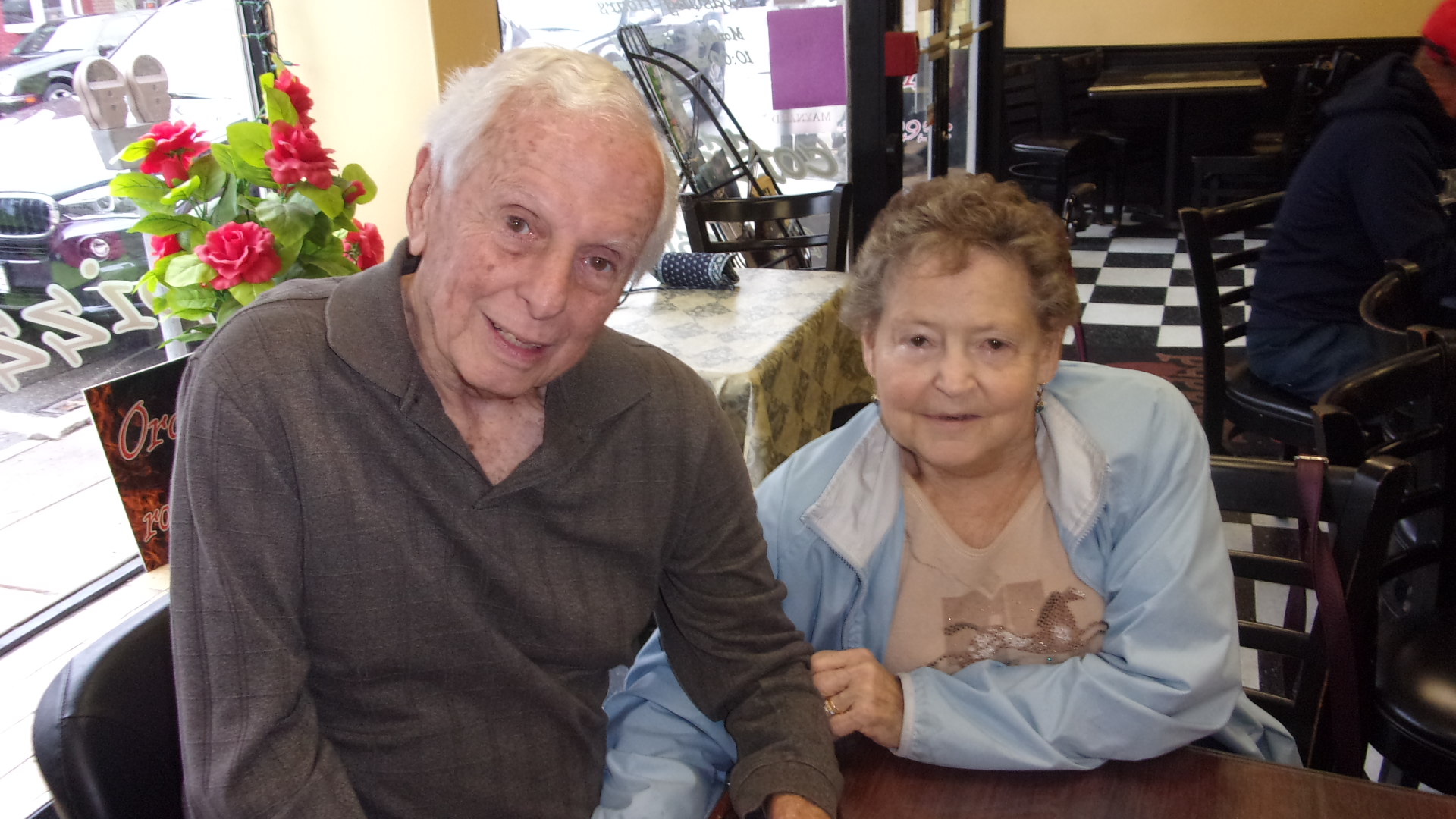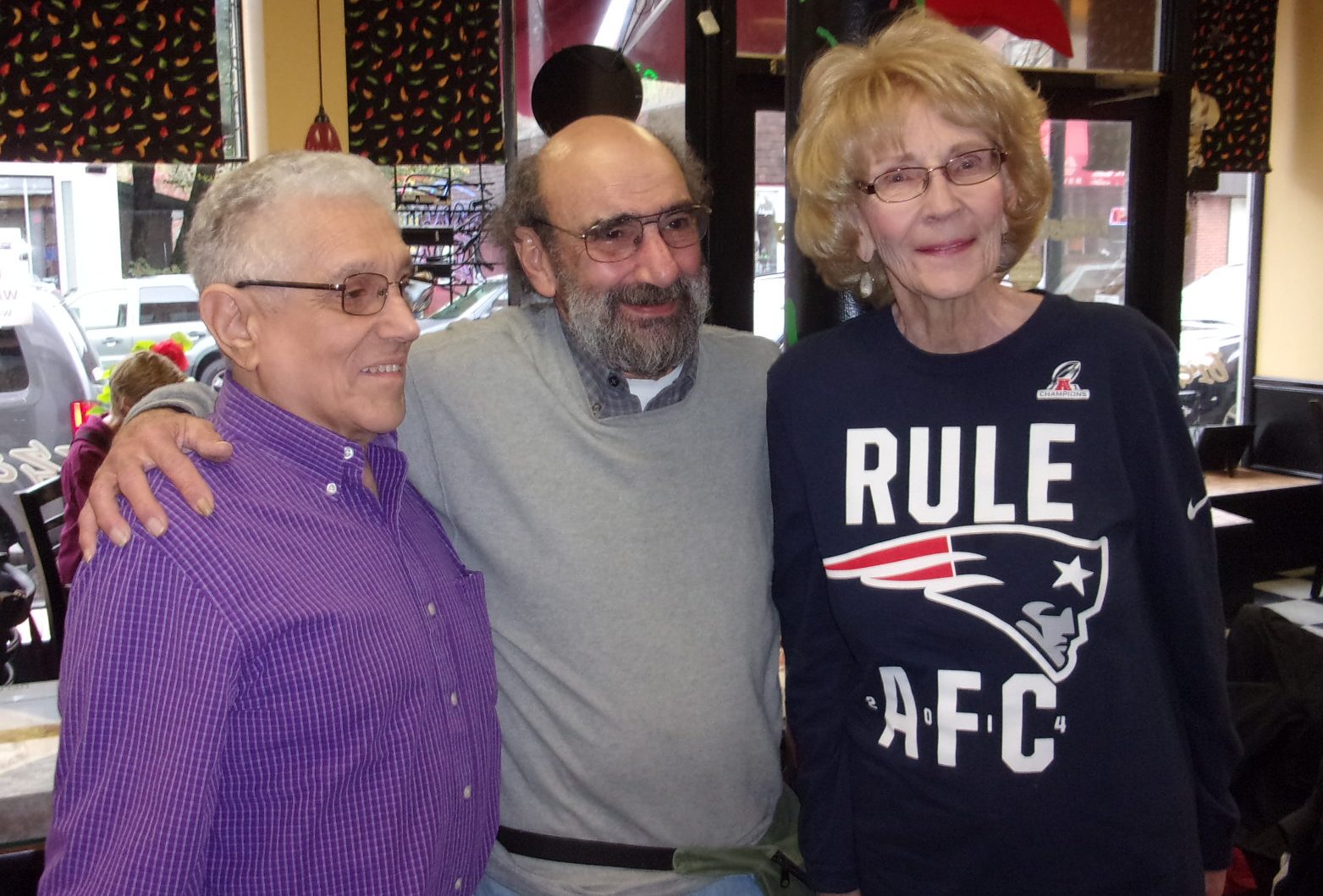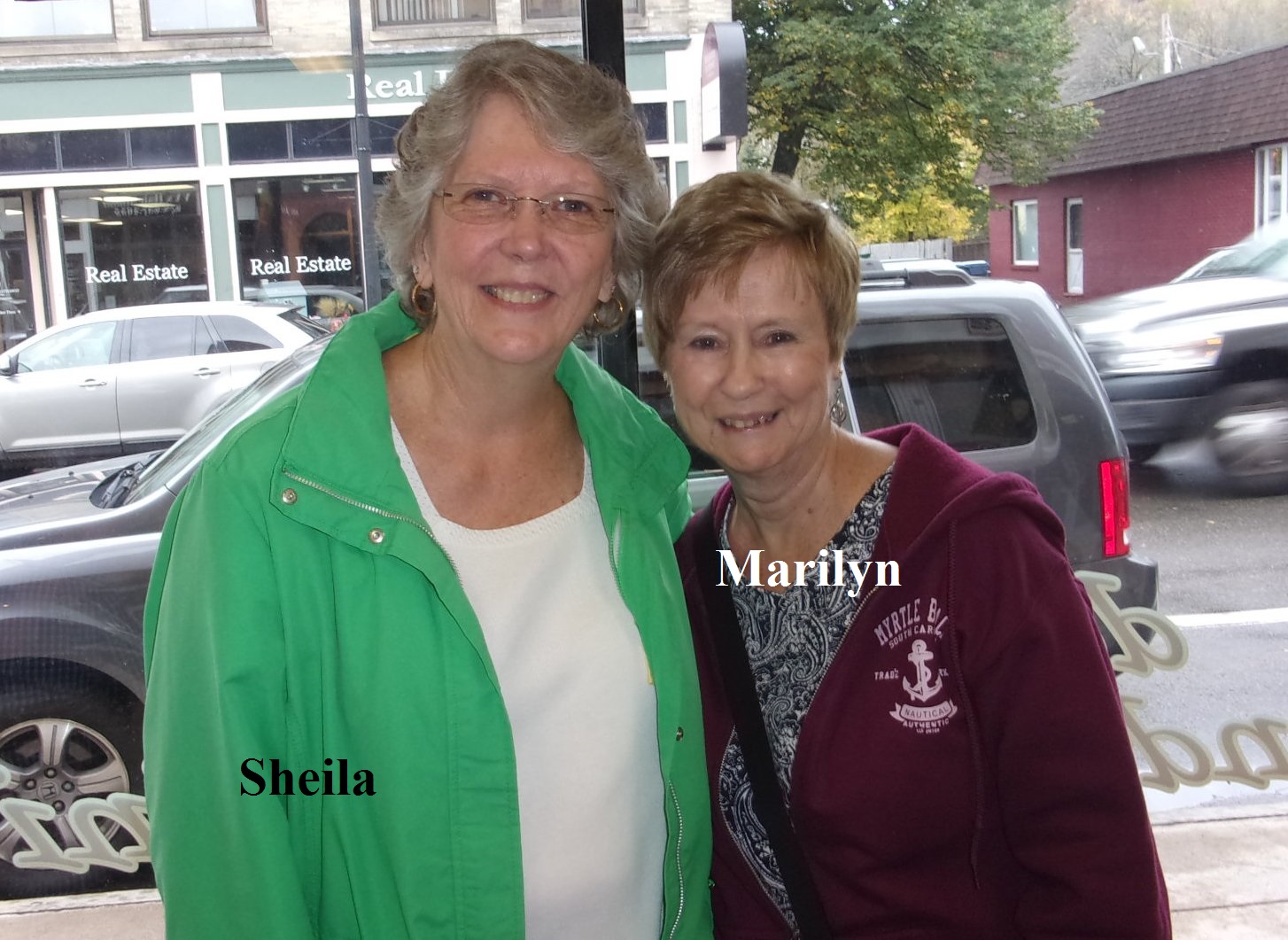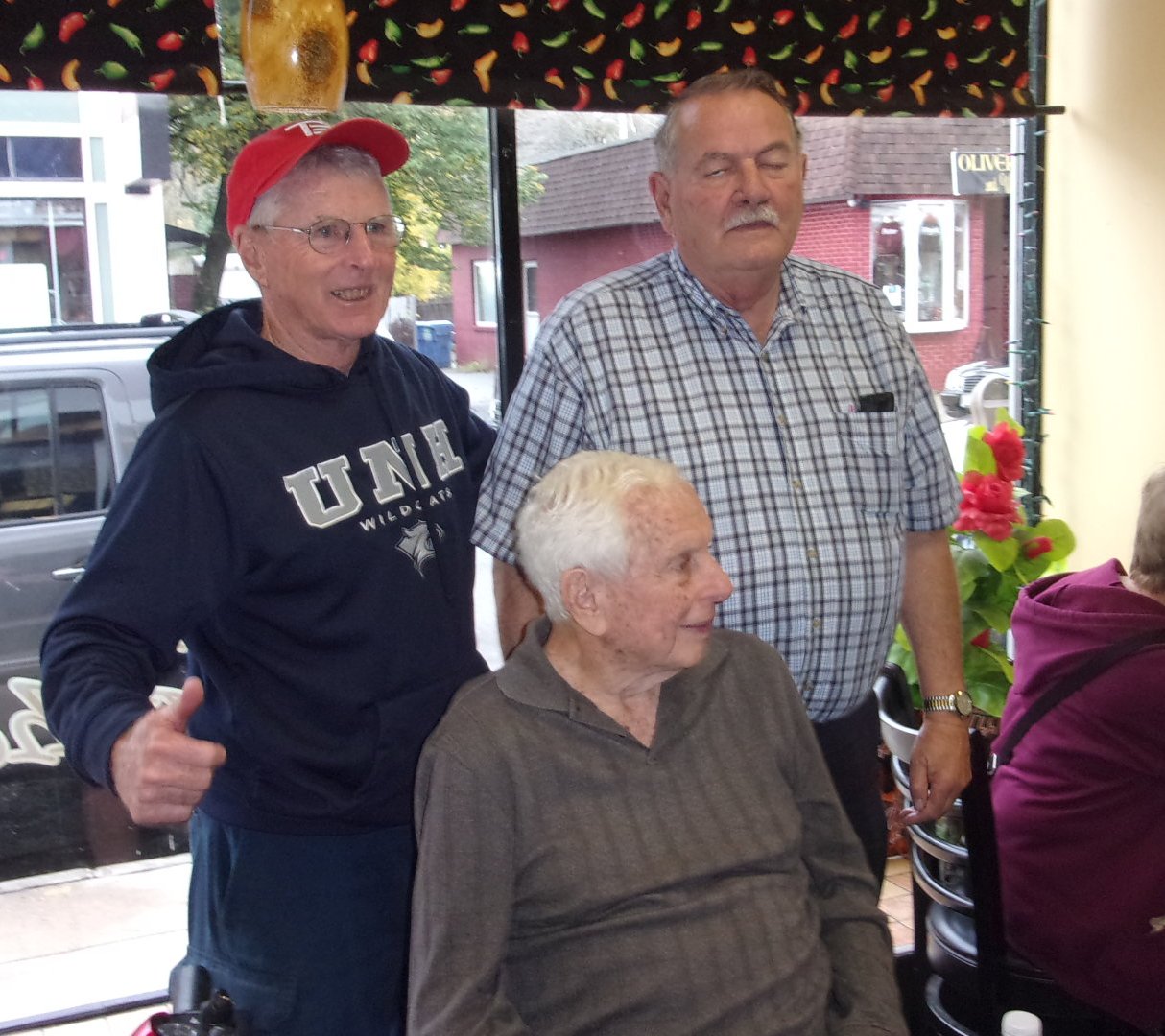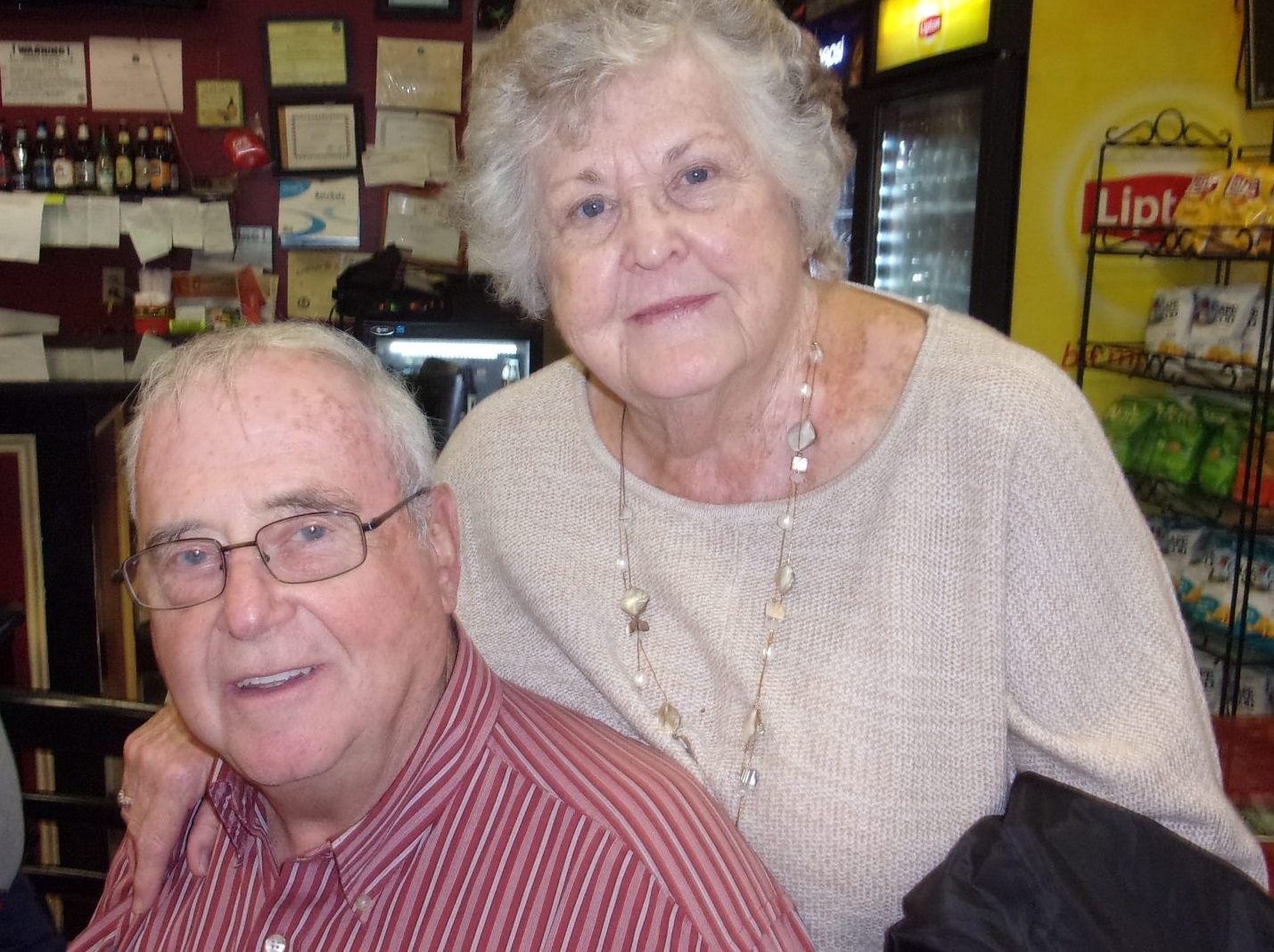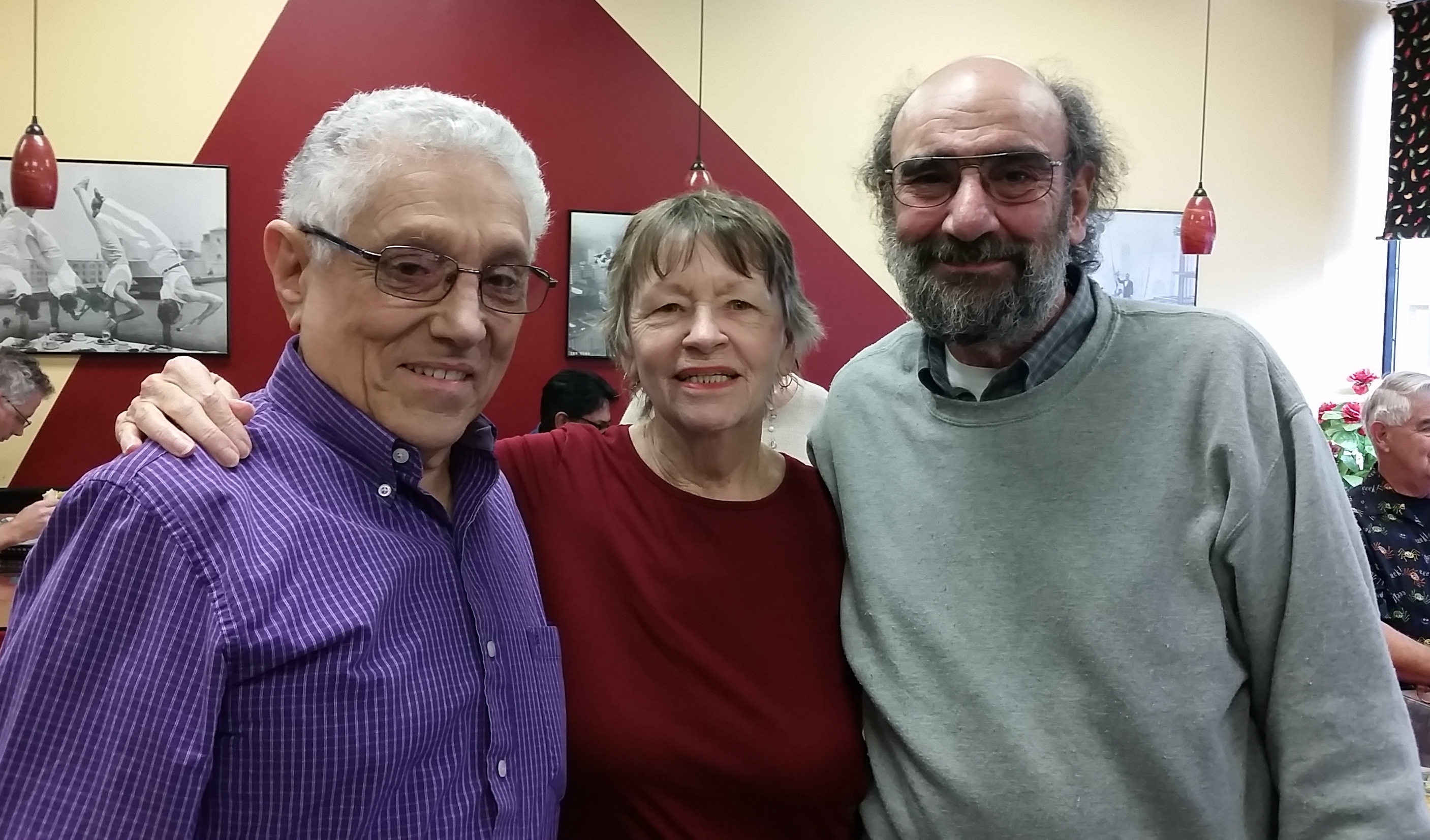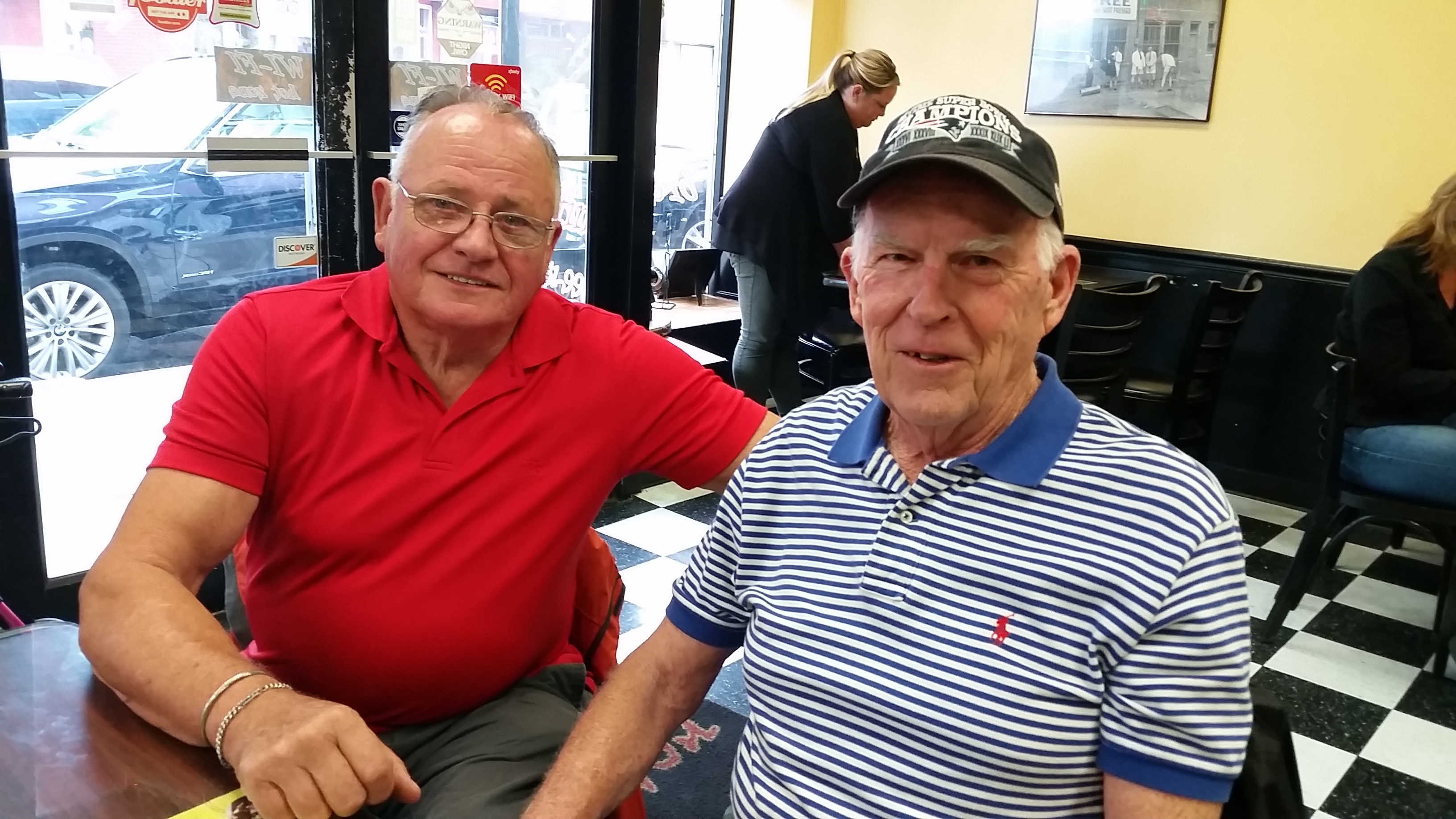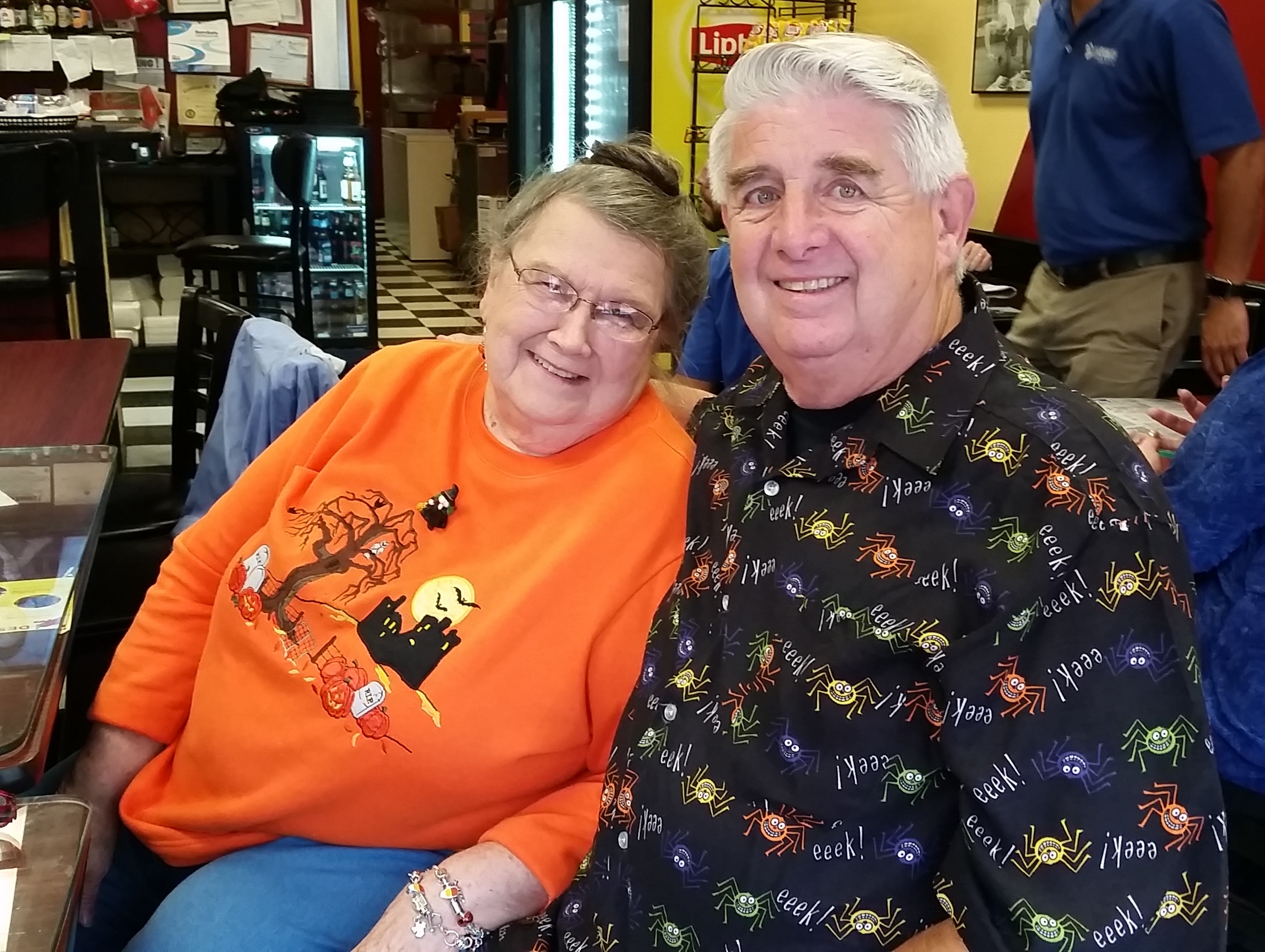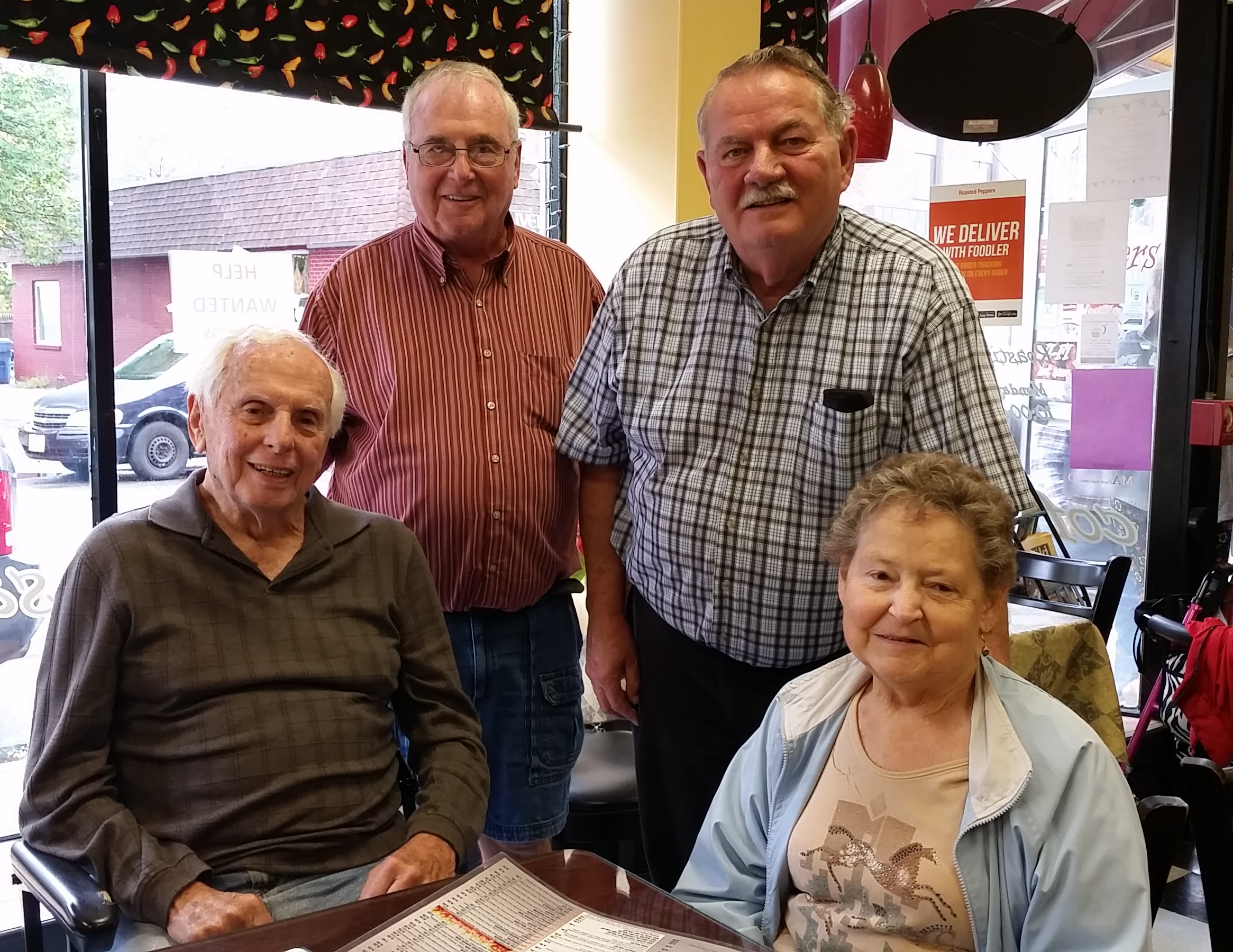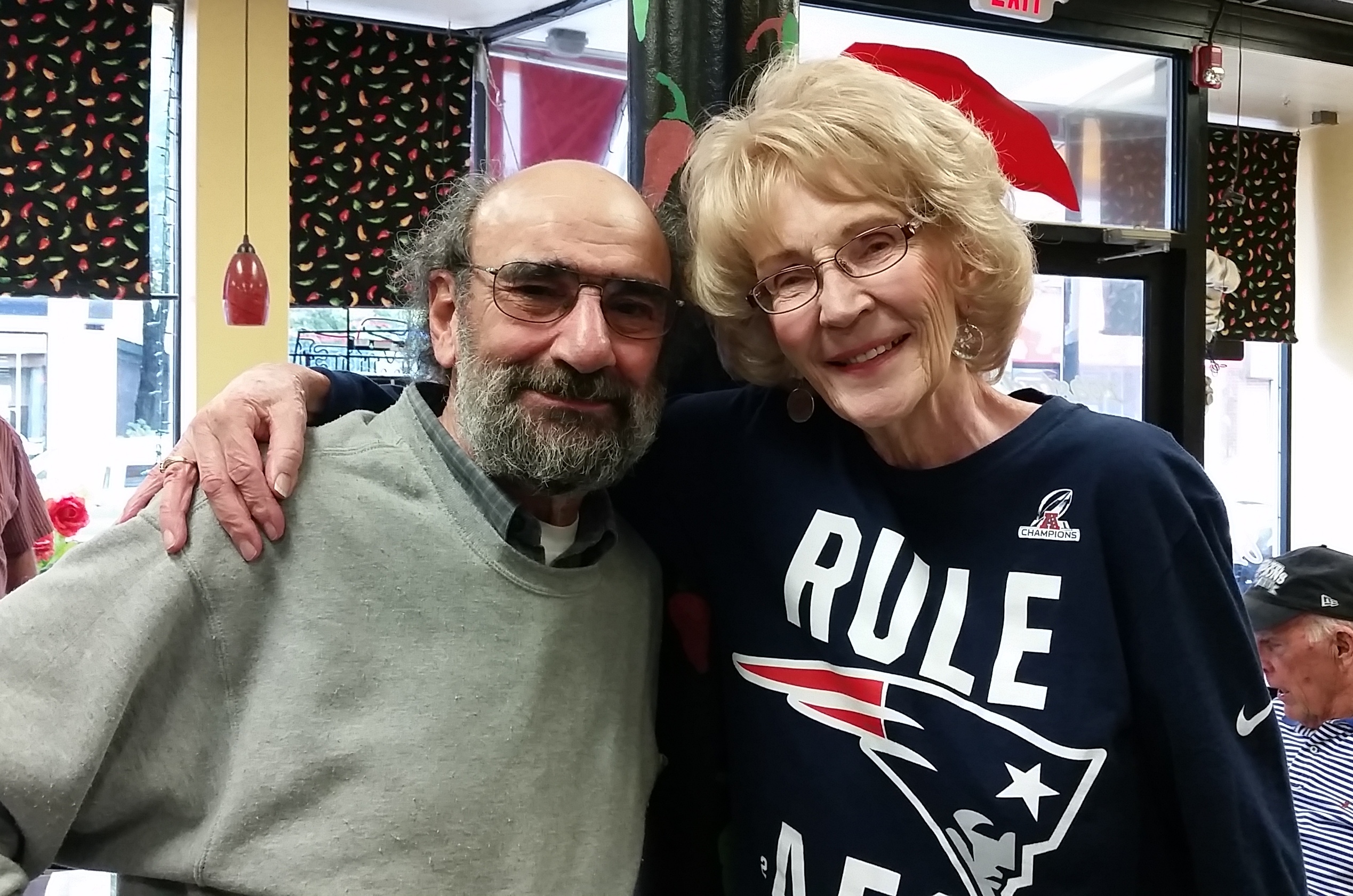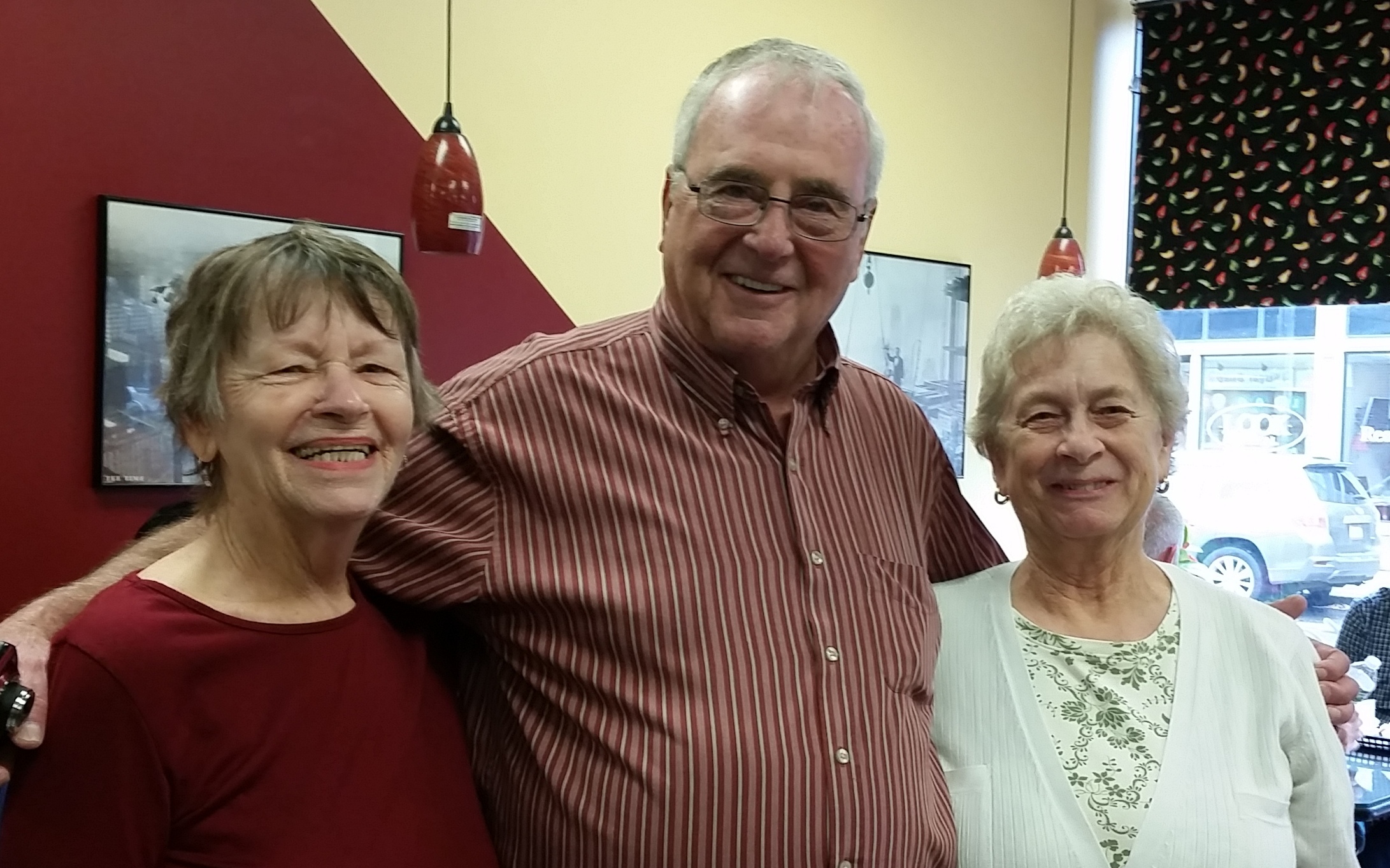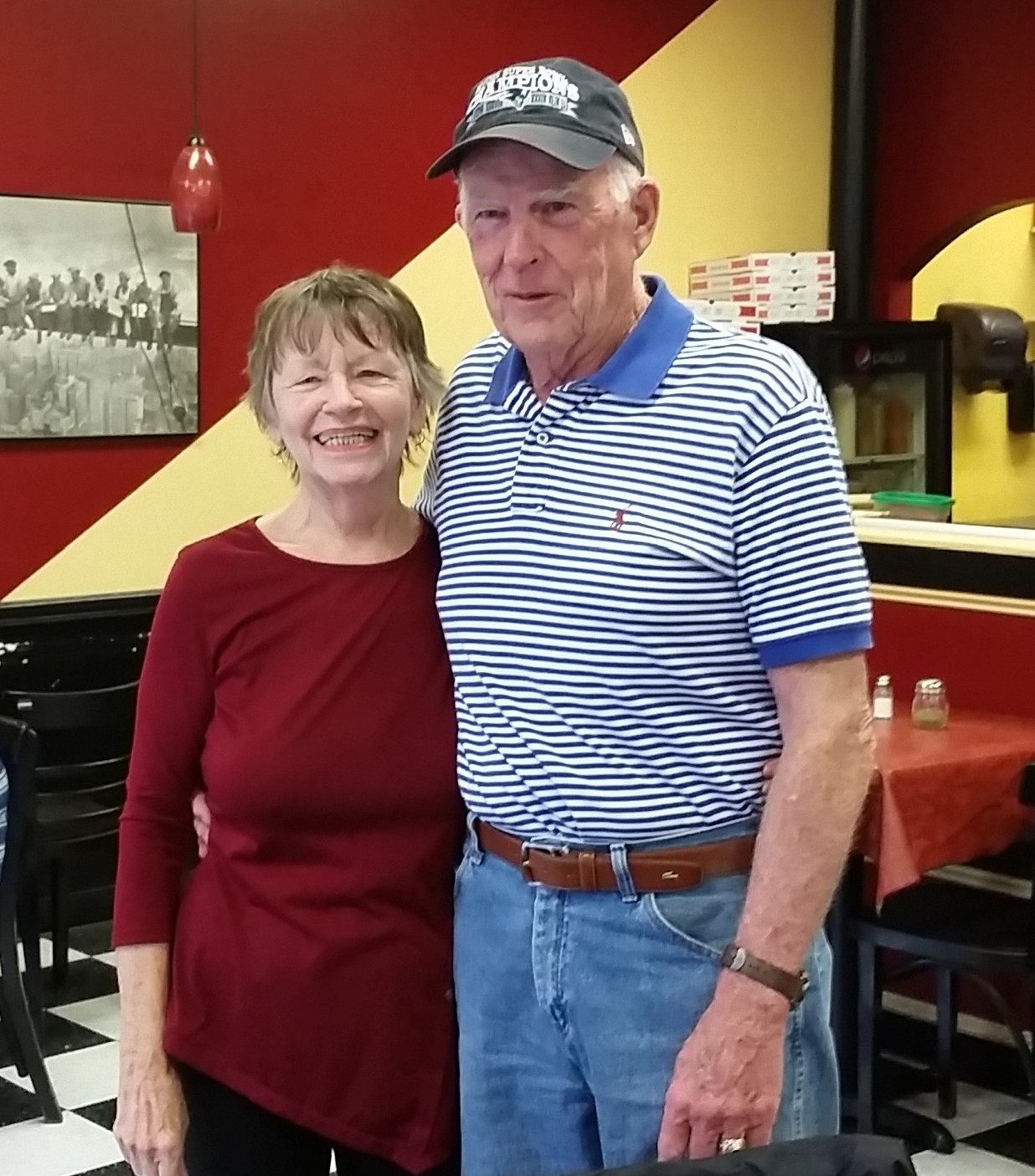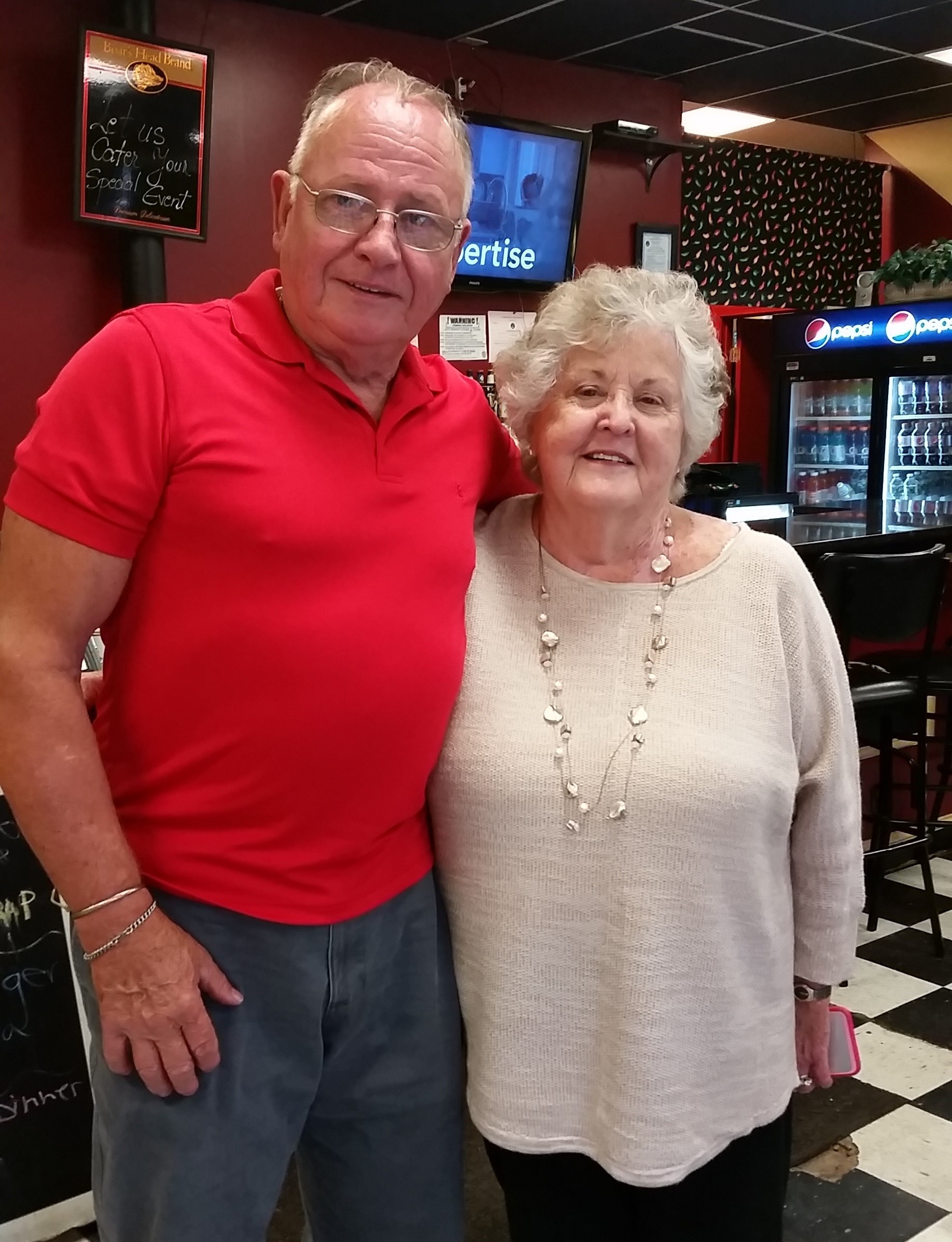 ****************************************************************************************
February 2017 4th annual Florida MHS Mini class reunion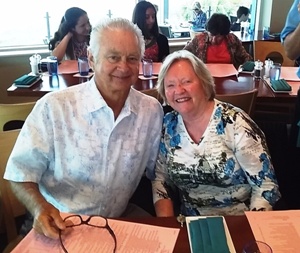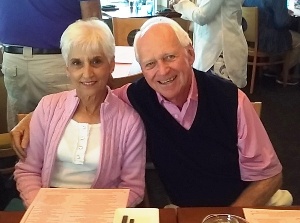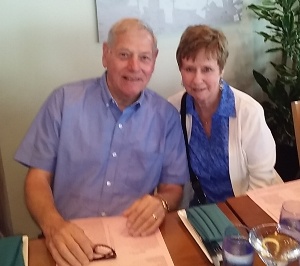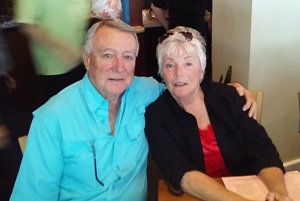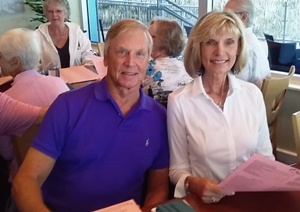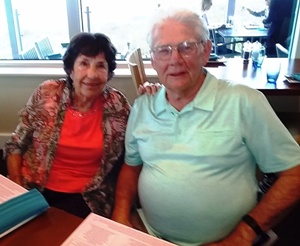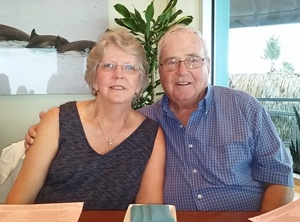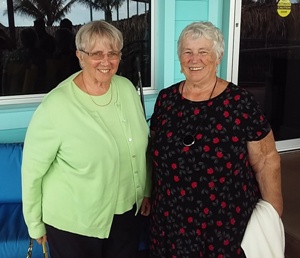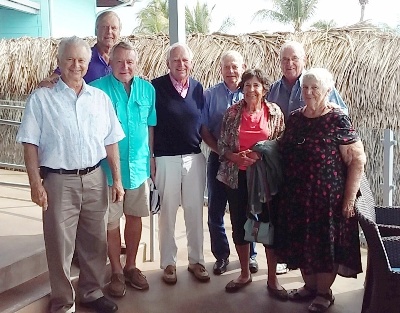 2016 Maynard 4th annual September mini reunion photos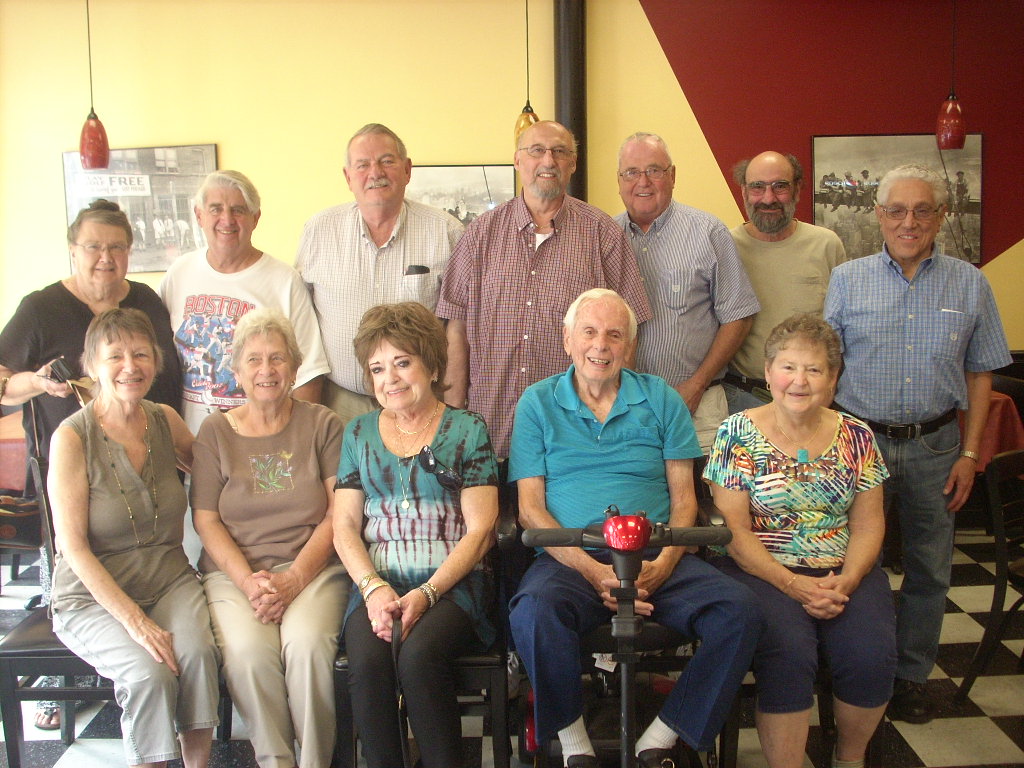 Karen Smith and Joan Shaw joined us in this photo. Both of them are faithful regulars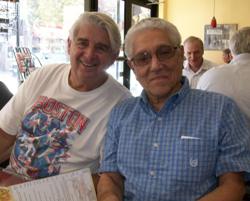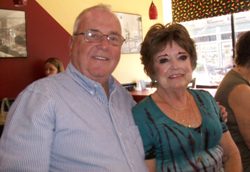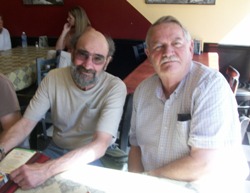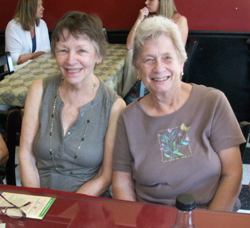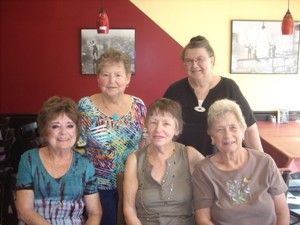 This is our 4th reunion Maynard mini and actually the fewest classmates we've had. Amazing that none of us have changed a bit.
We leave it up to whomever can come will be there and although we'd certainly love to see more of you there, we understand
that other things in your lives, get in the way. Please give it a good ole fashioned try for next September though. In looking at the
2017 calendar, I'm guessing Weds. September 20th looks like the date. Same place (Roasted Peppers) at noon. Please plan on it.
2015 Maynard 3rd annual September mini reunion photos
We had 12 classmates and two spouse and,,,
a few that normally attend, didn't make it.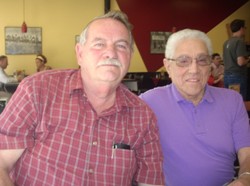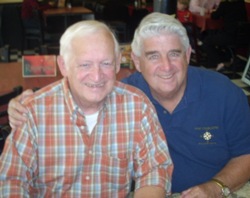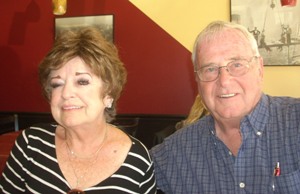 Here we have Larry and Ray, followed by Jimmie and Clarkie,,,,,,,,, and then MaryAnn and Jackie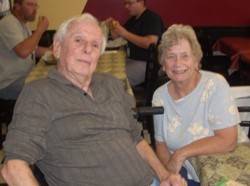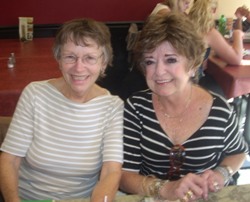 How about Billy and Pat,,,followed by Judy and MaryAnn again,,,,,,,,,,,and then Vinnie and Denise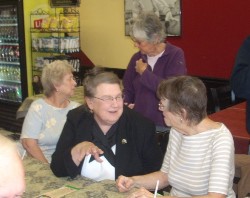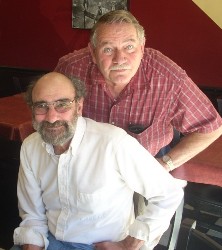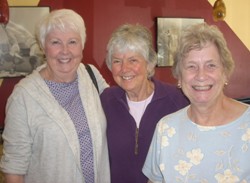 Next we have Pat, Karen, Judy, & Jesse, then Vinnie and Larry,,ending with Denise Jesse and Pat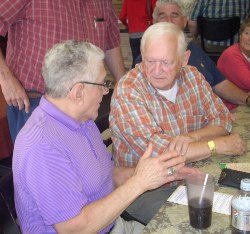 and finally, one more of Ray and Jimmie
Now here's the deal. Need I tell you that none of us are getting any younger and with that, how about everyone that can make it,
come to the next one. God willing we'll all be here. You're all aware by now that we lost three dear classmates this summer alone
and I'm hoping that's it for a while. Just like the song "See you in September" 2016
****************************************************************************************
2016 Florida 3rd annual mini reunion photos
Next year, I'll try to take better pictures,, and not against a window. sorry babs and john and david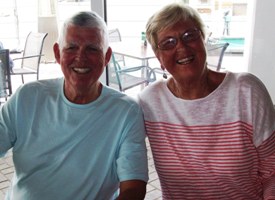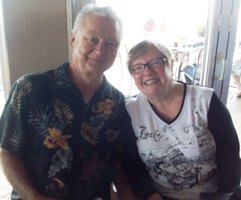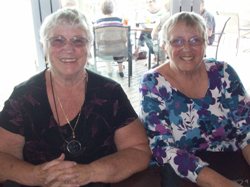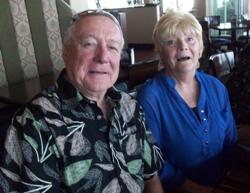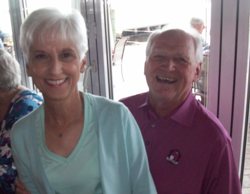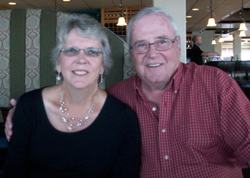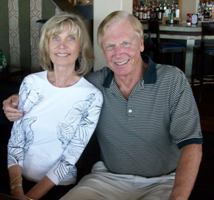 Feb 29,,,It's so nice to be able to get together like this, and now, for the 3rd time. Ralph and Marilyn Nelson joined us regulars for the first time and here's hoping they'll be back again next year. Lenny did his outstanding job putting this all together,,,,and thank you so much Lenny. We followed the lunchoen with our annual trip back to Judy's house in Sarasota where she served us drinks and sweets, she also gave each one of us a loaf of her famous Finish bread. What a wonderful hostess she is,,,and a darn good baker too. Oh yes, we'll be doing it again next year (God willing) but it may be in Venice this time. We're hoping that'll bring in a few more classmates and cut David's travel time down a bit. I personally wouldn't miss one of these for the world, nor would I miss the Maynard one we have every year. Life's too short not to. Hey, we went back in time and laughed our butts off. And yes, some of our aches and pains came up, but not a lot. Too many good times to talk about, to dwell on that crap. We all got em,,some worse than others, but for this day, it was like we were right back in high school again.
2015 Florida 2nd annual mini reunion photos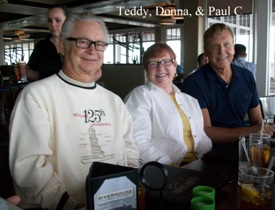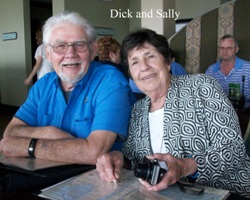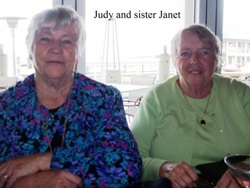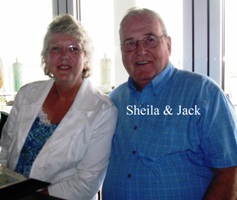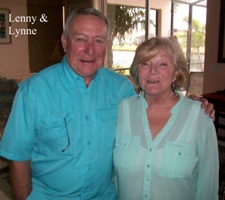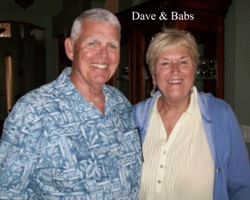 March 4,,,2nd annual class of 59 Florida mini reunion,,,,Hi All, I want to thank all that could attend a wonderful luncheon today at the Riverhouse Reef & Grill in Palmetto, FL and hope it will only get larger next year with the ones that could not attend. We had a fantastic time reminiscing all the fun we had in those great years in our earlier years. I can't thank Judy Kulyu and her sister, Janet, enough for being gracious hostesses at Judy's beautiful home after the luncheon. That extension of the luncheon made it super fantastic. I hope we can all do this again next year, so please try and keep the last week in February open so the luncheon can increase in size. I hope everyone had a great time. Love to all and thank you again,,,,,Lenny
and from Jack,,,,,A team of wild horses couldn't keep me from attending another Florida mini 1959 reunion,,,and Sally won't miss one either. Are you sitting down? Sally and Dick drove down from Massachusetts just to be there. WOW!!! Ralph just missed it by one week, so next year buddy, drive back down from Myrtle Beach and join us. And Bruce,,,you too,,,drive over. It was so great to have Babs and Paul join us and hopefully we'll see them again next year. Ted and Donna drove us down from Clearwater and it's always nice to be in their company. So nice to see Judy there with her sister Janet. It had only been a month since Andy passed away. Of course we ended up at Judy's place (2nd annual for that too) for coffee and a few laughs. Dave and Jackie are regulars no matter where we have anything going on. Dave once said, just tell me where it is and count on us being there. Lenny and Lynne,,,what can I say except thank you my friend for organizing another great event. This kinda sums it up in words, but the feelings are the hard part to convey. Just being with classmates from so many years ago, warms up my heart and I'll go out on a limb and say that everyone there felt the same way. God willing, we'll see you all there again next year.
OK, Here here's what you've waiting for,,,,POST 55th reunion comments and photos
I wanted to let you know that Judy and I felt the 55th was the best reunion yet. The venue fitted us perfectly and allowed for excellent interaction with everyone. Kudos to all of you for all your fine efforts in pulling this together. Now, if it wasn't for the fact that I was about to drive over the lawn when we were leaving, the evening would have been a perfect 10! (actually my ever vigilant co-pilot pointed me in the right direction in time and I left no tire ruts.) TEN it was!!! Great job! Cyril
Dear Pat, Jack & Ed,,,,,,I agree, the reunion was perfect. So much fun talking with old classmates and catching up. A sincere thanks to all of you for working so hard and also to Brenda for her table centerpieces. The prizes were priceless and so memorable! Thank you Larry, Judy and I enjoyed that last glass of wine. Looking forward to the 60th,,,,,,Dot
Hi Jack,
Thanks for the email on the class reunion and you said it all. You all did a great job as usual and it was so much fun and glad to see all. Probably a few people I didn�t get to talk to because they were also busy talking to others. Thanks to Dot, my lifesaver for letting me borrow her clothes the last minute and for letting us stay with her overnight. Sally
Hi Jack,,,,,I am so happy that everyone had a great time. I wish I could have been there. Brenda had already sent me an e-mail, the next day, telling me that everyone involved did a great job in putting it together and that everyone had a great time. The photos up on our website were fantastic as everyone looked great. I am going to start sending out e-mails to the classmates living in FL and others I have heard that have already made reservations to be here, or who have mentioned they may be here in 2015. It appears it will be the last week in February and that happens to be a full week next year, I.e. - the 22nd thru the 28th. Please let me know if you hear of anyone else that may be here during that time frame. Best regards,
Lenny
Hi jack,,, Hope all is well with you and family sorry I missed sat nite nice to hear it went very well. Thanks again for putting the mini reunion for me in Maynard last March. I think about often. I'll make the next one. Thanks for the info.
Take care,,,, Den ,,,(note: Denny is in Carslbad Ca. alongside Nancy Charpentier's brother, Tom and home of Whitey Bulger for 16 years,,,BUT brother Billy had no clue where he was)
Now, trying to get everyone's attention and with multiple cameras going off was dam near impossible. That plus, Jack Bub slipped out before we took the class photo which we almost forgot to do. I (jack) took this shot trying to get the alignment right and lo and behold, it's the best shot out of the bunch. It was the only shot Bruce wasn't hiding behind Paul and how that could happen still amazes me. Some of the other shots had people scattering and in one, I think Paul is scrambling outta there because Dottie was pinching him in the ass...That's what it looked like anyway. In this one, there are a couple of people staring off in space and I think Marianne is crying because Billie said he wouldn't dance with her. I've also inserted Jack Bub and myself, so we wouldn't be left out.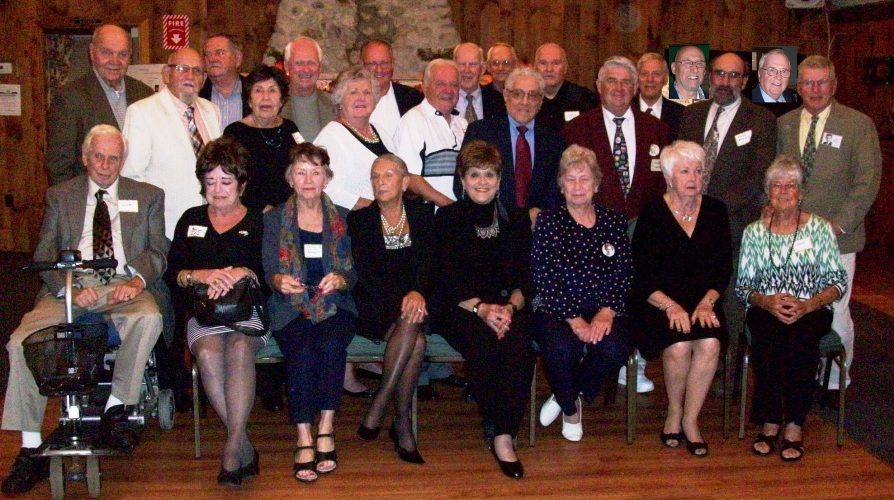 Gotta run. Sheila wants to go to dinner,,,,More later and keep checking back,,back,,it's getting late so I'll just throw up a few teasers and when Iget more time, I'll throw them all up.
1st we have Marrianne, Judy and Pat,,and then we have Jack, Ray and his wife Chris,,,,,,, followed by Billie and wife Joan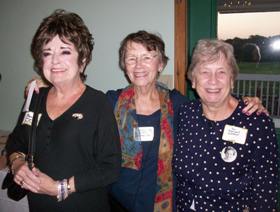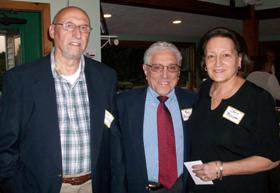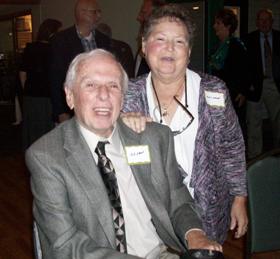 How about Denise, Jessie and Judy, then Denise again with Dottie. Followed by our Raffle ticket sellers. The appetizer table was donated and made up by Marilyn Nelson, Linda Mullin, Pat D'Errico, Karen Smith and Sheila Malcolm. Thank you all so much ladies.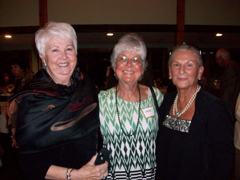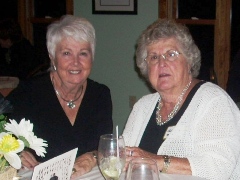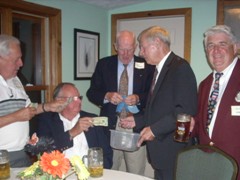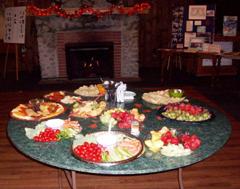 Ths gang starts with Joe and Dee Dee, followed by Bo and Janet, Bruce and Linda, and last but not least, Dave and Jackie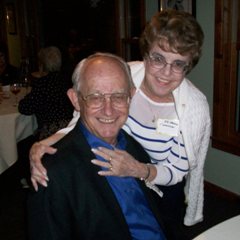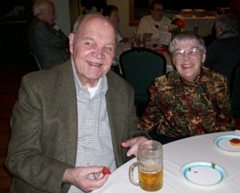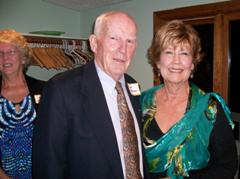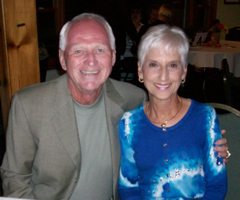 Here's Marrianne and Judy,,,,,,then Judy and Cyril,,,,,,,,,,JP Whitey and his wife Eileen,,,,,, followed by Vinny and Diane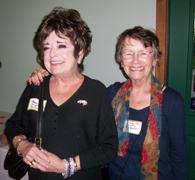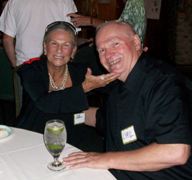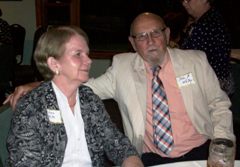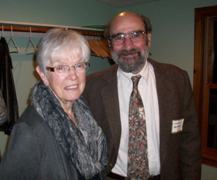 Larry and Paul and then Sally and Marrianne,,,,,along side Ralph (Nelson) and Marilyn and then Jesse and Clarkie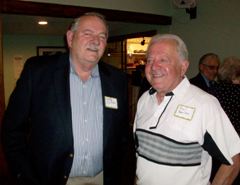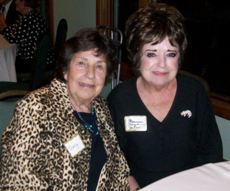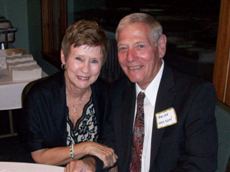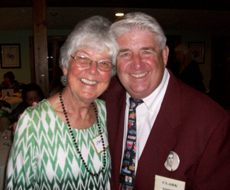 Here we have Bub and Butchy,,,and then Eddie and Linda Mullin,,,Brenda and Judy and then Jackie and Sheila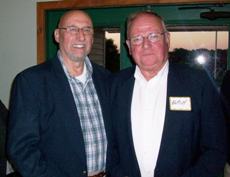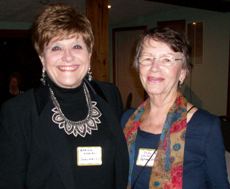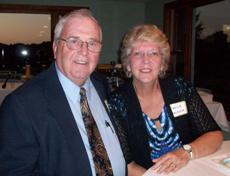 Cyril again with Vinny again and then Karen and Clarkie,,,Brenda and Pat,,and last, the Booooby Prize (sorry DDot) won by Dotty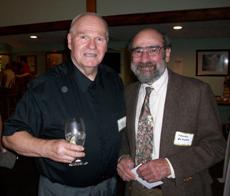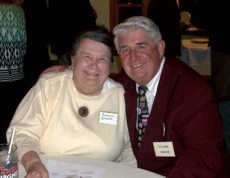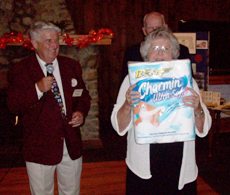 couple of tough 1959 linemen, Cyril and Bo,,,and then some room shots. The Maynard Country Club served us well and a great place to have a reunion.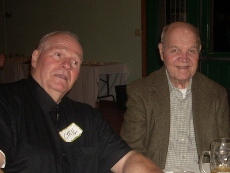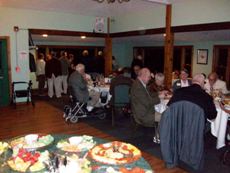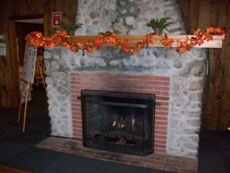 Unless I receive more photos, this does it for our 55th reunion. So much planning and then before you know it, it's gone by too soon if you ask me. I feel like Cyril, this was the best one ever. We all signed thinking of you cards for those classmates we felt might like a little lift up and for those that could not attend this one, we hope you can make a future mini somewhere and the 60th if we're lucky enough to have one. There is no question about it,,,I am the luckiest one in our class for a couple of reasons. #1, just being a member of this great class of 1959 that went through so much back then and paved the way for future generations to follow. Hopefully we all made a positive impact on our families and the world in general. and #2, to be able to get in and out of all of your lives with this website. From the bottom of my heart, thank you for allowing me that privilege. God bless you all,,,,,,,,,,,,,,jack
And now, 2 more photos from Clarkie Smith,,,,and remember, Jack Bub is not in the large one. He went home before we had a chance to take it. Bottom line,,,we forgot,,,and what else is new at our age.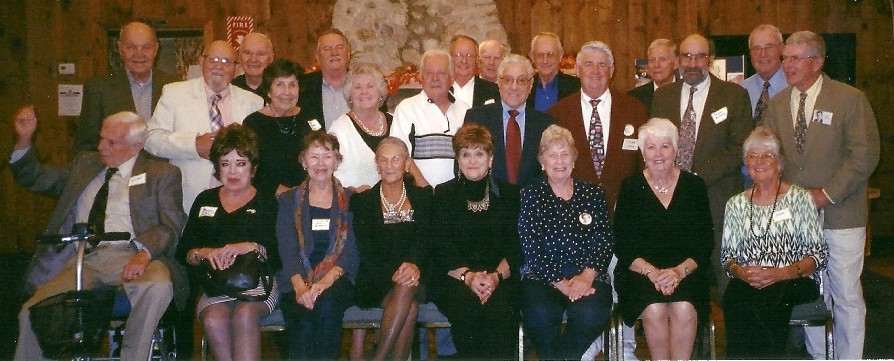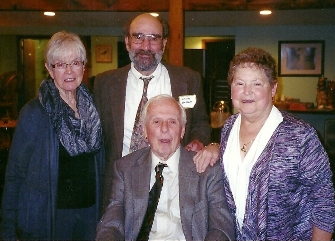 *************************************************************************************************************************
AND NOW, BACK TO OUR ONGOING
,,,,,,,,,,,,,,,,,,POST EM SECTION
which could use some more info from many of you. Please give me that current, juicy stuff that's going on in your life.
Well, even is it's not juicy, I'll take it anyway.
Sept 2017,,,,Hi Jack et al: First - apologies for the �empty� mis-sends - not sure how that happened ! Sorry to hear about Bobby - he was a sweet gentle person - always a kind word. Good wishes and thoughts to those in the IRMA path - hope all the preparations are for naught and it veers well out to sea. All is well in Iowa - or as good as can be at this stage of life! We are hanging out here for another couple of years until only grandchild graduates from HS and goes off to college - she is now a junior and says her classes are finally getting interesting! Once she graduates we may take off traveling more - who knows what the future will bring! Regards to all. Bunnie
May 21, 2017,,,,Just a word to say that my new health care provider has made me eligible for a fitness program called "Silver Sneakers " (wonder why ?)
As a result I am trying to get my sad ass in gear for great things this summer. Mayhaps a vertical assault of the Mill Chimney or even a mid-night crawl across the Mill Pond . Then again, it may best to stay in Carver and race against the Edaville Railroad. Hello to all, J P Whitey

May 21, 2017,,,,,Eddie won't write about it, so let me do it for him. He just had a terrible bout with pain running down his leg. He did the cortizone shots, but ultimately had to have back surgery,,,just like Cyril. Both worked out fine. Ed is back working and getting ready to take his first attampt at golf. Now, I'm about to have my first shot in the back and if that doesn't sure my pain, I'll also go under the knife. Can't stand the pain running down the leg. It's awful. I told the doctor, I didn't care what he did as long as I could play golf in Florida next January.
On a sad note, Audrey is in Beth Isreal Hospital, she's had five surgeries and is really down. I'm going in there today just to make sure she'll be at out 60th reunion. That usually sets her off when I mention reunion. Say a little prayer for her.,,,,jack
September 6th, 2016,,,,Congratulations classmates. We have been blessed to have made it to the BIG 75!!!! I'm doing wellafter spending three months at Dana Farber in Boston to be treated for a blood disorder. Sandra, the grandkids and I spend lots of time hinking in our beautiful Sandia mountains.We also take the chairlift down the other side where we seeblack bears and their clubs. I'm getting ready for another session atOasis, where we have many classes and make new friends. Our hot air baloon Fiesta starts in October for 9 days and nights. Tons of beauty in our skies. Hope eveyone is welol and have frun on the 21st at Roasted Peppres. Will be thingking of you all,,,,Elaine
August 2016,,,,,,Sorry won�t be able to fly in for the mini reunion on Sept 21 - tho it is on my old after school job stomping grounds - I used to work at Woolworth�s - at the candy counter!! I can remember weekly grocery shopping at the Co-op! 2016 has been a year for improvements - new right hip, cataracts gone and new reading (only!) glasses, and a new left hip on Nov 2 or sooner if they have an opening due to a cancellation. Quite a year. Am looking forward to a much more active and FUN 2017 - maybe even testing out some of the new bike paths around town and further afield. We got tired of waiting for more visitors from the east - so are starting to downsize and hopefully be into a smaller place that requires less maintenance in a year or less.Tis very true - life is too short - and I for one will be ready soon to make up for lost time! Best regards to all. Bunnie Engelhardt Tomes, Cedar Rapids
August 2016,,,,I finally get something to write about. It's like pulling teeth. Denny called me last night thanking me for the website and the gathering we threw for him on his last trip out Maynard way. He was telling his friends about his high school days, going over the website and had to make the call. He misses Maynard and the great memories he had growing up with his family and classmates. Now that's where this story starts. Denny played baseball in the pony league. He stepped up to the plate and the catcher (none other than Clarkie) asked, "what kind of pitch do you want?" Denny couldn't answer, so Clarkie called for a fastball. The pitcher went into his windup (oh, I forgot to mention that the pitcher was Billy Shaw) and that fastball went toward the plate. Denny had no clue what he was doing, or where the ball was, so he just counted to two and swung. The bat made contact and the ball went somewhere far into the air. He slid into 1st base, got up and ran to 2nd base where he slid again and then slid one more time into third. He did this beauce the coaches were yelling at him to keep going and,,,lo and behold, without even knowing it, Denny had hit a home run. It ended up the only one he hit too. Now fast forward 55 or more years when Denny came to Maynard for family reasons and while here, we got a few of his friends to meet him for lunch. He greeted everyone like it was old home week. Last but not least came Billy and out of his mouth came, "I'll never forget that home run you know." You see, Billy was a great pitcher and for Denny to have hit that out of the park, must have been a big let down, and so much so that after all these years, it's still on their minds. What a great childhood memory to hang on to, but from my perspective, the blame should go to Clarkie for calling for that fastball. Thank you so much Denny for calling me and sharing that story. For the rest of you,,please, please, please let me have more of these memories so I can share them with all of our classmates.
April 2016,,,,,Just got home from Florida and this freeking snow is bumming me out. Next year, we'll stay a tad longer and be sure it's all over. Now, just wanted to mention who we got together with right before we left. I got in touch with Larry Colleton's sister Elaine, and we arranged to all meet at her place, right on Lake Conley in Tarpon Springs. Couldn't use the boat though,,,rained like hell. Sheila's brother Chris was visiting, but Elaine insisted we bring him along. John and Elaine Mariano (brother and sister) were there along with their partners Ed and Jeanne (Hanson). And of cousre Elaine's husband Stan was there too. Talk about going back in time,,,and we did so for three hours. Hear me out good,,,there's nothing like meeting with old time friends and going back in time (whether the stories are all true or not.) Thank you Elaine and Stan for your hospitality,,,,,,,,,your friend always, jack
January 30, 2016,,,re Bill Shaw from his wife Joan,,,,,and you'll have to read this from bottom up,,,We got the go ahead for the at-home visit to use the bus for transportation from the senior Sr Center. We now have to get the coordination of time between the facility and the senior centers bus schedule for home visit. He has his chair there and it will not fit in our car so the Sr Center said we could use the bus to pick him up and take him back from the house. The timing Part has to be when there is a licensed PT person available. We are hoping this will be week after next. Keep fingers crossed...January 30,,,Bill has passed his first test to get home. Yesterday he was able to get in and out of the car with just a little help. Now we are trying to get the home visit set up. Nothing seems to go very fast there. We are hoping Bill will be home in a couple of weeks. He has been working hard to get out of there.,,January 6,,I know it has been awhile since I have sent an update. It's been 5 weeks and Bill is still in rehab. He has made gains but not enough to come home yet. They haven't called another meeting but the therapists say he is doing well but it will take time. They are working on him getting up buy himself and to turn And sit on the bed. He is working hard on all his exercises and is slowly gaining upper body strength back.,December 12,,,,,Update on Bill. He is feeling good,but has to gain some strength back from being almost a week in bed. He is in a rehab facility called Greenbriar,55 HarrisRd. Nashua, NH. Room 157. He will be there for a little while. We haven't been given any time line yet. He has PT, OT, and speech therapist mainly to work on recognitive techniques. They have only been working with him on week. Visiting hrs. Are any time.,December 5,,,,,Bill is doing great. Memory has been coming back. They did an MRI tonight to compare with past one. They have finally found empty bed on a regular floor and moved him out of ICU. I think he is being moved tomorrow to a rehab place called Greenbria in NH.,,December 2, 2015,,re Bill Shaw,,,,I'm (his wife Joan) sitting in intensive care at Mass General. Bill had some seizures late Mon afternoon. Was med flighted from Ayer to Mass. General Medical. They have ruled out stroke but are still puzzled about the cause. He had a UTI, so they are leaning towards, that it could be the cause but are trying to rule out any other causes. He is sitting up and much more alert today, but still confused. Will update when we know more.
UPDATE,,,,,,Just wanted to let everybody know that Bill is home finally. He got home Mon. He has nurses, pt and OT people coming in to help him with transfers. This pole (not pictured here) is one thing we have installed for him to get in and out of bed. Of course he wanted to know where the stripper was that should have come with the pole. (sounds like his mind is still in pretty good shape)
January 2016,,,from Pat,,,,, I am a Seenager (Senior teenager). I have everything that I wanted as a teenager, only 40/50/60 years later. I don't have to go to school or work. I get an allowance every month. I have my own pad. I don't have a curfew. I have a driver's license and my own car. I have an ID that gets me into bars and the wine store. I like the wine store best. The people I hang around with are not scared of getting pregnant, they aren�t scared of anything, they have been blessed to live this long, why be scared And I don't have acne. Life is Good! Also, you will feel much more intelligent after reading this, if you are a Seenager. Brains of older people are slow because they know so much. People do not decline mentally with age, it just takes them longer to recall facts because they have more information in their brains, scientists believe this also makes you hard of hearing as it puts pressure on your inner ear. Much like a computer struggles as the hard drive gets full, so too, do humans take longer to access information when their brains are full. Also, older people often go to another room to get something and when they get there, they stand there wondering what they came for. It is NOT a memory problem, it is nature's way of making older people do more exercise. SO THERE!! I have more friends I should send this to, but right now I can't remember their names. So, please forward this to your friends; they may be my friends, too. and finally, HAVE A HEALTHY, HAPPY 2016
January 2016,,,,Thanks, Pat! Nice to get something fun - made me smile in between the kleenex bouts! Can�t complain - health has been pretty good in general. Waiting for another bionic part - total hip replacement in May - seems to be an epidemic of that need currently in Cedar Rapids - with Drs pretty busy and difficult to get scheduled into. I see our list of classmates is really getting shorter - with some names missing from your send list that I thought were still in circulation. I had a surprise snail letter from Betsy Fouratt in CA - which I need to reply to. I finally retired (again!) from my involvement with Girl Scouts. We had been doing a summer day camp for 4-5th graders at the astronomy observatory I did major fundraising for - just couldn�t keep up with the kiddos with the bad hips. Still helping with SHIIP health insurance registrations in the fall thru a local hospital, and doing a little publicity for the astronomy facility. Mostly doing what probably lots of our classmates are - getting life, paperwork, and �stuff� ready for the next downsize and making sure our �affairs� are in order so the kids can figure things out! The latter is a almost a full time chore. Hope all is well with you - please share my regards with any classmates you get together with! Bunnie Engelhardt Tomes Cedar Rapids, IA (NO SNOW zone - so far!)
January 2016,,,Hi Jack. Back problems solved. In hospital for two weeks after major surgery. Stats: 11 inch surgical incission. 8 vertabrae sliced and diced. 4 and 1/2 hours under the knife. 38 staples. And being discharged tomorrow! Congrats on your new winter home. Wish I was there. Cyril,,,,Cyril has had a back problem longer than he cares to talk about. So glad to hear it's finally behind him. Good luck with it my friend.,,,Cyril
January 2016,,,Jack, Thanks for the note, Brian is a nice guy and was a real pleasure to work with when I was at M.H. S.
Good golfer so don't play him for money! I agree with your thoughts on Fl. I can even take the wet and cool weather. No snow blower or winter coats. El Niño will be all gone in a month and then back to normal weather. This is supposed to be the dry season.Will be going to the beach, no swimming for a while, sharks are migrating by the thousands, I am not shy about risk taking but still want all my body parts. Still will be a nice site to see. Regards to Your wife...Bruce

March 29,,,,,Today, many towns people toured the new Maynard High School (which is beautiful) but right at the entrance is the brick our class purchased. It's there for all to see forever. Pat and I were there together looking at it and it was a proud day for the class of 1959.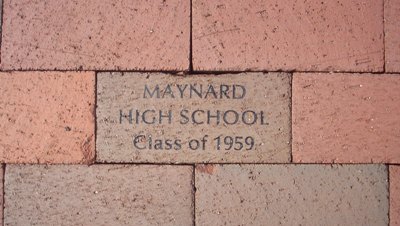 March 21,,,,,,Lunch at Roasted Peppers: last minute Denny Lombard called, said he was in town for 4 more days and then returning to California. He and his sister came out from Cal. to put their mother in a nursing home. Been there, done that and it's not a pleasant thing to do,,,,but it's reality and must be done....we all know that. All that said, I hustled to get some local people (and where were you Jimmy brooks) to meet Den for lunch and lo and behold, a bunch of us showed up. Billy and Joan Shaw were there, Tommy French, Pat Manual, Judy Crotty, (Sorry, but it's easier if I use maiden names. That saves me time to look it all up) Vinny Buscemi, and yours truly,,,Jackie. Again, I'm using 1959 names, so you'll know who we're talking about here. Every time I hear Jackie, I know the person is old and from Maynard. If you can't take the y or ie,,well, just get over it. And dropping in for a few minutes was Eddie Mullin. He couldn't stay (for the same reason as Denny) but thank you so much Ed for dropping by to say hello. Denny couldn't have been more thrilled to see all of us. To think, a simple phone call and then a day later to have two tables of his long time friends surrounding him. It didn't get much better than that for him,,,,and for us too. He took us through his living in Carlsbad California, how he got out there and how he felt about coming back. He loves it out there but agrees, there's nothing like Maynard and having lived ten+ years away myself, it was a special moment for me when I returned. Of course I came back to stay. I trust Denny will be back again too. We took trips down memory lane about school, the cars we had, the armed forces service we went into, some of what we're doing now,,,and on and on for two hours it went. There were a few people that couldn't make it and they sent their hellos. Jack Bub, Paul Barilone, Joan Ferguson,,,,I hope I haven't left anyone out,,,and I 'll bet I have. We took pictures which we have here but Ed wasn't there when the camera came out. My good fortune was to have been at all four of these that we've had. Two last year, one in Florida a month ago and now this one. If we have any more,,,please make sure you come by. Life's too short not to. More on the reunion in a week or so.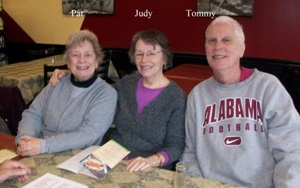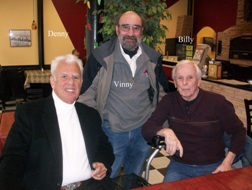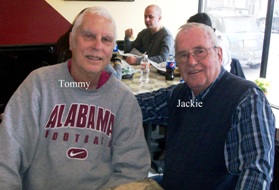 Left to right Pat, Judy and Tom,,,,,,,,,,,,,,,,,,,,,,,,,,,,,,,,,Dennis,,,,,,,,,,,Vinny,,,,and Bill,,,,,,,,,,,,,,,,,,,,,,,,Tommy and me,,,(Jackie)
March 7th 2014,,,,I'm finally getting around to telling you about our mini MHS Florida reunion. Lenny set it up at the Riverside Grill restaurant, right on the bay of the Manatee River in Palmetto. Beautiful setting which was open to the water on a gorgeous day to boot. Attending we Dave Spratt and his wife Jackie, Teddy Kauppi with friend donna, Judy Kane along with husband Andy, Lenny Melanson with wife Lynne, and your s truly Jackie Malcolm with recent retiree and wife Sheila. Sally Kangas was slated to join us but her plane from the west coast got delayed 4 hours and she wasn't able. And while we were eating, we realized that Paul Chyzus lived not that far away and somehow we forgot to call him. We were all bummed about that one,,,but then, there's next year. So sorry Paul. I can still remember the smiles like it was yesterday and the conversation went on and on. Judy and Andy invited us back to their beautiful home in Sarasota for coffee and dessert and joining us was Judy's sister Janet who lives just next door to Judy. How ironic is that after all these years. Just like old home week. Sheila and I (because of her retirement) were fortunate enough to spend two months, mostly in Florida and we're hoping to do it again. I trust Lenny will set up another MHS mini and God willing we'll all be there again. This time though, Bruce has to drive from the east coast and join us, and if Denise isn't on another cruise, I'm sure she'll be there as well. Below are the photos of the five of us and then again with wives. left to right was teddy, Lenny, Judy in the center, Dave and Jackie. I say Jackie for two reasons. 1. That's what everyone calls us and 2. It takes me back to the good ole days over 55 years ago. We all know there is no turning back time and honestly this part of my life isn't that bad. Bones don't work the way they used to and the weight, well we won't go there, but I've learned to just turn the page and read on. It is what it is. Now, that said, the one thing that does bring it back is seeing old friends and in particular, classmates. Whether it's at a class reunion or a mini, or at the local coffee shop, aches and pains and all, it takes me back in a time where life was a lot less complicated than it is now. Oh how young we were when I think of it and I'm kinda glad that we couldn't possibly know what life would throw at us. We probably would have thrown in the towel if we had a crystal ball and could see ahead. All in all though, those reading this are here to tell about it and that's not bad news if you ask me. A 55th you ask? Yes there will be one and I imagine we'll be putting some thoughts together before the month is out. More on that later. And now the photos.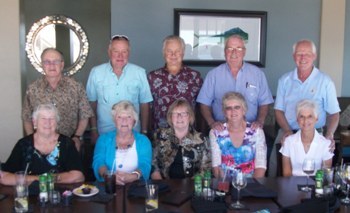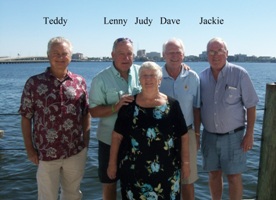 March 7,,,,CLASSMATE COMMENTS PRIOR TO THE MINI REUNION ,,,From Judy M-Have fun! Say hi to all. From Whitey,, Hey Jack, Have a nice get-together. I missed you by a month and a half as we were camping in Fort Desoto, St Pete for two weeks before Xmas. In fact, we visited friends who live in Palmetto. Currently Eileen and I am in the Corpus Christie, TX area and heading slowly Southwest. You should stay in FL as long as possible eh ? Lots of heavy wet snow up in Maynard. And Carver, too ! J P Whitey,,and from Bunnie,, Hey Jack! Hope you are in fantastic weather and can stay there until the craziness with all the snow and wind goes away! We were surprised to see the Sagamore Bridge (which is near where we spent summers) on the national weather channel talking about how dangerous crossing the bridge was going to be last night when the 60 mph gusts hit. Then the Gov of MA came on and pleaded with everyone to stay home and off the roads. Hello to all my fellow classmates who are snowbirds! Will keep an eye out for the additional news notes. In the meantime - ENJOY..Bunnie,,,AND FROM THOSE AFTER THE MINI,,, From Nancy-Snow tomorrow all day! I've had it! Enjoy your stay! Our last trip to Florida was 10 years ago! Ha. Don't drink the water! From Karen-How nice to see someone in SHORTS! I'm looking at snow again! Glad you all had fun. From Brenda-What great pictures .sometimes an unexpected reunion works so well. The way the weather is here right now wouldn't it be great to have our reunion on an island somewhere? No matter what time of year.
Ralph and Marilyn Nelson spent a week in Clearwater with us, but could not stay for the reunion. Bummer. Sheila and I moved on from Florida and spent a few days with them in Myrtle Beach and while there I looked up Walter (Wally) Mason. Wally moved from Virginia to Conway (just Northwest of Myrtle Beach) just six months ago with his wife Cynthia. Lovely new home, three great little dogs and a lot less cold to deal with,,,and that's why they moved. Cynthia is on facebook if you want to make the connection and Wally always responds to email. His is listed below in our email section. Please give him a shout and if you're ever in that area, please look him up. he loves to go for coffee. Below are their mug shots.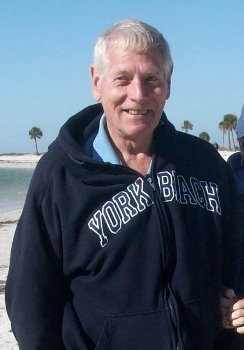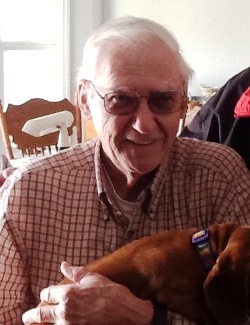 January 7,,,,,,You may not see any updates for a while,,,Sheila (who is retiring Friday) and I are going to Florida for two months. Can't wait,,,but all of you in Florida, watch out,,,I'm coming down. Lenny, I'm going to put you in charge of a Maynard High school get together.
May 29,,,,,,,Ten of us and (two with spouse) showed up for lunch at the old Woolworth's store. Names of course,,,Pat, Brenda, Clark, Ed, Ralph, Marianne, Judy C, Billy, Connie, and yours truly (jack). We met at noon, had some lunch and laughs and outta there by 2pm. Bill had to get his toe nails cut and needed help into the car with his motorized chair, so we all hustled out at that point. We had a great time, didn't spend a lot of money, laughed, got acquainted all over again and kinda makes me wonder why we haven't done more of that. And who knows,,,after this one, maybe we just might do that kind of thing more often. While half the group shot the bull and wouldn't listen to us yelling at them, the other half made an executive decision to do it again on Tuesday September 10th. Now don't tell us we didn't give you enough time to think about it. Our hope is that you schedule all your doctor's appointments around that date and we've made it a noon lunch so it doesn't interrupt your afternoon nap time or your go to bed early time either. We also hope that we double the number that attend,,,and Nancy, if you need a ride, I'll come and get you. And ask why it isn't Wednesday again,,,simple, Tom and Carla go line dancing on Wednesdays and that's why they didn't make this last one. And why is it September you ask,,,,simple, Sally doesn't cross the cape Cod bridge in the summertime. See how we try to accomodate all of you. Pictures coming,,,please check back. Oh, and before I forget, Marianne took the blurred picture of me and Bill.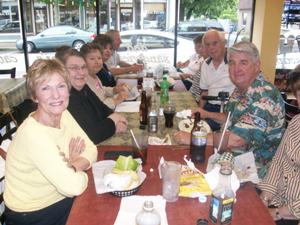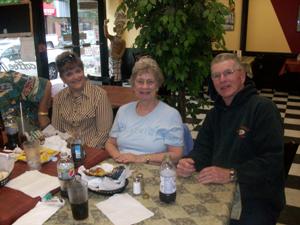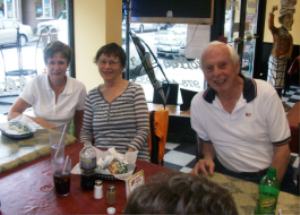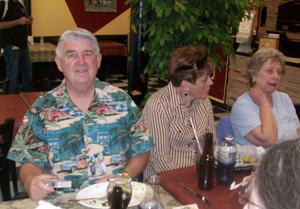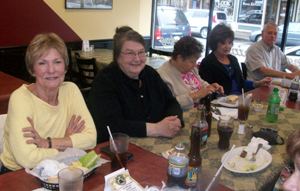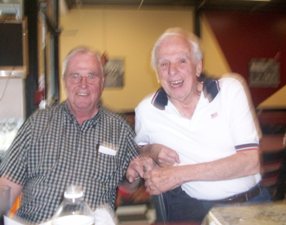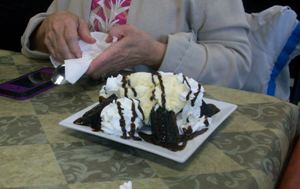 May 6th, 2013,,,,,,I happened to be going to a car show in Methuen with my Chevy, but before I did, I emailed Brenda Mariani to see if she'd swing by. She did swing by and it was like old home week for over an hour. Of course we talked about everything from 50+ years ago till now. What a great time we had. Now, I'm not great at loading photos, but I'm going to give it the old college try. Someone walking by, took our picture and they are for all to see. And don't think for a moment that I don't want to hear from every one of you. Whatever you're doing and espacially if you bump into a classmate,,,please send the info over to me and I'll post it,,,pictures to if you have them. Oh and that's the new Jackie, down 44 pounds this morning,,,heading for 50,,,,,,,,,,,,,,,,,jack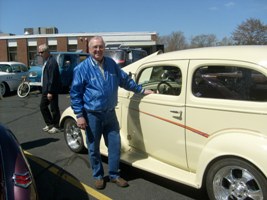 Just in case you're wondering,,,that's a 1936 Chevrolet street rod, built in California
March, 2011 JP Whitey on the West Coast practicing his cullinery skills on a Hot Dog!!!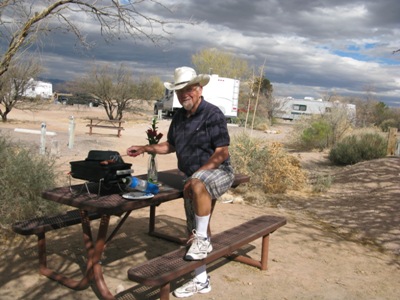 ***********************************************************************************************
June 4, 2009,,,,,,Question? Guess who went to lunch yesterday? Answer,,,Me, Bo, Whitey and Cyril. I was thrilled they asked me but they were supposed to last time, only the three of them couldn't figure out who had the assignment to call me up. Won't go into all the details of lunch which were great but here's one for BRUCE KOSKINEN from Whitey. "I remember hanging around Mattie's Spa one afternoon. There were at least a half dozen of us and at the time I was an aficionado of hats of any shape, size or design. On this occasion I had on a straw skimmer that was a throw back to an earlier time, maybe the '20 s. Bruce Koskinen was impressed I am sure, because his Dad ran a clothing store. However, Bruce also had the mistaken belief that it was edible and he proceeded to take a bite out of the brim. Too bad I lost the old lid, I could have presented it at our reunion as evidence that Bruce is truly a vegetarian...... J P Whitey"

August 9th, 2009,,,,, And here are the promised pictures from Betsy. We have the Lake Boone Boys and then have a real gem,
the Washington DC Trip in 1958.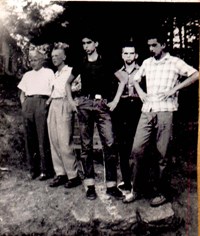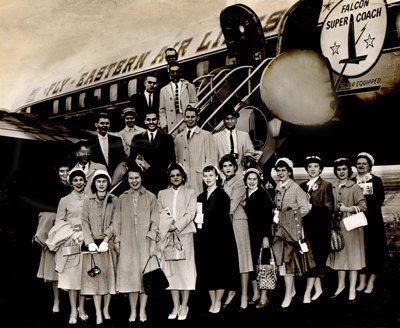 Maynard as you remembered it, or maybe you don�t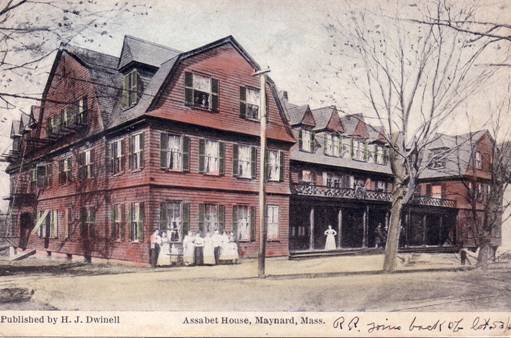 I�ll give you a clue. It�s Main Street somewhere. Feb 20,,,Give up? It's the corner of Main and Florida Road. You may not remember it this way but you should remember when the police station and town hall were there. That's when Onzie was chief and Mike Zapareski was a patrolman. And remember when Bonzie Nyholm was the truant officer? I don't think we have one now. In todays age, if you don't go to school, no one cares.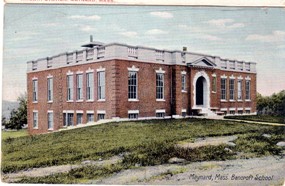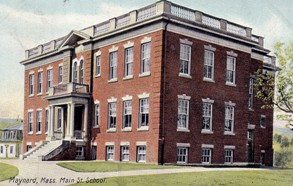 Here are two schools that many of you attended. On the left, you won't remember this, but this is the Coolidge School before they added the second floor. That school today is used for school administrative offices and I believe the food pantry has the bottom level. The hill behind the school still has some of the best sledding and sliding in town. Remember when they closed off Lewis St and we had that for sledding? And on the right, we have the Main St School that burned down in what year? Although we called it the Main St School, what was it's official name? Ok, Lenny emailed it first. It was December of 1954 but I won't tell you who we all think lit the fire. That's gossip and can't be proven,,,but it makes interesting conversation.


Little known facts. The original Coolidge School was built in 1904 by one of our classmates grandfather. Unfortunately the flat roof leaked from day one and to correct it, our town fathers decided to put on a 2nd floor with a pitched roof. That was completed in 1909 and the rest is history as they say. Now, who was that classmate?

It was Eddie Mullin's grandfather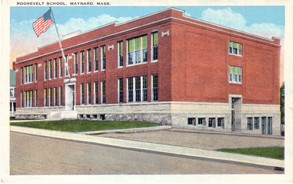 Our Jr High School on the left,,,,,,,,,,,,,,and the Roosevelt School, which is now the Maynard Public Libray. If you come into town for the reunion, you really need to see this incredible library before you leave.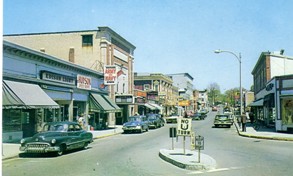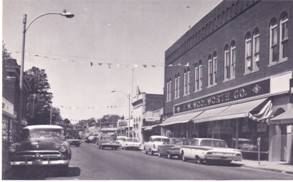 Looking up Nason St, Library on your right,, Looking up Main St, Matty's Spa and Woolworths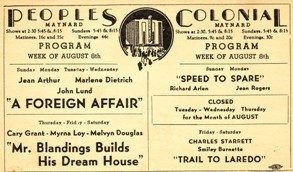 This is an August 8th, 1948 Movie Post Card that was sent to homes in sevaral towns surrounding Maynard letting people know what was playing at the movies. 9cents for the Colonial and 16cents for the Peoples. In 1949 the Fine Arts theater opened and the cards said Peoples and Fine Arts,,,,,,,,,,,, Remember the United Co-op where you could do one stop shopping and banking. Presently Maynard does not have one single grocery store in the downtown area. How many did we have back then?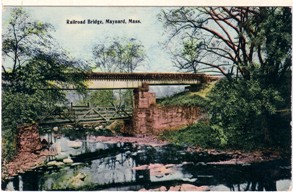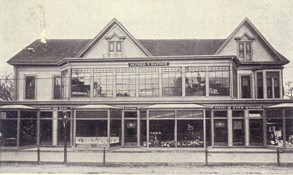 Who dared to cross the tressel behind Grubers?? I did it once and was scared out of my mind. And if my parents knew I did it, there would have been hell to pay.,,,,,,,,,,,,,,,,,,And how about Grubers before it was Grubers. It was the Alfred T Haynes furniture store and during the depression, the Rialto theater was upstairs. Yup, Maynard had four theaters.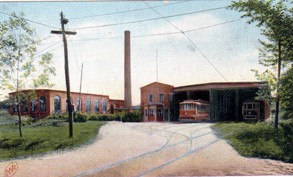 The Power House for the trains on the left became St Casimir's Church and the train building became
Lovell Bus Lines. It's now an office building. The Catholic church closed St. Casimirs church and sold it to an Indian group that has re-opend it as their church.

All of the pictures you see are from actual Maynard post cards.
Please show your kids what Maynard used to look like.
1959 facts:
New House $12,400. New Car $2,250
Avg Income $5,016/yr. Avg rent $97/mo
Postage stamp 4 cents
Gasoline was 25 cents/gallon
And Tuition to Harvard was $1,250 per year

Paul Anka Then.......Paul Anka Now


Here's another nice one, compliments of Lenny Melanson. It's well worth the trip down memory lane and it's called Burma Shave with the Statler Brothers http://oldfortyfives.com/DYRT.htm
Now, here's a trip down memory lane for you. Does the name Arnie Woo Woo Ginsburg ring a bell? It should if you listened to the radio in the late 50's and into the 60's. His show was called the "Night Train" and he was the most sought after DJ in the Boston area. He is by the way, a member of the DJ hall of fame ranking right up there with Dick Clark and Wolfman Jack (who is deceased). Arnie made his name famous with advertising Adventure Car Hop in Saugus. They even made a burger after his name called the "Ginsburger" and if you mentioned his name, they gave you two of them. Well as luck would have it, yours truly and Arnie connected at the Palace Theatre in Manchester NH early March and wouldn't you know, we had our picture taken. It's appropriately called Arnie & Jack. Arnie is 82 now, living in Ogunquit Maine, he's very involved in town politics up there, still going strong, and getting out working whenever he feels like it, which isn't a lot. He joked about how bad the food was at Adventure car hop and said that he wasn't quite sure what you did with the 2nd burger because the first one would make you sick.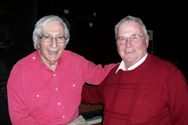 Arnie and Jack
Best Movies of the 50's,,,,,counting from # 40 up to the #1 Movie,,,,,and #40 was "The King and I" (1956) with Yul Brynner/Deborah Kerr, "The Wild One" (1953) with Marlon Brando, "Guys and Dolls" (1956) with Frank Sinatra/Vivian Blaine, "Marty" (1955) with Ernest Borgnine/Betsy Blair, "An Affair to Remember" (1957) starring Deborah Kerr/Cary Grant, # 35 "Ben-Hur" (1959 what a great year that was) with Charlton Heston, "The Diary Of Anne Frank" (1959 again) starring Mille Perkins, "The Seventh Seal" (1958) with Max Von Sydow, "East of Eden" (1955) with James Dean (in his debut film) Raymond Massey & Jo Van Fleet, "Sweet Smell of Success" (1957) Tony Curtis & Burt Lancaster, "Sabrina" (1954) starring Audrey Hepburn, William Holden/Humphrey Bogart, 'Porgy and Bess' (1959) with Sammy Davis Jr, "The Caine Mutiny" (1954) Humphrey Bogart/Van Johnson, 'Gigi' (1958) Leslie Caron, "Lust for Life" (1956) Kirk Douglas/Anthony Quinn, "A Place in the Sun" (1951) Montgomery Clift/Elizabeth Taylor, "High Noon" (1952) Gary Cooper/Grace Kelly, "Rashamon" (1951), "'From Here to Eternity" (1953) Montgomery Clift/Donna Reed, "To Catch a Thief" (1955) Cary Grant and a regal princess Grace Kelly, #20 20. "The African Queen" (1951) Humphrey Bogart/Katharine Hepburn, "An American in Paris" (1951) with dancing king Gene Kelly, "All About Eve" (1950) Anne Baxter/Bette Davis, "Giant" (1956) Rock Hudson/Elizabeth Taylor/James Dean, "The Day the Earth Stood Still", #15 (1951) Michael Rennie, 'Vertigo' (1958) Jimmy Stewart/Kim Novak, "Roman Holiday" (1953) in her Oscar winning screen debut Audrey Hepburn & Gregory Peck/Eddie Albert. "'Sunset Blvd" (1950) William Holden diva Norma Desmond & Buster Keaton, "12 Angry Men" (1957) Henry Fonda/Martin Balsam/Jack Klugman/Lee J. Cobb, Jack Warden, E.G. Marshall, Ed Begley, "'Cat on a Hot Tin Roof" (1958) Elizabeth Taylor/Paul Newman/ Burl Ives, #10 'North by Northwest' (1959) Cary Grant/Eva Marie Saint, 'Paths of Glory' (1957) Kirk Douglas, 'Cinderella' (1950), 'The Searchers' (1956) John Wayne, 'The Bridge on the River Kwai' (1957) Alec Guinness/William Holden, #5. 'Rear Window' (1954) Jimmy Stewart/Grace Kelly, #4. 'Some Like It Hot' (1959) Marilyn Monroe/Tony Curtis/Cary Grant/Jack Lemmon, #3 'Singin' in the Rain' (1952) Jean Hagen/Gene Kelly Donald O'Connor/Cyd Charisse. #2 'A Streetcar Named Desire' (1951) Marlon Brando/Vivian Leigh /Elia Kazan, and #1 film 'On the Waterfront' (1954) Marlon Brando/Lee J. Cobb/Eva Marie Saint. Does all that bring back memories or what?
The what's been happening section:
We want to hear from you like, if you're coming of course and how you've been and what you've been up to. Give us the info and along with handing out all your comments at the reunion for all to read, we're going to post them here. All you have to do to get the info to us, is click on this link (which is also our MHS email address) and write till your hearts content
Maynard1959@aol.com
And for your phone and/or email enjoyment
We�ll only put your information here if you ask us to do so. All the names here have mentioned they would love for anyone to contact them so please feel free to do just that. I'm the lucky one because I've talked with all of them.....jack)
| | | |
| --- | --- | --- |
| Sally (Chapman) Kangas | 508 759-4863 | salkangas@comcast.net |
| | | |
| --- | --- | --- |
| John (Whitey) White | | Whiteycarver@gmail.com |
| | | |
| --- | --- | --- |
| Jesse (Piecewicz) Tobin | | JesseTobin@aol.com |
| | | |
| --- | --- | --- |
| Bunny (Engelhardt) Tomes | | alexarts@mchsi.com |
| | | |
| --- | --- | --- |
| Cyril and Judy Spratt | | cfspratt@aol.com |
| | | |
| --- | --- | --- |
| Judy Manning | | jamanning24@yahoo.com |
| | | |
| --- | --- | --- |
| Billy Shaw | 978 433-3457 | joanandbillshaw@charter.net |
| | | |
| --- | --- | --- |
| Dave Spratt | | david_spratt@msn.com |
| | | |
| --- | --- | --- |
| David Kuleisus | 011 30 211 010 1754 | thymari@aol.com |
| | | |
| --- | --- | --- |
| Barbara (Harrington) Holt | 302 644-4865 | mombarbh@aol.com |
| | | |
| --- | --- | --- |
| Donna (Leate) Colleton | | NanaCx8@aol.com |
| | | |
| --- | --- | --- |
| Judy (Kane) Kulju | | kulju_j@hotmail.com |
| | | |
| --- | --- | --- |
| Brenda (Mariani) Maurais | | aliandkat@comcast.net |
| | | |
| --- | --- | --- |
| Sandra (Koski) Porter | | sporter41@gmail.com |
| | | |
| --- | --- | --- |
| Dotty (Murphy) McDonough | 508 888-6162 | dotmcdonough@comcast.net |
| | | |
| --- | --- | --- |
| Barbara Littig | | ew5.ba2.tiel@juno.com |
| | | |
| --- | --- | --- |
| Jack Bubnowicz | 978 897-8469 | jg.bbwz41@verizon.net |
| Dennis Lombard | 760-994-0175 | dennis.mustang@hotmail.com |
| Larry Colleton | | lrcolleton@earthlink.net |
| | | |
| --- | --- | --- |
| Bruce Koskinen | | maynardkoski@yahoo.com |
| Betsy (Fouratt) Adler | | ewadler@comcast.net |
| Dennis Lombard | | dennis.mustang@hotmail.com |
| Walter (Wally) Mason | | wallymas@sccoast.net |
And where were our other reunions you ask?
10 th Russo's 1969
15 th Maynard Country Club 1974
20 th Maynard Rod & Gun Club 1979
25 th Sheraton - Boxborough 1984
30 th Crown Plaza - Natick 1989
35 th Westford Regency Inn 1994
40 th Chocksett Inn - Sterling 1999
50 th Marlboro Country Club 2009
55 th Maynard Country Club 2014
Deceased Classmates,,,,,,,,,37
Mary (Stapell) Yastrzemski,,,1971,,,,,,,,,,,,,,,,Lois (Ely) Kenefick,,,,,,,,,,,,,,,1984
Ray Mikkonen 1989,,,,,,,,,,,,,,,,,,,,,,,,,,,,,,,,,,,,,,,,Stanley Zaleska ,,,,,,,,,,,,,,,,,,,1993
Earl McPhee 1994 ,,,,,,,,,,,,,,,,,,,,,,,,,,,,,,,,,,,,,,,,,David Nevala ,,,,,,,,,,,,,,,,,,,,,,,1994
Charlene (Nyman) Lyon 1994 ,,,,,,,,,,,,,,,,,,,,,,,Norman Hannon Jr ,,,,,,,,,,,,1995
Joe Graceffa 1997 ,,,,,,,,,,,,,,,,,,,,,,,,,,,,,,,,,,,,,,,,,Richard Colombo ,,,,,,,,,,,,,,,,1998
David Allen 1999,,,,,,,,,,,,,,,,,,,,,,,,,,,,,,,,,,,,,,,,,,,,,Karl Hilli Jr ,,,,,,,,,,,,,,,,,,,,,,,,,2002
Richard Boreson 2003 ,,,,,,,,,,,,,,,,,,,,,,,,,,,,,,,,,,,Roger MacGlashing ,,,,,,,,,,,,2003
Leanna (Norton) Tower 2004 ,,,,,,,,,,,,,,,,,,,,,,*Jimmy Boudreau ,,,,,,,,,,,,,,,,,2005
Carole (Lizotte) Smith 2005 ,,,,,,,,,,,,,,,,,,,,,,,,Walter Crowther ,,,,,,,,,,,,,,,,,,2005
Sally (Boeske) Currier 2006 ,,,,,,,,,,,,,,,,,,,,,,,,,Wayne Katvala ,,,,,,,,,,,,,,,,,,,,2006
Kenny O'Driscoll 2007,,,,,,,,,,,,,,,,,,,,,,,,,,,,,,,,,,,Jean (Lorentson) Mattson,,,,2009
Joane (Nyholm) Bourne ,,,,,,,2009,,,,,,,,,,,,,,,,,Bobby Fleck,,,,,,,,,,,,,,,,,,,,,,,,,,,,2009
Wayne Chandler,,,,,,,,,,,,,,,,,,,,2009,,,,,,,,,,,,,,,,Sandra (Gunn) Connors,,,,,,,,2011
Gary Armour,,,,,,,,,,,,,,,,,,,,,,,,,2011,,,,,,,,,,,,,,,,,Judith Rutkowski,,,,,,,,,,,,,,,,,,2009
Connie (Lowell) Saarinen,,,,,2013,,,,,,,,,,,,,,,,,Mary Connerney,,,,,,,,,,,,,,,,,,,2013
Nancy (Sheridan) Gerlach,,,,2015,,,,,,,,,,,,,,,,,Karen Grandall Crowther,,,,2015
Joan Ferguson,,,,,,,,,,,,,,,,,,,,,,,2015,,,,,,,,,,,,,,,,,Tommy French,,,,,,,,,,,,,,,,,,,,,,,2015
Donna Leate Colleton,,,,,,,,,,2016,,,,,,,,,,,,,,,,,,Bo Wattu,,,,,,,,,,,,,,,,,,,,,,,,,,,,,,,2016
Bobby Bradbury,,,,,,,,,,,,,,,,,,,,2017,,,,,,,,,,,,,,,,,,Audrey Malcolm Langille,,,,,2018
Jimmy Brooks,,,,,,,,,,,,,,,,,,,,,,,2019

Reunions gone by:
| | | |
| --- | --- | --- |
| Bill Shaw | Paul, Bob, Larry | Clarkie Smith |
| Vinny and Friend | Jessie and Connie | Barbara and Denise |
| Dave, Vinny, and Audrey | Two Spratts | Ralph, Jack and Bruce |
| | | |
| --- | --- | --- |
| Bo, Cyril, and Whitey | Jimmy and Pat | Eddie, Andy, and Judy |
| Judy, Brenda, Judy, Roy | Judy, Sandy, Bob, Paul, Audrey | Karen and Hubby |
| Ray and Wife | Sandy, Jack, and Pat | Vinny and Jess |
| | | |
| | | |

40th class reunion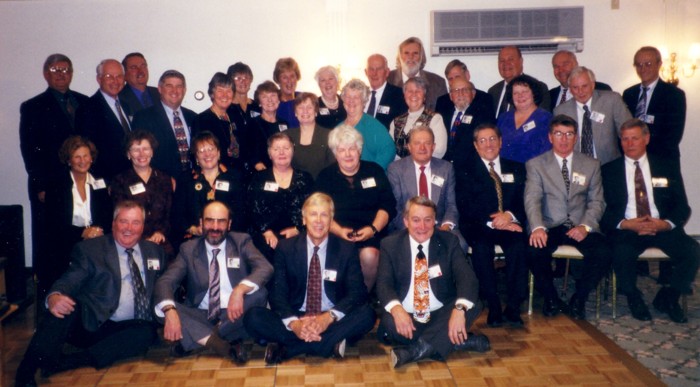 Top row,,,Walter, David, Larry, Clark, Jesse, Leigh, Connie, Barbara, Pat, Denise, Judy, Bruce, Karen, Bob, Whitey, Roy hiding, Bo, Karen, Cyril, Bill, Joe. Middle row, Judy, Judy, Brenda, Donna, Nancy, Paul, Ray Eddie, Ralph. Lower and sitting on floor,,,Jack, Vinny, Paul and Lenny.

***********************************************************************************************

50th class reunion photo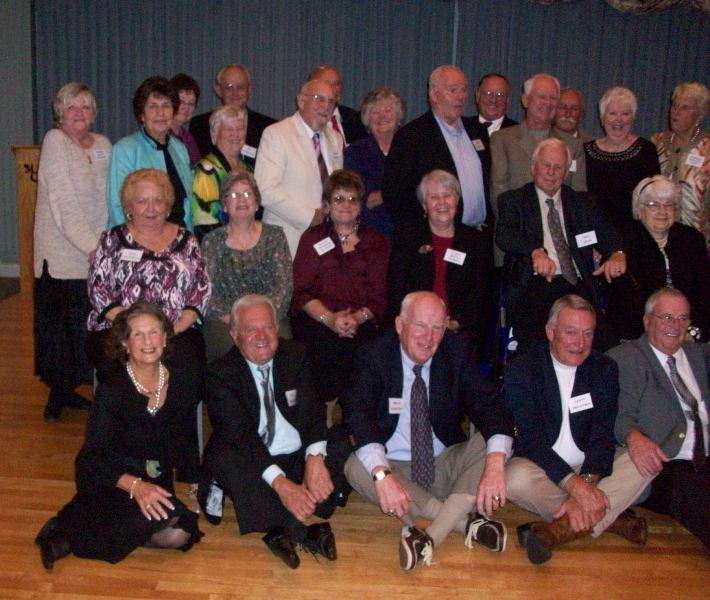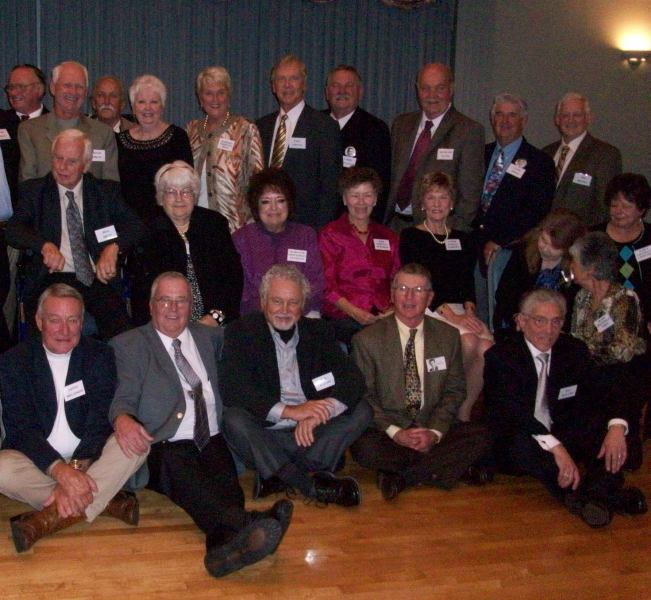 | | | |
| --- | --- | --- |
| Jackie, Lenny,Connie, Joan, Babs | Mary, Sandra, Joe, Ed, Gary, Paul | Jack, Dave, Teddy, Bruce |
| Bruce, Teddy, Clarkie, Dave | Bo, Jack and Whitey | Sandra, Sandra, Judy, and Mary |
| Karen & Butch | Judy, Dotty, Sally, Marianne | Jimmy, Paul, Tom, Cyril |
| Jesse, Eddie, Judy, Marianne | Gary, Bo, Jackie | Joe, Paul, Lenny |
| Nancy and Sally | Brenda and Joe | Karen, Denise, and Connie |
| Dave, Bruce, Whitey and Cyril | Brenda, Judy, and Judy | Judy, Brenda, Ray, and Connie |
| Eddie and Larry | Marianne and Judy | Clarkie and Karen |
| Dave and Dottie | Clarkie, Jackie B, Butch, and Jackie | Jack and Jesse |
| Butch, Eddie, Lenny, Bruce | Pat, Lenny and Jimmy | Teddy and Bruce |
| David Kulesius and Paul Chyzus | Betsy (Fouratt) Adler | Walter Mason and Grandaughter |
| Judy Manning | Audrey (Malcolm) Langille | Leah and Clyde (then and now) |
| Mike Soko and Jack | | |
David, Betsy, Judy, Audrey, and Walter did not attend the reunion, but sent photos. If you did not attend and would like us to post a photo, please send it along.
AND IN CLOSING
"Remember,,, Life is short...so break the rules, forgive quickly, kiss slowly, love truly,
laugh uncontrollably, and never regret anything that made you smile."